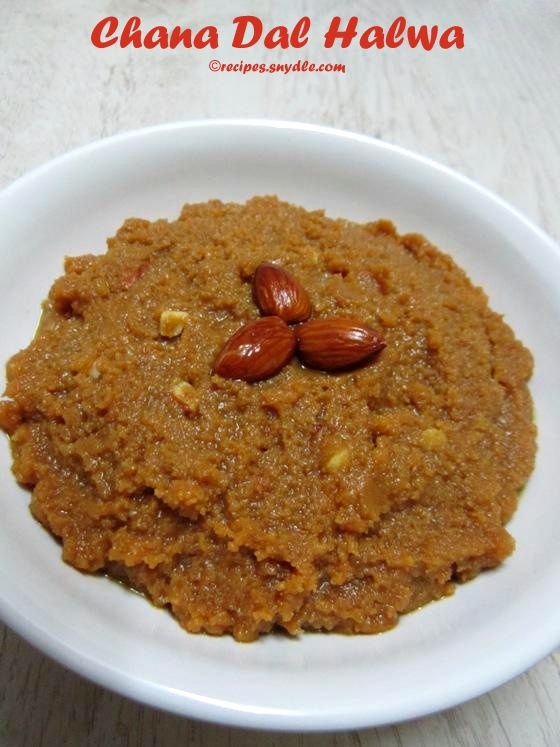 Chana Dal Halwa Recipe / Chane ki Dal ka Halwa Recipe with step by step pictures. Chana Dal or the Skinned Bengal Gram, which is a yellow lentil has a very rich flavor profile. When added to savory dishes, it lends it a flavor similar to that of the meat. You can also use it to make desserts like barfi or halwa. When used in desserts, the chana dal gives out a very sweet and fragrant flavor to it.
We Indians love our desserts. Halwa is like a pudding you can say. It is generally had hot or warm, usually because halwas are made with clarified butter/ghee, which tastes best when had hot or warm. Moong dal halwa is yet another favorite dessert made with yellow moong lentil. I will share its recipe soon.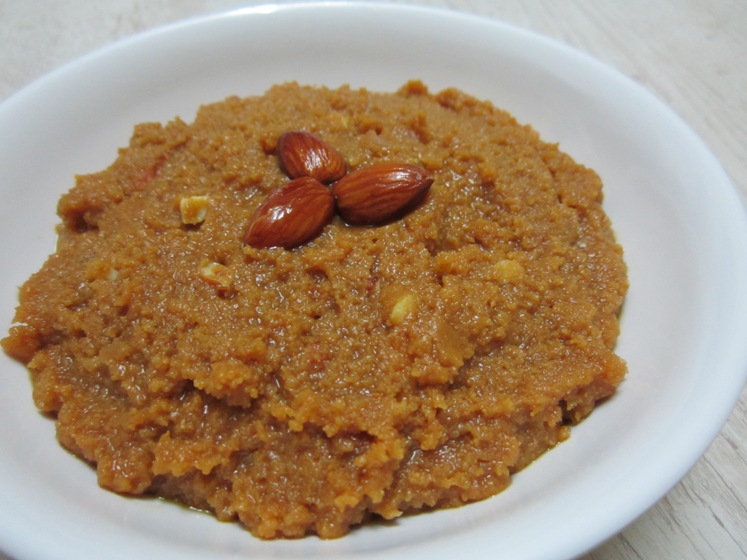 I have noted that most people who make chana daal halwa soak the lentil and then grind it. The water content makes it incredibly difficult and time-consuming to get rid of the raw smell of the lentil. So this what my Mom does. She doesn't soak the lentil. She just wipes it clean with a dry cloth and roasts it and proceeds to make Halwa with it. Isn't that amazing The flavor is equally good and less ghee goes into making this halwa recipe. Not to mention how quick it is to prepare the Chana Dal Halwa with this recipe.
So let's get started with the recipe of Chana Dal Halwa. For the purpose of measurement, 1 cup = 250 ml. This recipe yields about 5 servings.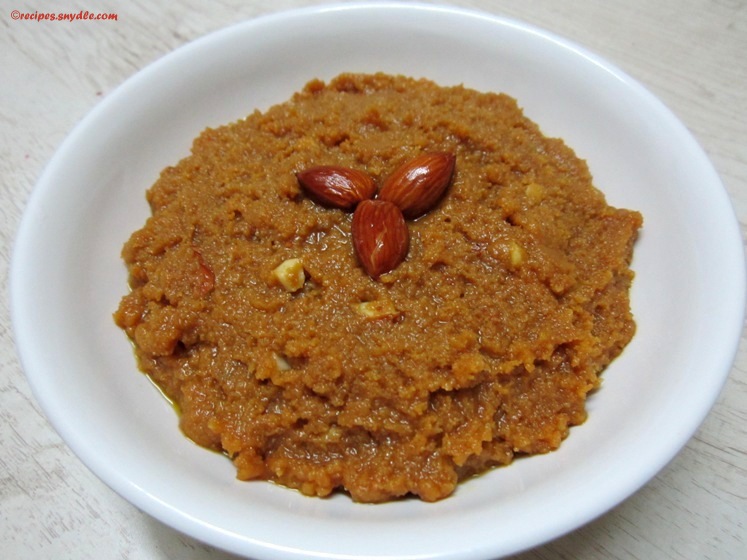 Ingredients
Skinned Bengal Gram – 1 and 1/4 cup
Ghee / Clarified butter – 7 tbsp + 1 tsp
Fresh Cream – 3/4 cup
Almonds or cashews – 18 to 20
Elaichi powder / Green cardamom powder – 1/2 tsp
Sugar – 3/4 cup
Water – 1/2 cup
How to Make Chana Dal Halwa
Wipe the chana dal clean with a dry cloth. Add it to a skillet and dry roast it for about 18-20 minutes on low flame. Mix it frequently to avoid burning and excessive browning.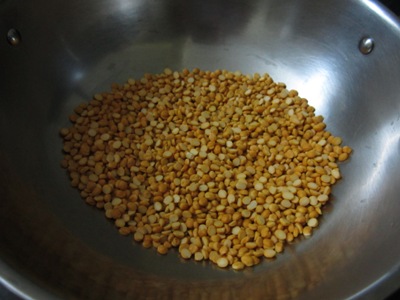 After 20 minutes, the chana dal will look like this; golden brown and smells sweet and aromatic.
Allow it to cool for 5 minutes. Add it carefully to the mixie jar. Be very careful since the dal is very hot. Make sure your mixie is capable of grinding such hot ingredients, otherwise let it cool down further. I prefer grinding my dal while its still hot because that way it gets ground perfectly.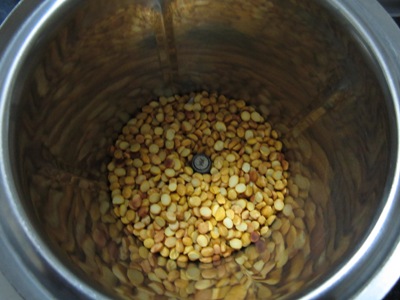 The dal has been ground to a smooth powder. It must be really fine and not grainy at all.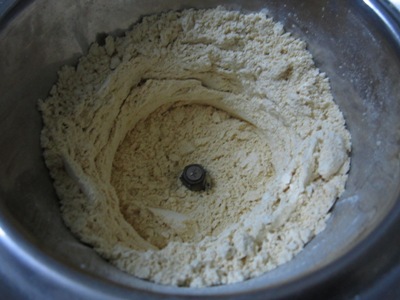 In a skillet, heat 1 tsp of ghee and fry almonds on a low flame for about a minute. Stir constantly to prevent burning. The almonds will become golden brown, crunchy and their skin will open up.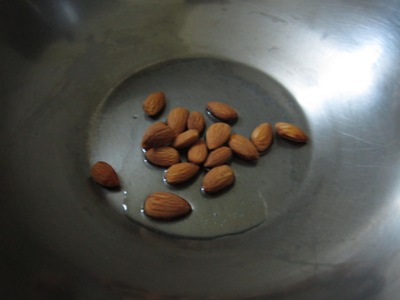 The almonds are now fragrant. Remove them onto a plate. Break the almonds with a pestle into tinier bits or chop them. Don't forget to reserve 3-4 almonds for garnish.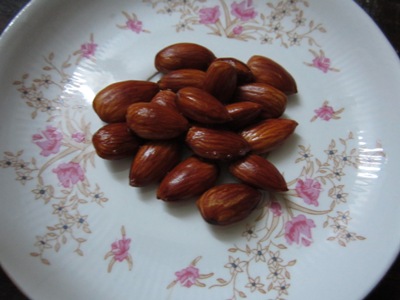 Add another 6 tbsp ghee in the skillet and allow it to melt. Add in the ground chana dal powder.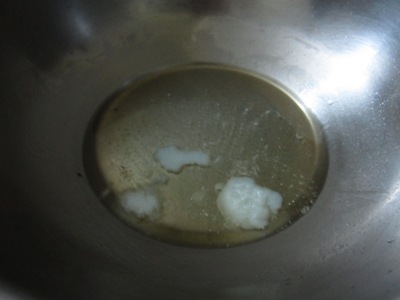 Mix well to form a smooth thick paste like this. There should be no lumps.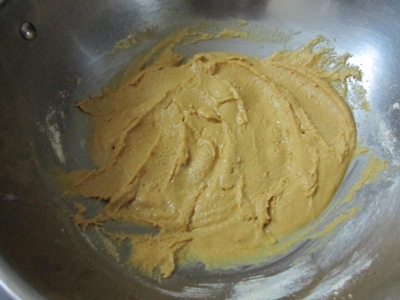 Roast it for 15-20 minutes on very low heat till it becomes fragrant and browns a bit. Stir around constantly to avoid burning the mixture. The raw smell of chana dal would have gone away completely.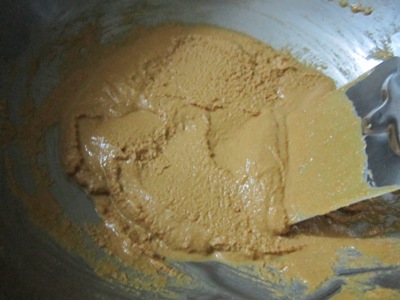 In the meanwhile, prepare the sugar syrup. Take sugar and water in a pot of saucepan.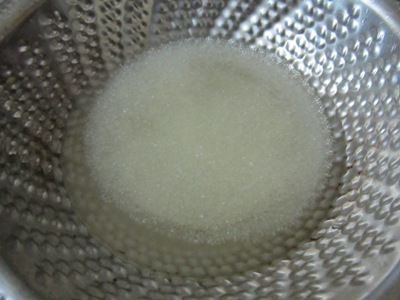 Bring it to a boil. Allow it to thicken up till you get 2-string consistency, which means that when you press a drop of warm sugar syrup between your thumb and index finger and pull them apart, the drop of sugar syrup should be sticky enough to form two strings.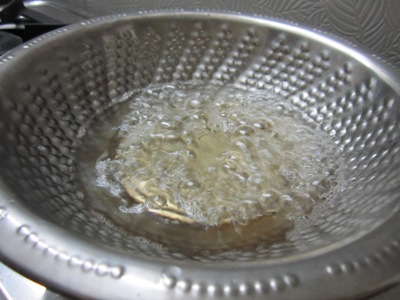 The sugar syrup will need about 12-15 minutes to be ready.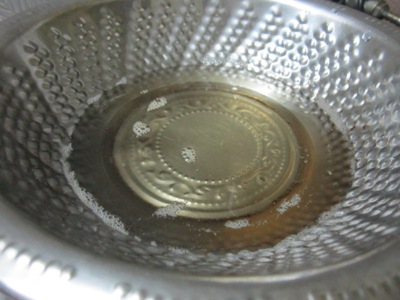 When the chana dal powder has gotten roasted and the sugar syrup is ready, add the sugar syrup into the chana dal mixtures slowly with a ladle, little by little. Be very careful. Both ingredients are very hot and the mixture sizzles violently when you add the sugar syrup in.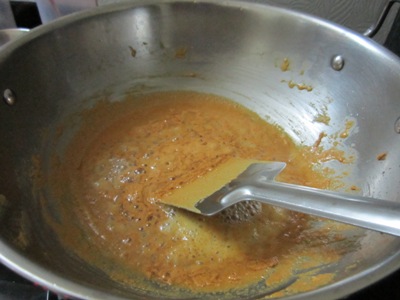 Mix gently till you get a smooth paste. Allow it to cook for another minute.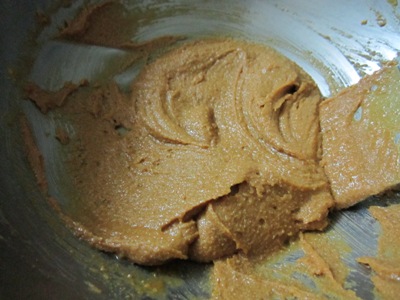 Add in the fresh cream and cardamom powder. Mix well.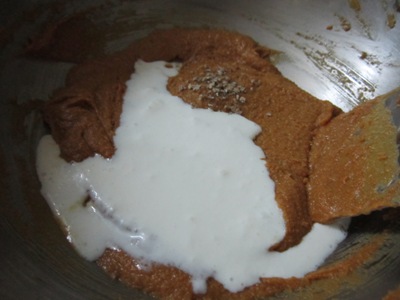 After cooking for about 30 seconds, add in the fried almonds. Mix well.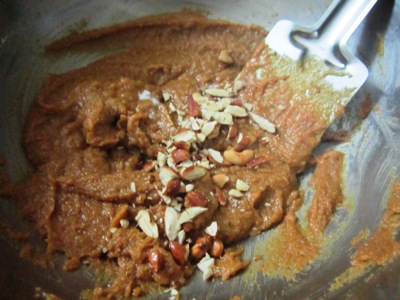 Add the remaining 1 tbsp of ghee in the end and mix.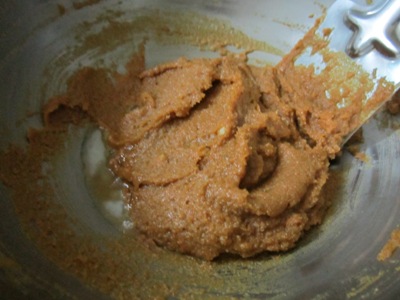 Chana Dal Halwa is ready. Transfer it to a serving bowl and garnish with the remaining almonds. Enjoy!