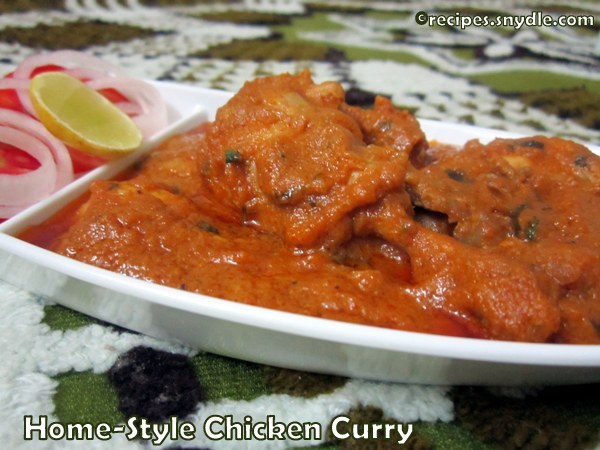 Hi there! Today it is a chicken recipe. This is a Home-Style Chicken Curry recipe.
It is a really easy chicken recipe. Several friends on Twitter had been requesting me for an interesting and simple chicken curry recipe, which is equally delicious. Hence, I thought what could be better than home-style chicken curry. It has the right balance of spices, smack of fresh lime and sugariness of palm sugar. My Mom taught me to make this curry. It is so full of love and warmth!
So now let us see how to make this yummy Chicken Curry.
Note : You can replace ghee with oil or butter. Adjust the amount of red chili powder and garam masala to suit your palate.
Home Made Chicken Curry Recipe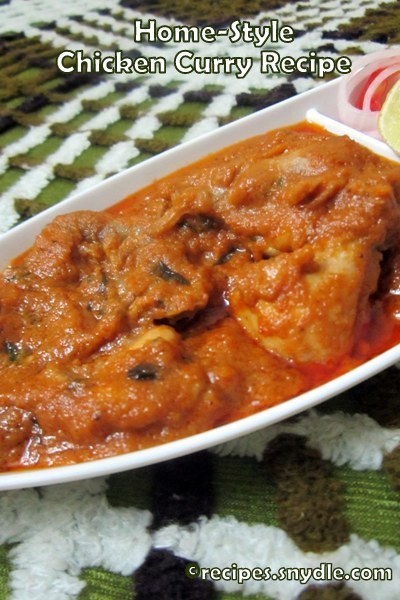 IngredientsFor the marinade
Chicken- 500 grams
Thick yogurt- 100 grams
Ginger-garlic paste- 2 tbsp
Red chili powder- 2 tsp
Turmeric powder- 1/2 tsp
Coriander powder- 2 tsp
Jeera powder- 1 tsp
Garam masala- 1 tsp
Green cardamom powder – A generous pinch
Lemon juice- 1 tbsp
Salt- 1/2 tsp
For the Paste
Cashews – 15
Melon seeds – 2 tbsp
Water- 1/4 cup
For the Gravy
Ghee – 3 tbsp
Cloves- 3
Black peppercorns – 4
Cinnamon stick – 1
Bay leaf – 1
Onion – 4 medium, ground to paste
Tomato – 2 medium, finely chopped
Green chilies – 3, finely chopped
Kashmiri red chili powder – 1 tsp
Water – 1 cup or as needed
Palm sugar- 1/2 tsp
Salt – To taste
Kasuri methi- 1 tsp, dry roasted and crushed between your palms
Chopped cilantro – For garnish
Fresh Cream – For garnish (Optional)
How to Make Home-style Chicken Curry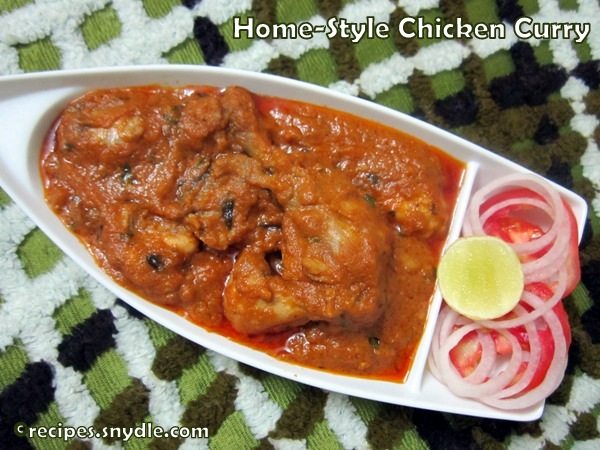 In a bowl, marinade the chicken using the ingredients mentioned under 'For the Marinade' and place it in the refrigerator. Marinade it for at least 6 hours. This will make chicken really tender and flavorful.
Soak the cashews and melon seeds in hot water for an hour. Prepare the smooth paste by grinding the cashews and melon seeds together with little water.
Take a heavy bottom skillet and heat ghee in it. Add in the cloves, black peppercorns, cinnamon stick, bay leaf and sauté on a low flame for a few seconds till aromatic.
Add in the onion paste. Sauté it till it turns golden brown. Toss in the green chilies and tomatoes. Sauté it till the tomatoes turn soft.
It's time to add in the kashmiri red chili powder, salt, cashew – melon seeds paste and sauté it till the ghee begins to separate out. Go easy on the salt because the marinade already has salt in it.
Toss in the marinated chicken along with the entire marinade. Sauté the chicken on medium heat till it is well done. Add in some water little by little when the gravy dries up. This may take around 15 minutes. Try not to rush. This process will enhance the taste of your dish. We need a thick gravy.
When chicken is cooked and ghee begins to separate add in the palm sugar and mix well.
Finish it with kasoori methi and cook for another two minutes.
Garnish with chopped cilantro and cream. Home-Style Chicken Curry is ready! Serve hot with roti, naan or jeera rice.
Enjoy this hearty meal with your entire family!