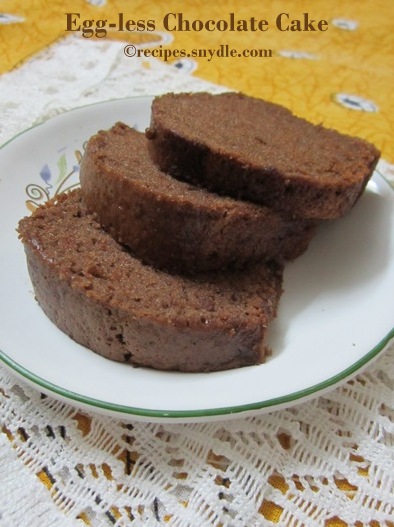 Hello Buddies! I assume you are celebrating Eid with great fervor! Eid Mubarak to my Muslim buddies out there. May Allah bless you and showers you with happiness, peace and prosperity.
Today's recipe is a dessert; a chocolate cake. It gets even better when I tell you it's an eggless chocolate cake! A little something for the vegetarians from my side! 🙂
This is a very simple chocolate cake recipe, which I learned from my cousin Menka. She is so much into baking! She is amazing! She bakes this cake in the microwave. You too can follow the suit. The cake will be ready in 6 to7 minutes. But if you are like me who likes to have a nice crust on the top, base and sides of the cake, you can bake it in the oven, like I do! I am not a fan of microwave-baked cakes. They lack the crust; they are too soft and often stick to the palate. I can sense incompleteness in cakes baked in microwave. Oven-baked cakes are so much better. Crusty on the outside, melt-in-the-mouth on the inside; not to mention they taste much better.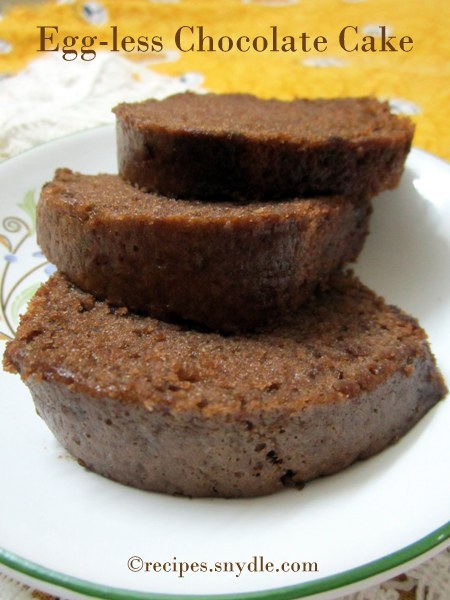 I do like mug cakes to a certain extent that are baked in microwave. The quantity of batter is much less and so the result is much better. For this cake, I suggest you take a wider and shallower cake-pan. There are no eggs, so it calls for milk, which has a higher percentage of moisture. If you take a deeper and narrower cake-pan, you will end up with a cake that is somewhat soggy. And you definitely don't want that, do you?
I had a really bad hankering for a well-made chocolate cake last night. So I somehow managed to have patience for the next one hour before I could bite into this decadent and super-moist eggless chocolate cake. My cousin pours hot chocolate sauce on this cake. But since I was out of chocolate yesterday, I gave the sauce a pass. Nevertheless, I shall share the recipe of hot chocolate sauce and the picture of the same. Thank God, I clicked the pics way back in 2011 when my cousin taught me to bake this cake! 😀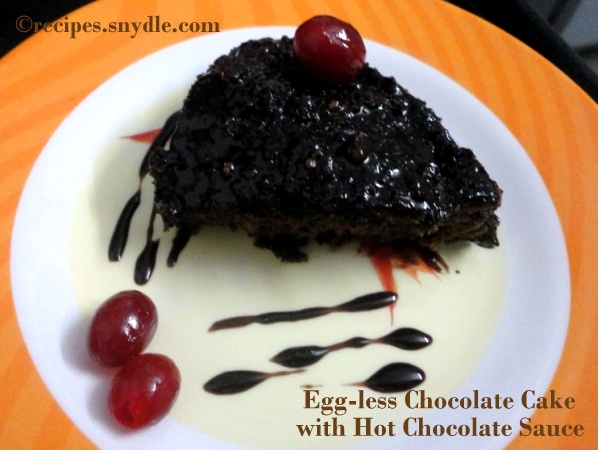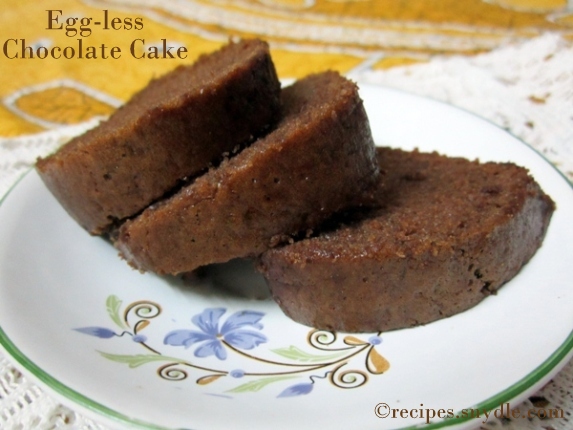 I used oil to make this cake. You can use melted butter if you like. So, I shall stop my jibber-jabber now and tell you how to make eggless chocolate cake!
Measurements: 1 cup = 200 ml (By volume, not weight)
Ingredients
Maida / Refined flour – 1 & 1/2 cups
Castor sugar – 1 cup
Oil – 3/4 cup
Milk – 1 cup
Vanilla Essence – 5 ml
Unsweetened cocoa powder – 4 tbsp
Baking powder – 2 tsp
Baking Soda – 1tsp
How to Make Egg-less Chocolate Cake
Preheat the oven at 180 degrees Celsius. Lightly grease the cake-pan with some oil or butter.
Grind the granulated sugar in the mixie to make castor sugar. Remember, it is 1 & 1/4 cup of castor sugar and not granulated sugar. When you grind the sugar, its volume increases. So measure the sugar after you powder it.
Sift together maida/ refined flour, baking powder and cocoa powder together in a bowl. Sift it again. Sifting twice or thrice gives a smoother cake batter.
In another bowl take milk and add the castor sugar to it. Whisk it nicely till the sugar dissolves in the milk. I used the hand-held blender with a whisk attachment.
Add in the oil and whisk it again till it is well-incorporated with the milk. This may take 2 to 3 minutes.
Now add in little by little the dry ingredients (maida / refined flour + baking powder + cocoa powder) to the milk & oil mixture. Beat everything well as you incorporate the dry ingredients in the wet one. Make a lump-free smooth batter.
Now it's time to add in the baking soda. Now you need to be really quick. Add in the baking soda and beat the mixture nicely.
Immediately transfer the cake batter in the greased cake-pan. Put the cake-pan in the preheated oven. Bake it at 180 degrees Celsius for 35 to 40 minutes. You will notice a nice crust when the cake is done.
Like I said before, you can bake this cake in microwave as well. Bake it on 'High' for 6 to 7 minutes.
Insert a tooth-pick in the cake. If it comes out clean, it means the cake is done. Otherwise, bake the cake for a few more minutes, like 5 more minutes.
Remove the cake onto the cooling rack. Allow it to cool. My cake pan is made from aluminum, so the cake sticks to it. I let the cake cool in the cake-pan itself and then remove it onto a plate. Serve it as it is or with hot chocolate sauce, if you desire.
Let us see how to make hot chocolate sauce.
Ingredients
Dark chocolate – 75 grams
Milk chocolate – 75 grams
Milk – 50 ml or 1/4 cup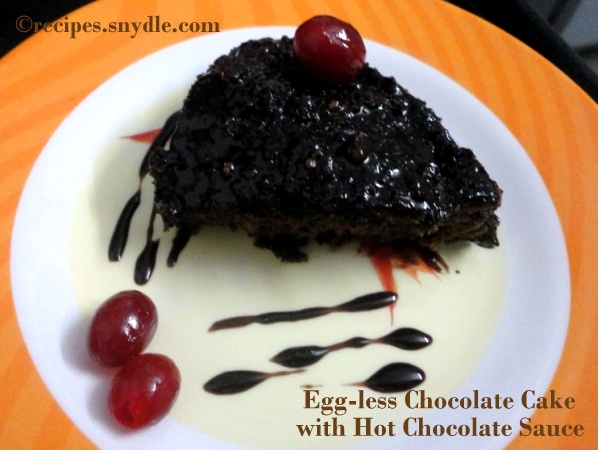 How to Make Hot Chocolate Sauce
Heat some water in a deep and narrow-mouthed pan. In a bowl take chopped dark chocolate and white chocolate.
Place the bowl containing the chocolate on the rim of the pan with boiling water. The steam coming from the boiling water will cause the chocolate to melt. This is called double-boiler method. (Alternatively, you can melt the chocolate in the microwave for 30 to 40 seconds. And then mix it well.)
Whisk the chocolate as it melts. Add in small quantities of milk to the chocolate and whisk it vigorously to form a smooth chocolate sauce. Pour it over the chocolate cake. Or cut the pieces of cake and spoon the chocolate sauce on individual servings.
Top with a cherry and serve hot!
I hope you enjoyed reading this recipe and would try it at home.  Am sure your family would love the cake. I will be back with more yummy recipes. Till then, stay tuned!