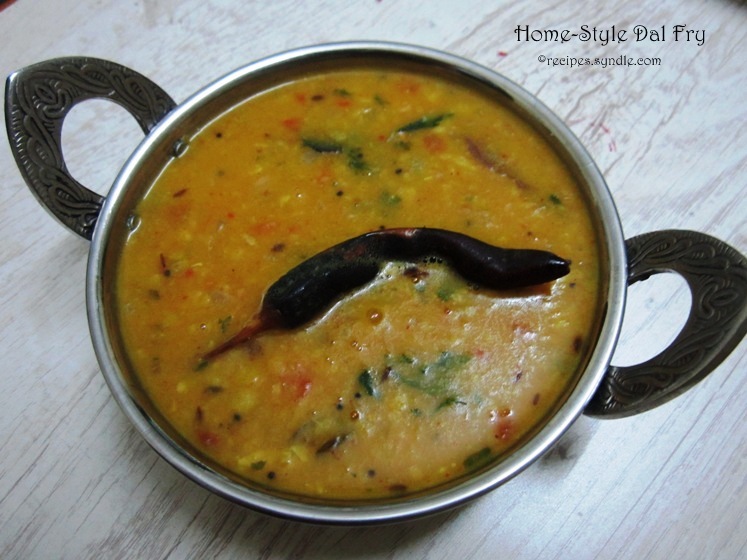 Hi again, foodies. Today I am sharing a very simple dinner recipe, which gets ready in  a jiffy. But, of course, you can make it for any meal you want because it's not only delicious but also comforting.  It's the recipe of Home-Style Dal Fry. What's better than having a bowl of hot, spicy dal with steamed rice on a rainy afternoon with a dollop of butter and some pickle? Every home has their unique way of preparing this humble dish, and this is ours. Hope you like it.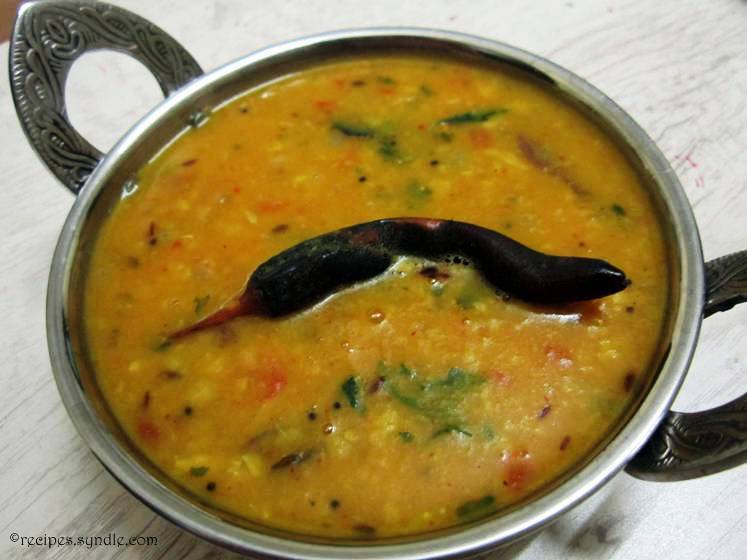 This dal fry recipe is actually my Mom's. I have been relishing it ever since I could remember. This one is made with toor dal or arhar dal, also known as the yellow pigeon pea in English. I have also shared the Moong Dal Fry Recipe earlier, which you can here. If you are interested in the recipe of Dhaba-Style Punjabi Dal Makhni, please follow this link here.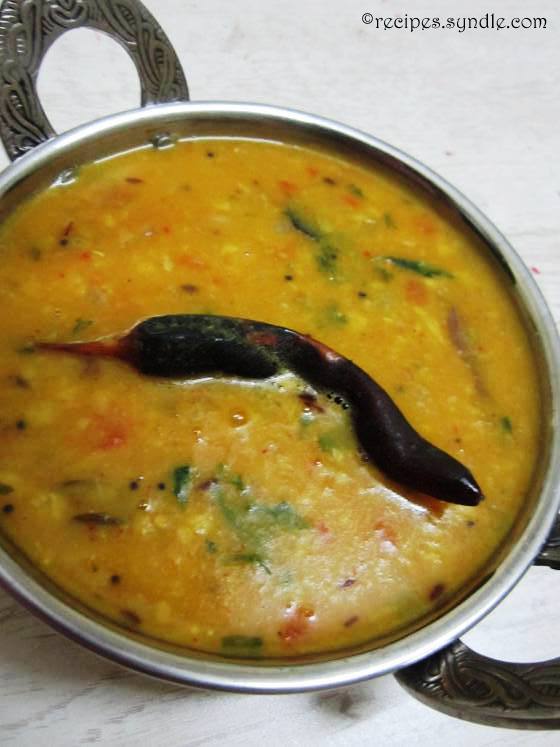 Let's get started now with the recipe for delicious home-style dal fry with step-by-step pictures. For the purpose of measurement, 1 cup = 250 ml. This recipe yields 3-4 servings.
Ingredients
To Prepare the Dal
Arhar dal / Yellow Pigeon Pea – 1 cups
Water – 3 cups
Salt – to taste
Turmeric – 1/3 tsp
To Prepare the Masala
Oil – 4 tbsp
Onion – 1 large, finely chopped
Ginger – 1-inch piece, crushed
Garlic – 12 cloves, crushed
Green chilies – 4 (OPTIONAL)
Medium-hot variety o dried red chilies – 3
Cumin seeds – 1 tsp
Mustard seeds – 1 tsp
Curry leaves – 15 to 20 leaves
Asafoetida or hing – a pinch
Fennel seeds – 1/2 tsp
Fenugreek seeds – 10
Turmeric powder – 1/3 tsp
Red chili powder – 1 tsp or to taste
Coriander powder – 1 tsp
Garam  masala – 1/2 tsp
Salt – to taste
Sun-dried raw mango – 5 to 6 pieces
Coriander leaves – a handful, finely chopped
How to Make Home-Style Dal Fry
Boil dal with turmeric, salt and 4 cups of water or as needed depending on your pressure cooker. Cook till 5 whistles. Allow the pressure release on its own. Churn the dal with a wooden churner. It should be medium consistency as shown in the picture.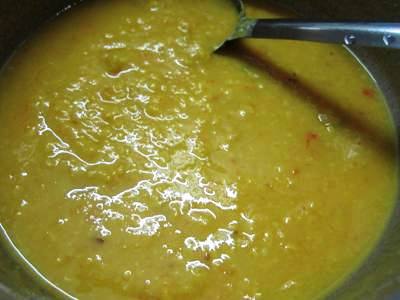 Now heat oil in a kadhai/skillet. Add in the mustard seeds and allow them to splutter. Next add in the fennel seeds, fenugreek seeds and cumin seeds and let them sizzle. Add in the asafoetida and allow it to sizzle too. Then add the curry leaves and red chilies and saute them for 30 seconds on medium to low flame.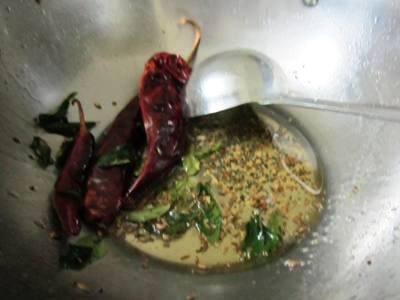 Next, add in the chopped onion and saute it till it turns golden.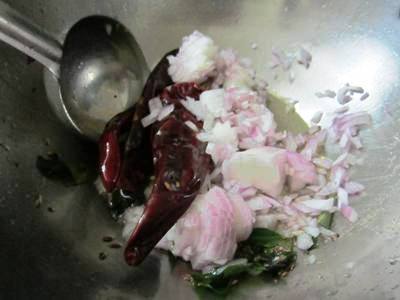 Add the crushed ginger and garlic and saute it for a minute till the raw smell goes away.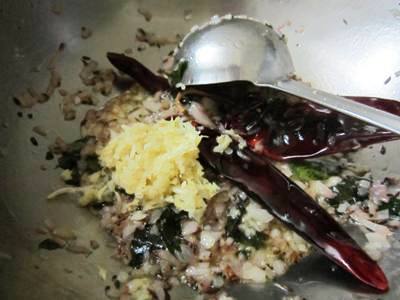 Add in the tomatoes and some salt and cook till the tomatoes get mushy and oil begins to separate.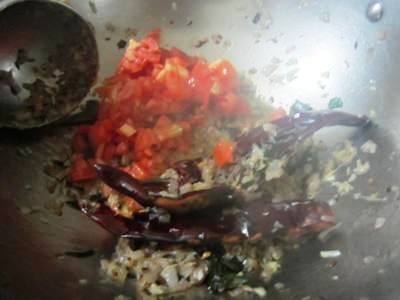 Add in the turmeric powder, red chili powder, coriander powder and mix well.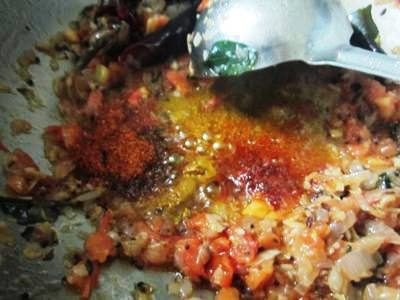 Next, add in the dal and mix well. Check the salt.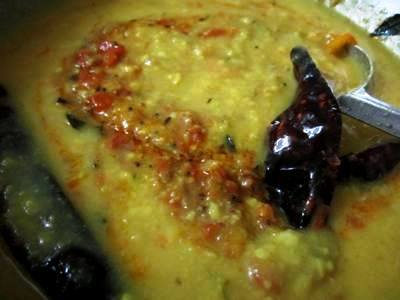 Bring it to a boil and add sun-dried raw mango pieces.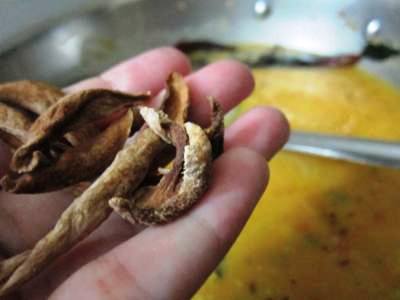 Allow the dal to simmer for ten minutes. Finish with adding garam masala, coriander leaves and green chilies. Switch off the flame.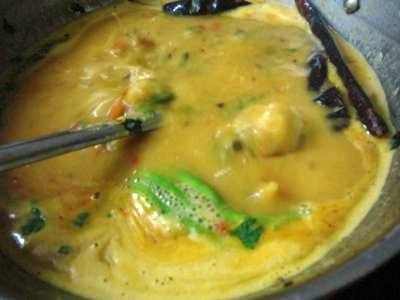 Home-style dal fry is ready. Serve it hot with jeera rice.