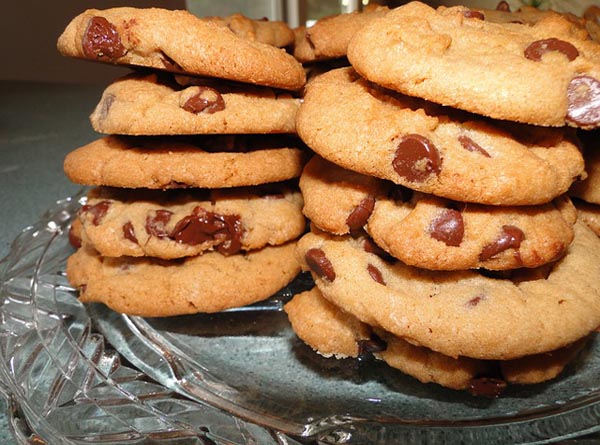 Chocolate Chip Cookies Recipe are among the favorite snacks for both adults and kids alike. Taking a bite out of those succulent and all too sinfully delicious chocolate chip cookies is certainly very addictive. You can never have enough of those delectable and tasty cookies. As such, it is always a good idea to keep a stash for your cravings. And you wouldn't have to worry about your supply as well since chocolate chip cookies, as delightful as they taste, are actually very easy to make. In fact, since they are that easy to prepare, even kids can make them.
It would certainly be advantageous to teach your kids to make them. For one thing, teaching your kids to cook and bake is one of the best skills that you can equip them with. Also, it is a great mother and child bonding activity. It would be refreshing to be able to steal your kid away from the TV or from playing computer and mobile games. This activity will make them appreciate the cookies more too as they would be able to witness first-hand how they are made. Another great thing about teaching your kids to make them is the assurance that you will never run out of your stash as your kids would love to keep making them.
So you can eat as much as you like and be confident that your stock of cookies can easily be replenished by the all too eager young ones who just found out the wonders of cooking and baking.
With this recipe for chocolate chip cookies that is made easy for kids, you and your kids will have a wonderful time making them. Part of the fun now isn't just eating them but making them as well.
Chocolate Chip Cookies Recipe
Ingredients:
2 ¼ cups all-purpose flour
½ tsp. baking soda
1 cup unsalted butter
½ cup granulated sugar
1 cup light brown sugar
1 tsp. salt
2 tsps. pure vanilla extract
Two eggs
two cups milk chocolate chips
Cooking Instructions
Set the heat for oven at 350 degrees.
While heating up, whisk in a small bowl the flour and baking soda.
Using an electric mixer, combine the butter with the two different sugars. Keep mixing until it is light and fluffy. Add the salt, vanilla and eggs.
Continue mixing for about a minute and then add the flour mixture. Keep mixing until everything is well combined. Add the chocolate cookies as well.
Using baking sheets lined with parchment paper, form desired shapes for your mixture using a spoon. Be sure to keep two inches apart for each cookie.
Start baking the cookies. Be mindful of both the time and the appearance of the cookies. You would want them to be golden around the edges but remain nice and juicy in the center. You can also pre-set the time from 8 to 10 minutes to give the cookies ample time to be baked.
Remove from the oven and allow to cool for about 2 minutes.
Remove the cookies from the tray and stock them properly.
Preparing chocolate chip cookies with your kids is one very satisfying and fulfilling experience. You get to bond with them and at the same time prepare a really great snack or dessert that everybody loves. And it takes you under an hour to prepare them. In fact, you can spend just 30 minutes tops especially with your little helpers around. So if you are looking for something fun to do with your kids and get your kicks out of it as well, try baking chocolate chip cookies with this easy recipe.
Chocolate Chip Cookies Recipe
IMG: Dustytoes / Pixabay