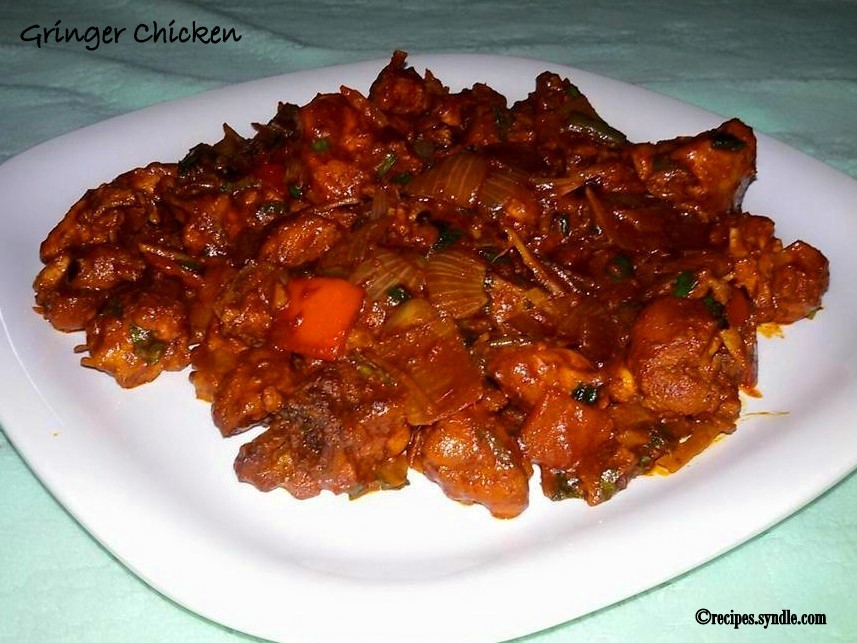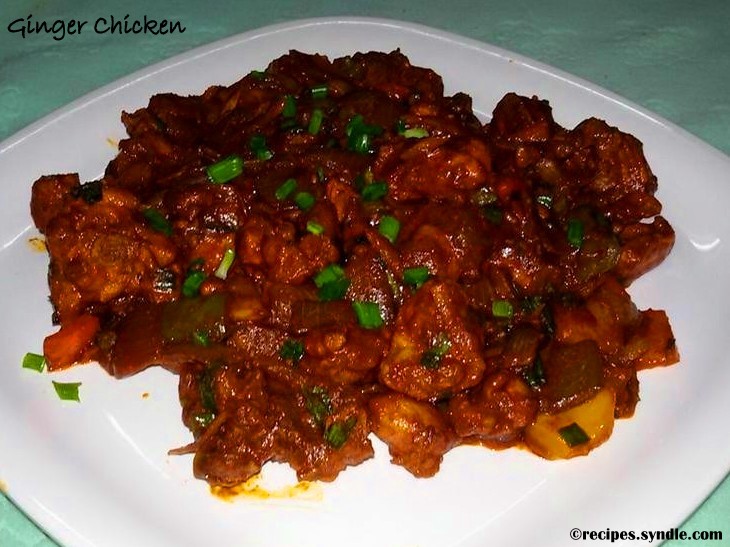 Hello Buddies, Today Swapna back with a chinese recipe Ginger Chicken, I know u all are very familiar with the dish. This is a simple and juicy stir fry ginger chicken, with a marrinate that enhances the natural flavor of the chicken while helping it stay moist and juicy, this is the kind of quick and easy meal that is custom-designed to be thrown together on a bussy days. These authetic chinese food recipe are provided with color photos and simple step by step instructions. Indian Chinese cuisine is the adaptation of chinese seasoning and cooking techniques to indian tastes through a larger offering of vegetarian dishes. Today, Chinese foods is an integral part of the indian culinary scene. Chicken with ginger and spring onions is a common chinese dish found in many restaurants today. It is very easy to make at home and serve it hot or cold. Hot chilli paste , ginger, black pepper and spring onions are the key ingredients of this recipe. To make it more colorful I have added three colour bell peppers also. So lets see how I am going to make this yummy Ginger chicken with very less ingredients.
Ginger Chicken  Indo-Chinese Recipe
Ingredients
For Marrination
Chicken- 500g, boneless
Lemon juice-  2tsp
Cornflour- 2tsp
Ginger Paste- 3 tsp
Red chilly paste- 2tsp
Egg- 1
Red chilly sauce- 1tsp
Salt- to taste
Other Ingredients
Red capsicum- half cup, cut in cubes
Green capsicum- half cup, cut in cubes
Yellow capsicum- half cup, cut in cubes
Onion- 1,cut in cubed pieces
Green chillies- 3, seed removed and sliced finely
Ginger- 3 tsp, finely sliced
Spring onions- 1/2 cup, chopped
Celery- 2 tsp, chopped(optional)
Soy sauce- 2tsp
Tomato sauce- 2tsp
Red chilly paste- 1tsp
Corn flour-1tsp
Sugar- 1tsp
Refined oil- 1 cup, to fry chicken pieces
Salt- to taste
Chicken stock- 1 cup
How to Make Ginger Chicken Indo-Chinese Style
Clean and wash chicken well, cut them into cubed pieces. Marrinate them with the Ingredients listed under 'For Marrination'. Add ginger paste, chilly paste, lemon juice, chilly sauce and salt, combine it well and keep it for 15 minutes.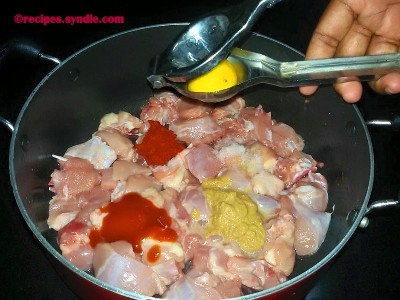 After 15 minutes, add the cornflour and egg into the marrinated chicken. Keep it aside for 5 more minutes.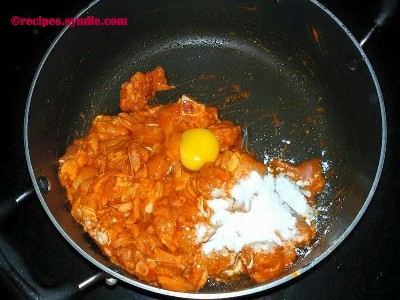 Cut all the needed veggies into cube pieces and keep it aside for easy cooking.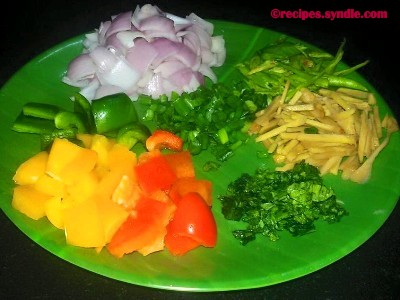 Meanwhile, make the chicken stock. Add chicken pieces with born in a sauce pan, pour 3 cups of water and salt. Allow it to cook for 20- 25 minutes. Drain and take the chicken soup and keep it aside.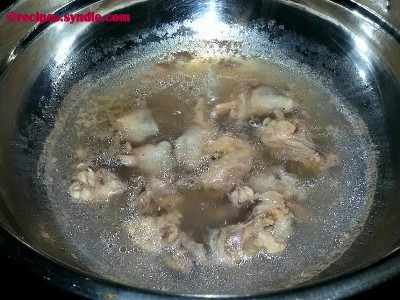 Heat oil in a deep bottom pan, pour refined oil, and fry chicken pieces untill it becomes golden brown colour. Drain it from oil and keep it aside.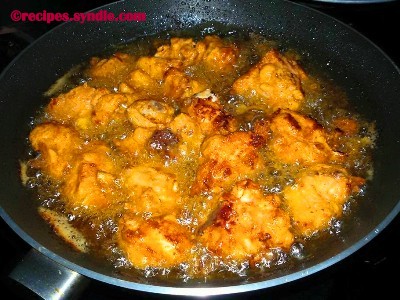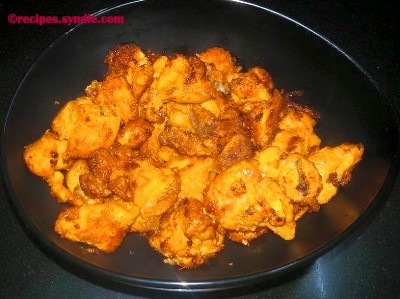 Heat  2tsp of chicken fried oil in a pan, add ginger, green chillies and onion, saute it well for 1 minute.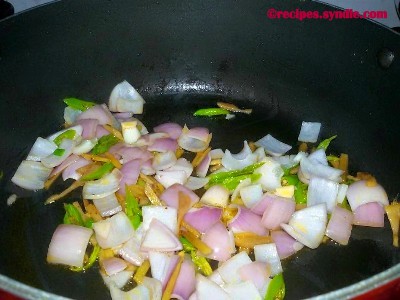 Now add the three coloured capsicum together and saute until it turn soft.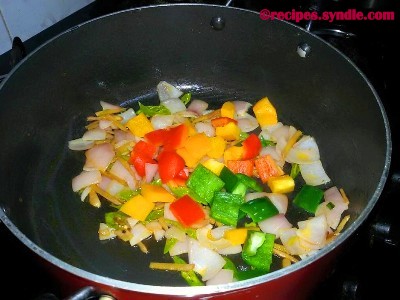 When it becomes soft add the sauces, soy sauce and tomato sauce. Saute it for 2- 3 minutes.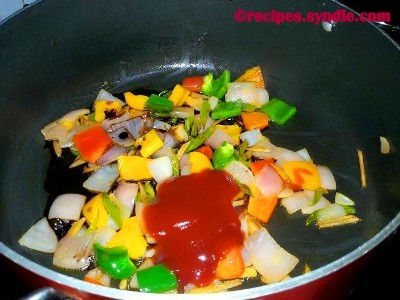 Then add the chilly paste, mix it well. Then add the chicken stock( soup)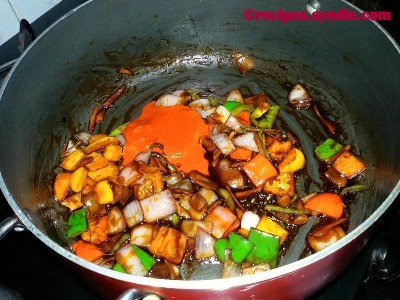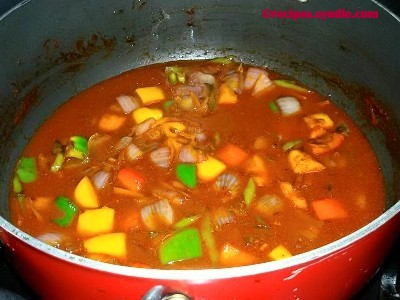 Add one tsp cornflour to gravy, when gravy start to thicken add the fried chicken pieces into it.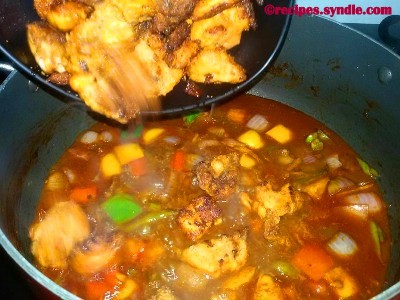 Stir it well and add finely chopped spring onion, adjust the salt.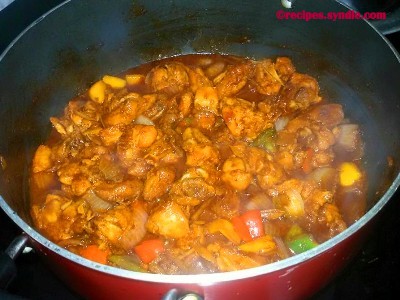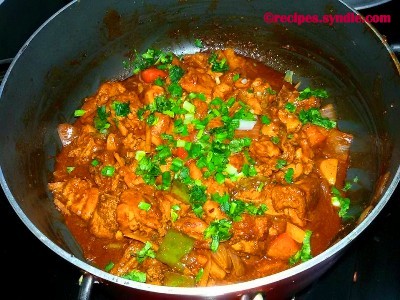 Ready to serve. Garnish with spring onion and celery leaves.