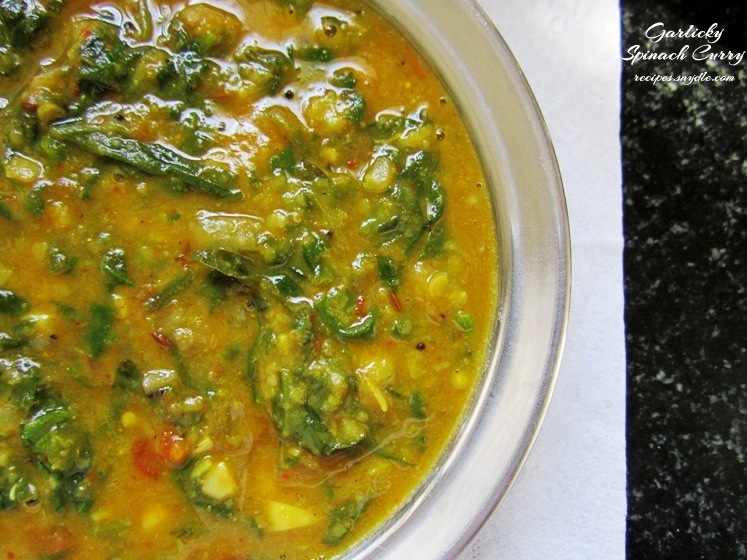 Hey foodies! Today I am sharing a very healthy spinach recipe. This is a spinach curry which has a gravy base of onions, tomatoes and pigeon pea lentil. Spinach and lentil is my favorite combo. I often make Sindhi style dal palak using chana dal, the recipe of which I will share soon. Besides, I make a thinner lentil curry with yellow/split moong dal. I have shared the recipe of that as well, you can find it here.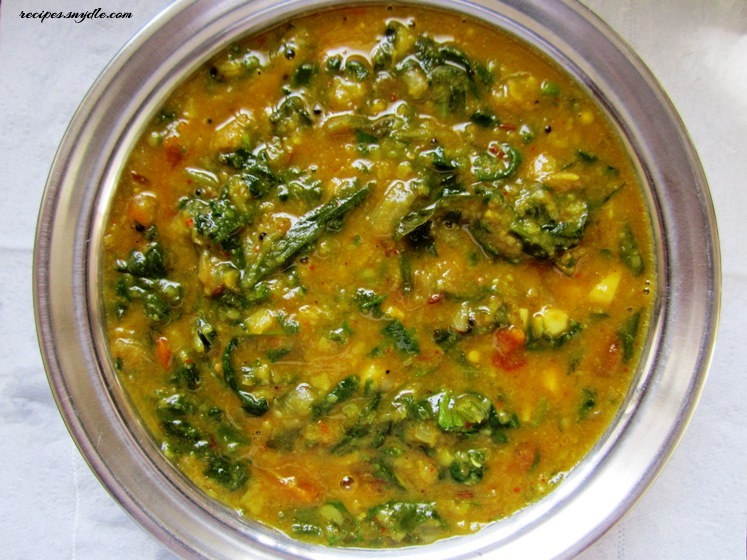 So now would ask what's the difference? Each of the 3 lentils have a very different flavour profile. The chana dal or split bengal gram has a richer, meaty flavor. It is also a bit heavy on the tummy. The split moong dal is very light and has a fresh flavor. Pigeon pea or toor dal is something I love a lot and I had some leftover toor dal so I thought let's try making spinach curry recipe using this toor dal. It turned out awesome and everyone loved it. Toor dal is lighter than chana dal and hence easier to digest. All 3 recipes use a different combination of condiments and that's what makes a major difference. I also added hing to this lentil curry today, which enhanced its flavor manifold.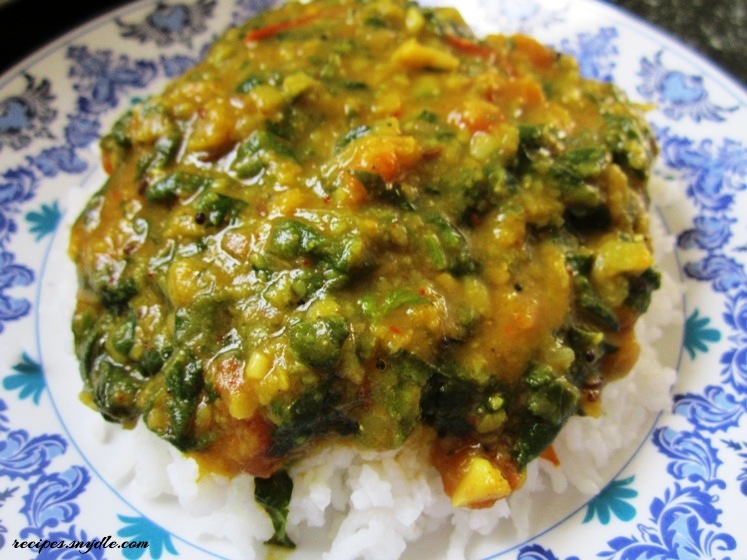 You don't need to add a lot of dal/lentil to spinach; Just enough to make curry. You can boil the toor dal ahead of time. This is a very easy spinach dish with lots of garlic. Let's begin with the recipe of dal palak. For the purpose of measurement, 1 cup = 250 ml. This recipe yields 3-4 servings.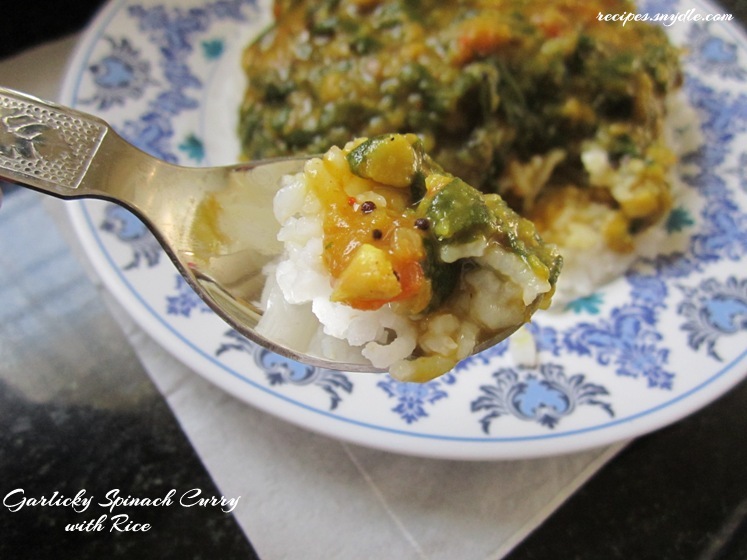 Ingredients
Palak/Spinach – 3 cups, tightly packed, finely chopped
Onion – 2 medium, finely chopped
Tomato – 2 medium, chopped
Garlic – 15 cloves, finely chopped
Curry leaves – 10 leaves
Green leaves- 2, chopped
Oil – 3 tbsp
Cumin seeds – 1 tsp
Mustard seeds – 3/4 tsp
Hing – 2 pinches
Red chili powder – 1 tsp
Turmeric powder – 1/2 tsp
Coriander powder – 1 tsp
Garam masala – 1/3 tsp
Coriander leaves – a handful, finely chopped
Salt – to taste
Water – 1/2 to 3/4 cup
To Prep the Toor Dal/Pigeon Pea Lentil
Toor dal/Pigeon Pea Lentil – 1/2 cup, washed and soaked for 30 minutes
Water – 1 and 1/2 cups or as needed
Turmeric – 1/2 tsp
Salt – to taste
How to Make Garlicky Spinach Curry
Pressure cook the toor dal with water, salt and turmeric for about 3 whistles or till the dal gets cooked. It should not be all mushed up but a bit grainy.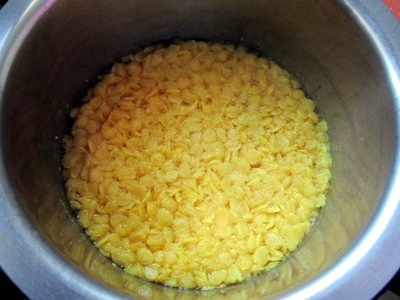 Prep all the remaining ingredients.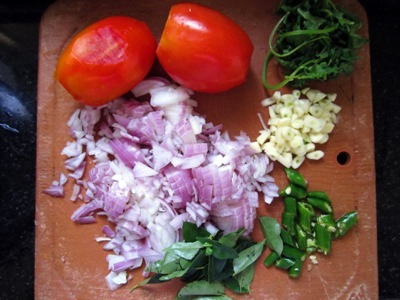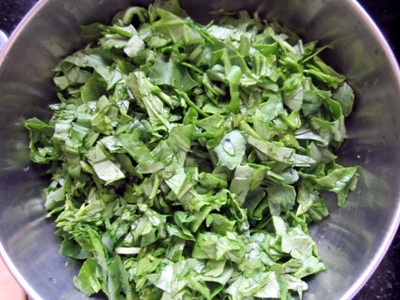 In a skillet/kadhai or pan, heat oil. Add in the mustard seeds, allow them to crackle. Add in the cumin seeds and allow them to sizzle. Then add in the hing/asafoetida and saute it for 2-3 seconds.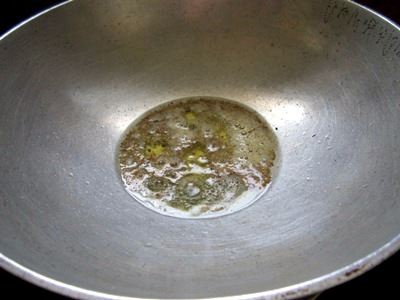 Add in the garlic and green chilies.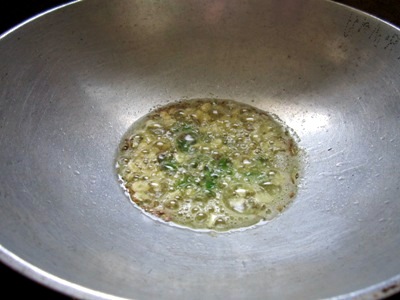 Add in the curry leaves. Saute everything for a minute on low flame till the garlic turns golden. Stir often.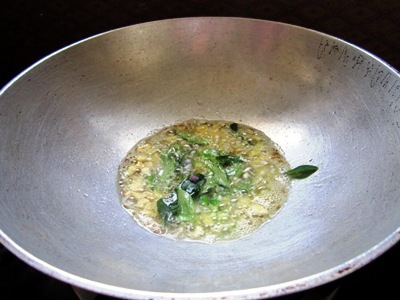 Add in the onion and saute till they turn golden.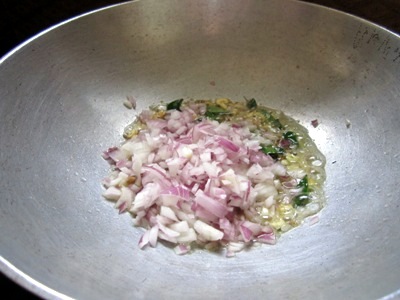 Add in the tomato and some salt. Cook till they turn mushy and the oil begins to separate.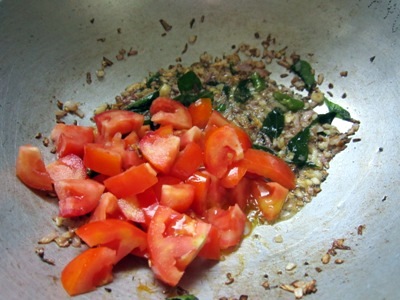 Add in the red chili powder, coriander powder, turmeric powder, garam masala and saute for a few seconds.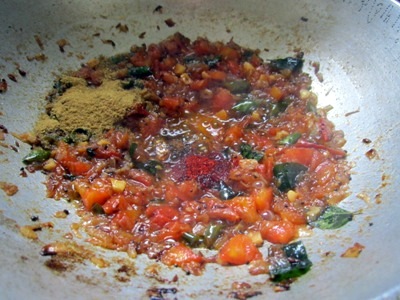 Add in the spinach and cook on medium heat till the spinach softens and gets cooked. This will take about 3-4 minutes.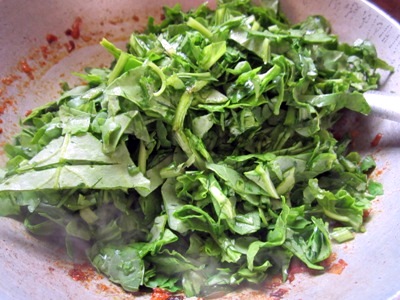 It will look like this when done.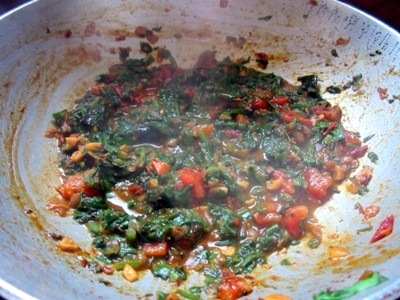 Add in the dal and mix well.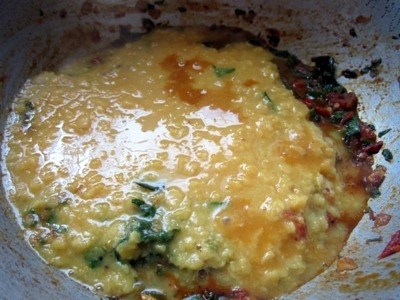 Add in water to adjust the consistency. Bring it to a boil. Then let it simmer for a good 8 to 10 minutes. The final consistency should be a bit thick.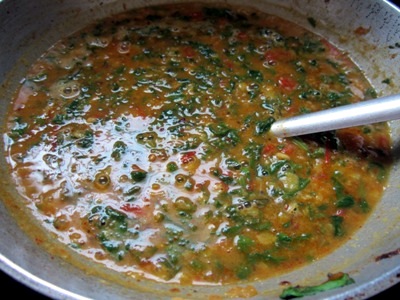 When done, add in the coriander leaves. Mix well.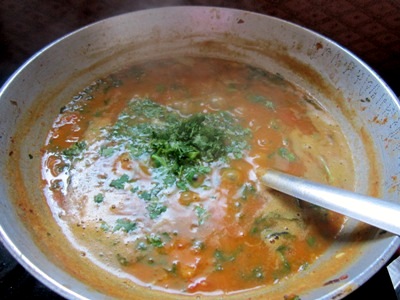 Garlicky spinach curry is ready. Serve hot with rotis or rice. It tastes great with rice.