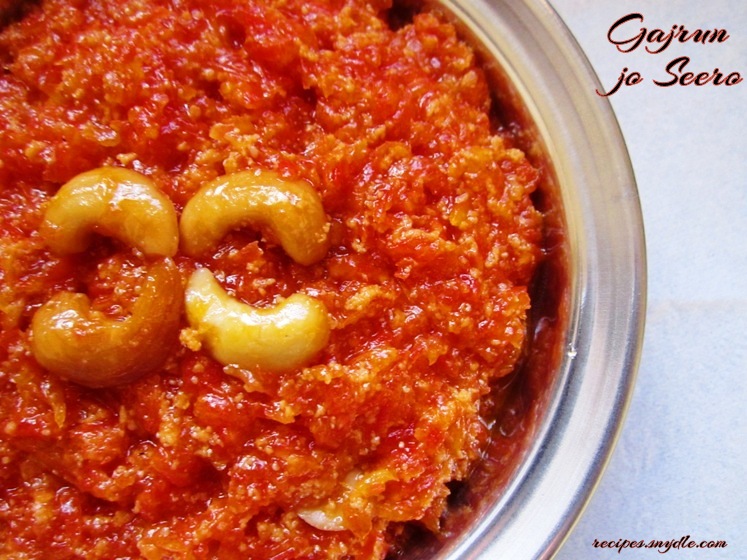 Gajrun jo Seero/ Gajar ka Halwa Recipe with step by step pictures.
Heya foodies! Today I am sharing an extremely delectable, lip smacking and one of the most loved Indian desserts of all time! It's Gajar ka Halwa! Or the Gajrun Jo Seero as we call it in Sindhi. Be it a casual dinner party or a wedding feast, no meal is complete without gajar ka halwa!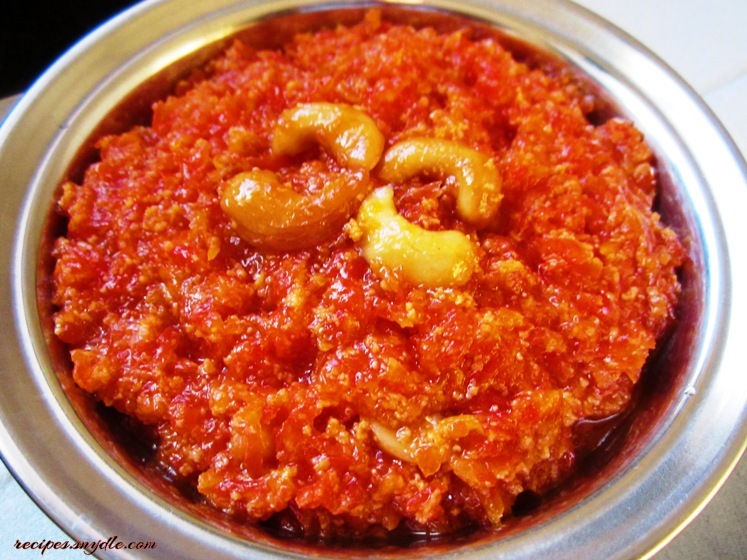 For those who aren't familiar with this gem of a dessert, gajar ka halwa is a pudding made with carrots. The carrots are cooked with a lot of milk, sweetened with sugar and the fragrance comes from the ghee and green cardamom. The nuts lend the halwa a nice texture. I usually add golden raisins as well. Since I was out of raisins, I skipped them.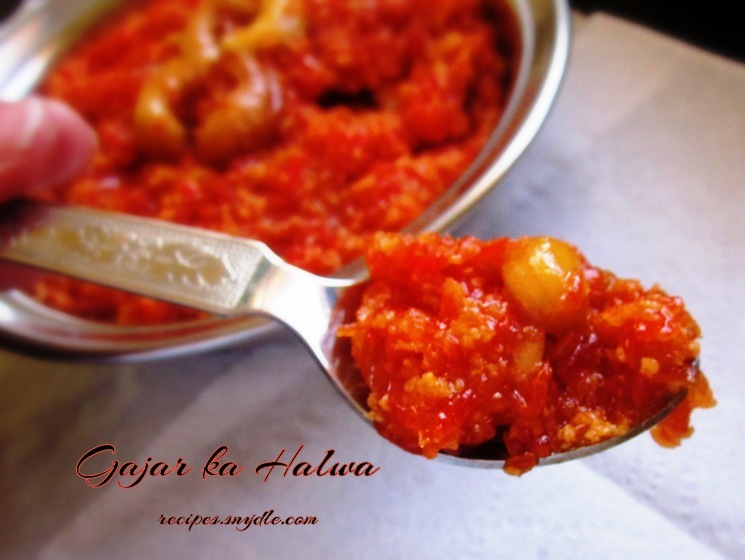 You might have come across so many recipes for gajar halwa that call for khoya and milkmaid. They do make the halwa rich but that's a hell lot of calories. So my gajar halwa is made without any khoya or milkmaid. The trick id to use whole milk and cook the halwa slowly, so that the carrots get enough time to soften and the milk gets reduced and lends a rich consistency and texture to the halwa. We get 2 kinds of carrots here, the red carrots and the orange carrots. The orange ones are also known as English carrots. You should buy the red carrots to make this halwa because they are naturally sweet. You just cannot make a good halwa with the orange English carrots.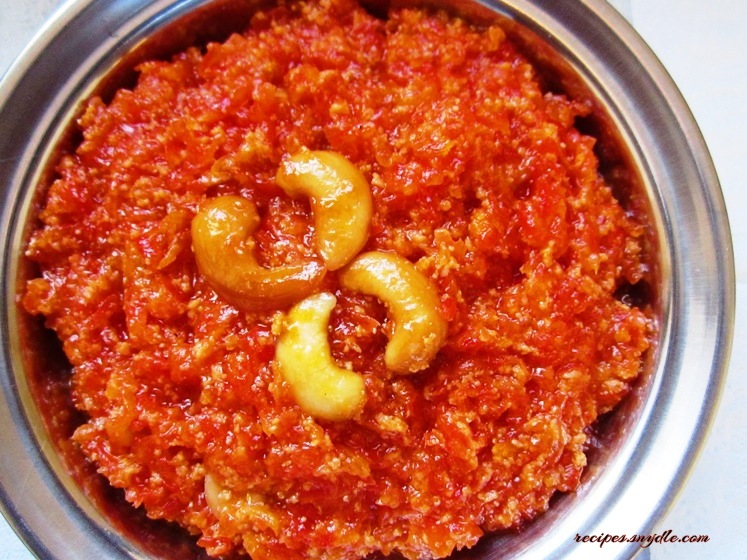 This recipe yields 5-6 servings. For the purpose of measurement, 1 cup = 250 ml. Let's begin with this easy gajar halwa recipe.
Ingredients
Red carrots – 1 kg, peeled, washed and grated
Ghee – 4 tbsp
Cashews – 25 to 30, halved or as little or as many as you like
Green cardamom powder – 1 and 1/2 tsp, freshly ground
Sugar – 3/4 cup or to taste
Full fat milk – 4 cups, boiled and cooled
Poppy seeds / khus khus -2 tbsp
How to Make Gajar ka Halwa
Wash the khus khus and strain it to drain the water. Let it stand for a few minutes to dry.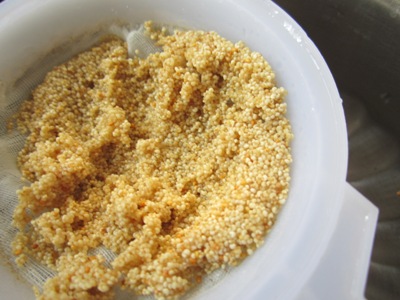 Heat 2 tbsp ghee in a kadhai/skillet or a pan. Add in the cashews and fry them for a minute or so on low flame till they turn golden.
Drain them and transfer them onto a plate. Set them aside for a while.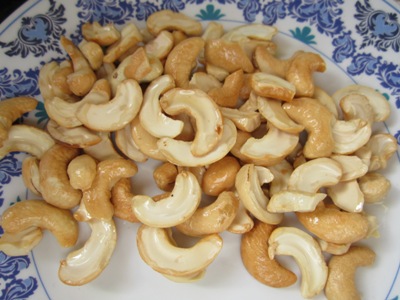 In the remaining ghee, add the poppy seeds and roast it for a couple of minutes on low flame till the seeds turn golden and lose their raw smell. Try not to burn them. Stir often.
Add in the grated carrots and roast the carrots lightly in the ghee for a minute or so. Keep the heat on low. We don't want to cook the carrots a lot, else they will go dry. Only the red color should go orange. It doesn't take very long. Stir often.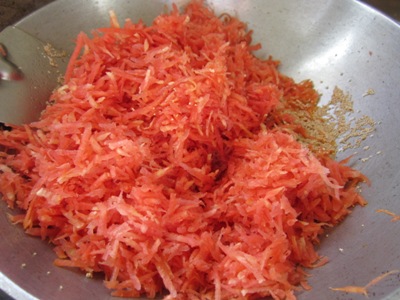 Add in the milk and the layer of cream on the top. Mix well. You can increase the heat a bit from now on, between medium high or so.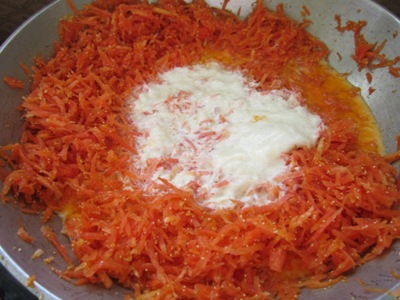 Add in the sugar. Adjust it to your taste. I like my halwa less sweet so I added just 3/4 cup. You could add 1 cup if you like it sweeter.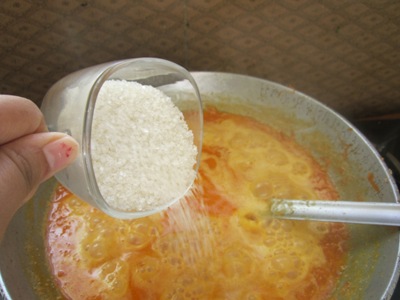 Continue to cook till the carrots are cooked and the liquid evaporates. This will take about 40 minutes give or take. It looks like this in the beginning.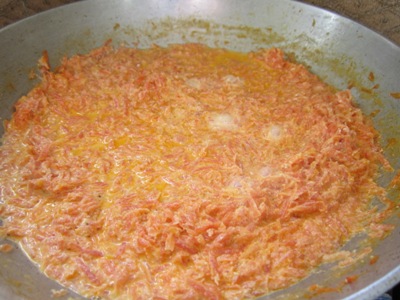 When the milk evaporates and the syrupy juice begins to appear on the side, add in the fried cashews and green cardamom powder. Cook for another 5 minutes or so.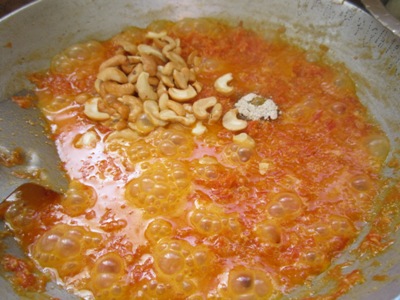 In the end, add in the remaining 2 tbsp of ghee and mix well.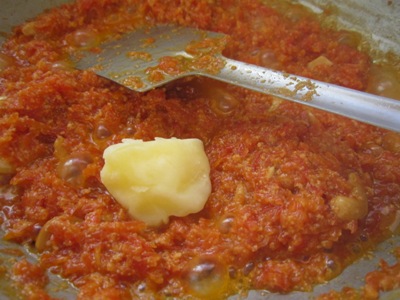 When the halwa comes together like this, switch off the flame. Gajar halwa is ready.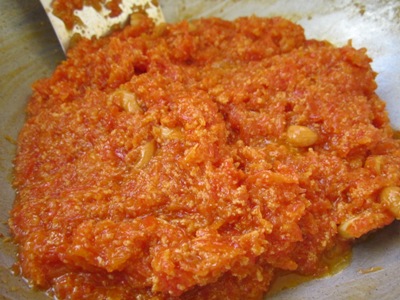 Enjoy hot, warm or cold. Enjoy!