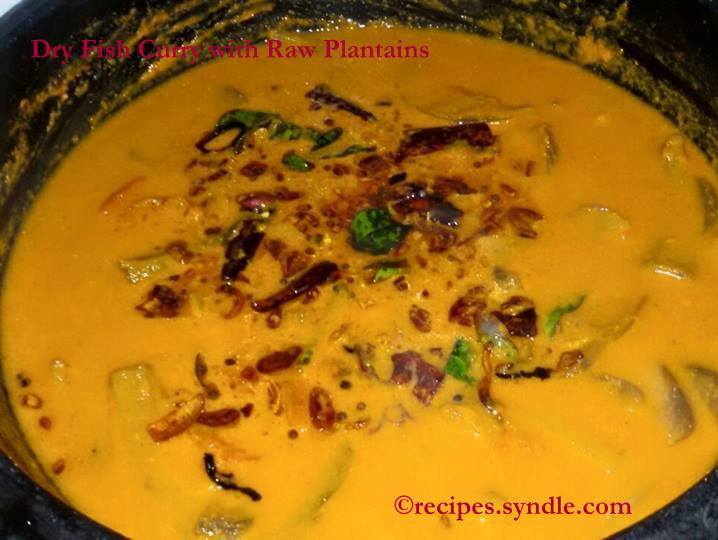 Raw Banana is known as Kaya in Malayalam. Unripe Bananas are used for making different side dishes in Kerala. Raw Plantains (Vazhakka) are mostly used for making Thoran, Mezhkkupuratti, Erisheri and so on. A friend told me that they cook Raw Plantains with Tapioca/Yuca and it tastes excellent. Vazhakka is also cooked with different kinds. Here am using this raw banana to make a dry fish curry and its really very healthy tasty and delicious
Dry fish is described as any fishes which had developed a strong odour within hours of capture and salted for about four days and then dried . It  is highly salted and semi dried fishery products with an obnoxious odour and a s cheesy but rich fishy flavour widely liked as a sea food item worldwide .
I am  writing here the most commom and  my favourite one which  i used make commonly in my family is dry fish curry with plantains (vazhakka)  . Before we start to make the receipe we should open the packet of dry fish and soak it in warm water for 30 minitues to wash off excess salt
 Ingredients
Raw plantains (vazhakka )-2
Egg fruit ( bringal , began , kathirika )-2
Tomatoes-2
Curry leaves-10 leaves
Green chillies-4
These all should cut well and keep it aside
oil-2 tbsp
Shallots chopped- 5
salt -to taste
Ginger-one small piece
To Grind to Paste
Tamarind juice-(6 tablespoon)
Coconut grated -half coconut
Chilly powder -2 tbsp
Turmeric powder-1 tsp
Coriander powder-1tsp
Fenugreek seeds lightly roasted-1tsp
How to Make Dry Fish Curry with Plantains 
The ingredients listed under 'To Grind to Paste',using little water and grind it to a fine paste.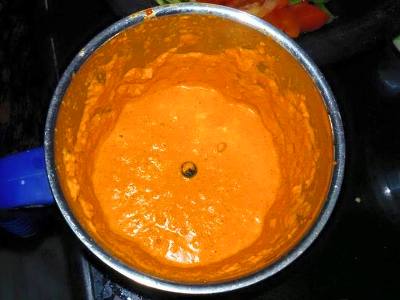 Take a clay pot with medium size, 1st clean that soaked dry fish and transfer to the clay pot using  for cooking.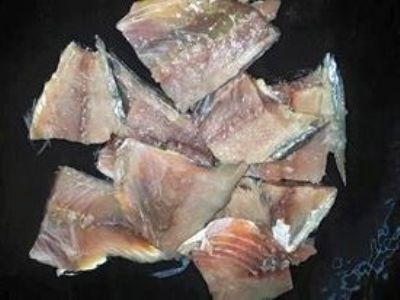 Using dry fish is ayila commonly get at shops and supermarket, then we should add chopped plantains, tomatoes, green chillies curry leaves egg fruit along with this as see on pic  two and keep it aside.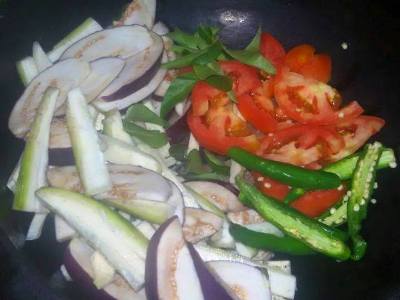 Add grinded coconut to the clay pot which is already keep aside with dry fish and veggies.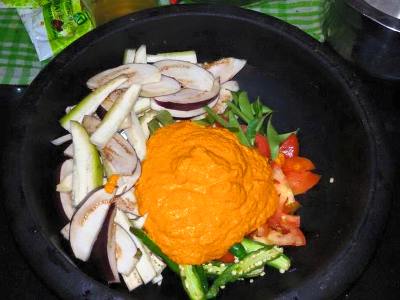 After this mix it well with little water for gravy(curry)and allow it to cook well till all veggies and dry fish cooked.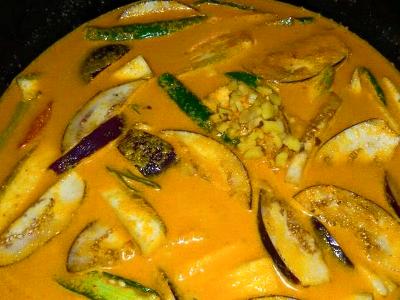 That time we should  do one thing for seasoning the curry(kaduvarukkal ).Take one small frying pan add 2 table spoon coconut oil then mustard seeeds after splutter add curry leaves shallots and dry chillies and stir it very well till it turns brown.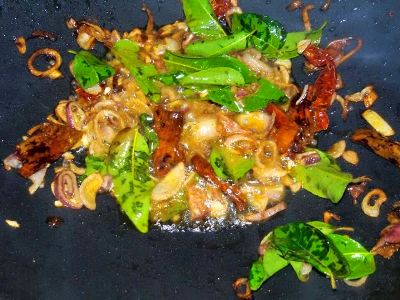 And  can see whether the fish curry is done well or not.  If its done u can keep the flame to low and add this seasoning to the top of curry and serve along with rice or chappathi . Its a mouth watering dish really delicious  u all should try once and give me the feed back. if u try na u all will make always.