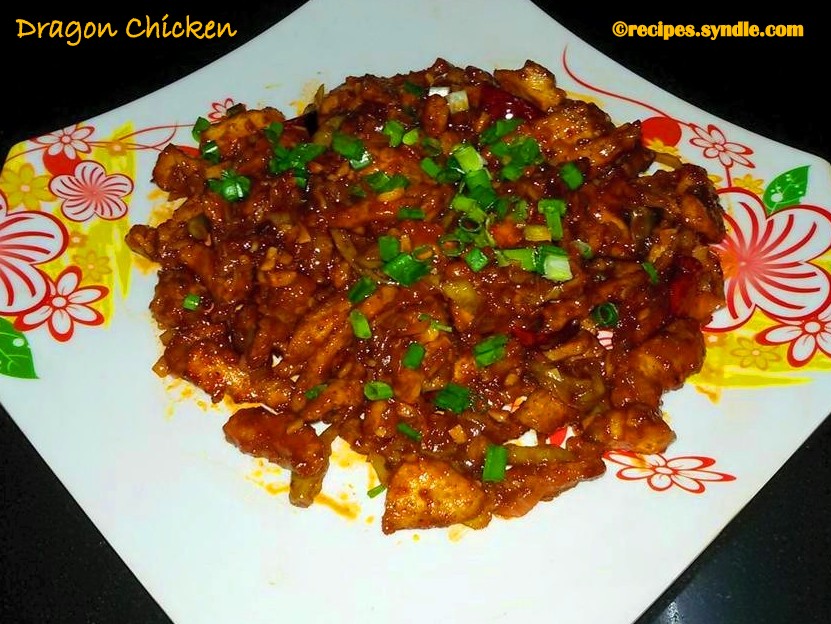 Dragon chicken is a real tasty appetizer for all those who love Indo-Chinese cuisine.  A tempting recipe to fall in love with and tastes very good too. One of the easiest indo- chinese chicken dish to make. The vibrant red color of this dish is very appealing, it tastes very delicious and can be made in no time and not much effort. Dragon Chichen could be served as a appetizer, side dish or a main dish and goes well with fried rice, plain rice, roti and chapati. This is a dry dish and slightly spicy too, to alter the spice level I have use honey. It is to die for, tasted, so heavenly.  I enjoyed the dish  that day and i tried it out after a couple of days.  So you all try this easy Dragon chicken recipe and let me know how it turned out for you.
Dragon Chicken Recipe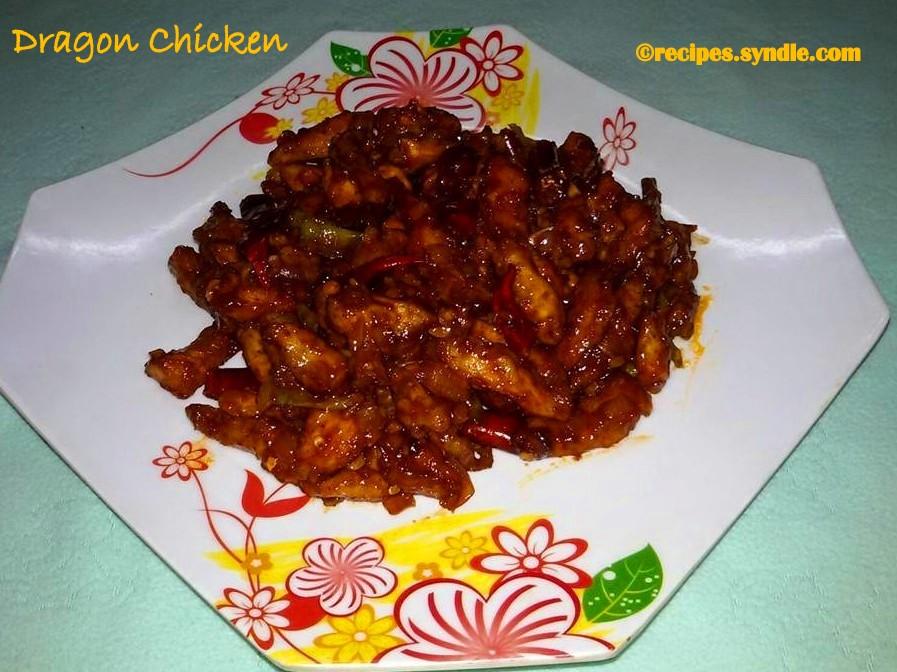 Ingredients
For Marrination
Boneless Chicken Breast- 500 g, cut into thin strips
Egg white- 1
Cornflour-1/4 cup
Ginger paste-1/2 tbsp
Garlic paste-1/2 tbsp
Salt- to taste
Pepper powder-1 tsp
For sauce
Refined oil-  for frying chicken
Dry red chillies- 3
Garlic- 1 tbsp, chopped
Onion- 1 , finely chopped
Green chillies- 3, removed seeds
Hot red chilly sauce- 1tbsp
Dark soy sauce-1 tsp
Tomato ketchup- 1tbsp
Salt- to taste
Chicken stock cubes- 1
Honey/Sugar- 2tsp
Spring onions-for garnishing
How to Make Dragon Chicken
Cut chicken into thin strips, wash well, drain it.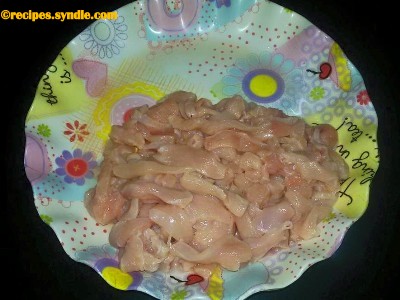 Take chicken and add all the marination ingredients listed under 'For Marrination'. Mix it well and let it marrinate afor 15 mints.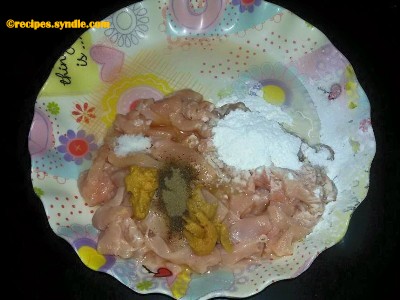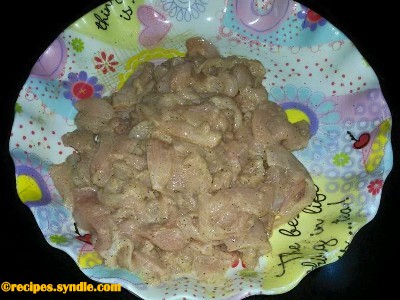 Now heat some refined oil for deep frying the chicken pieces. When the oil is hot drop the chicken in oil and fry till light golden brown colour. Drain it and Keep it aside.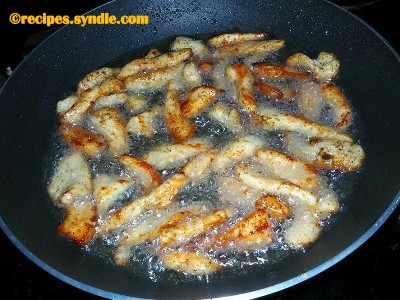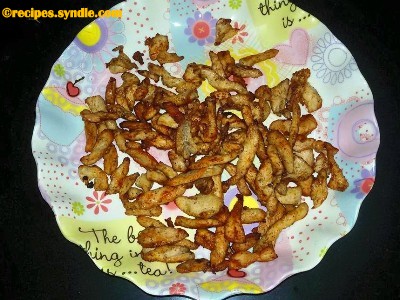 Now add 2 tsp oil  in a frying pan ( Can use the chicken fried oil) Add Garlic chopped, green chillies sliced. Saute it for a minute.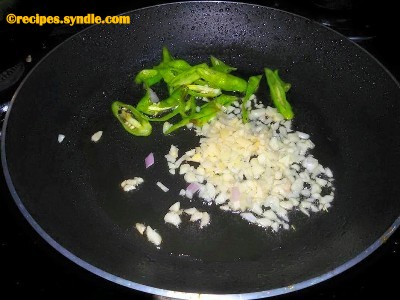 Now add in onions and toss well in the oil.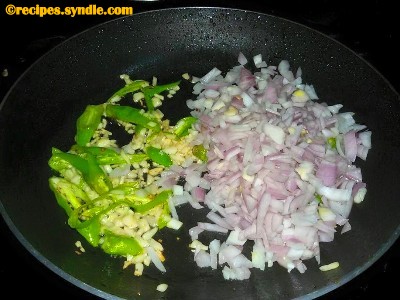 Now add the dry red chillies, hot chilly sauce, soy sauce, tomato ketchup, and salt, combine it vey well.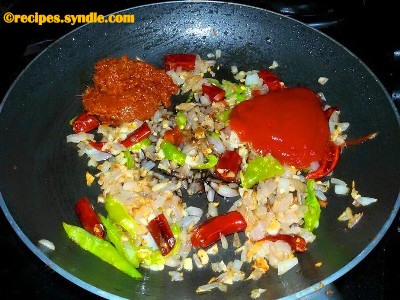 Cook it for a couple of minutes till water content evaporates and sauce thickens. Then add in honey to make the hot less.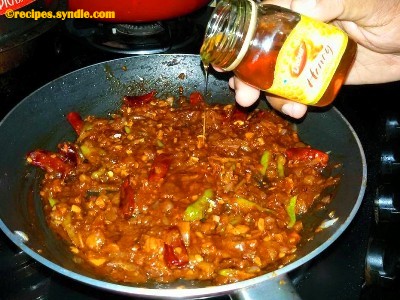 Now add in the fried chicken and toss well in the sauce.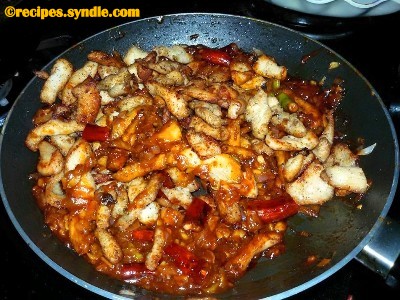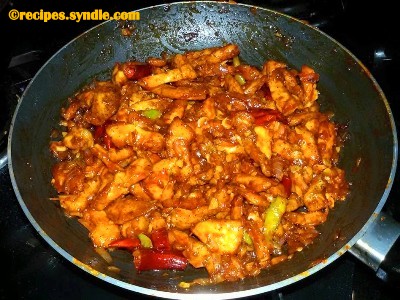 Now its ready to serve, grainish it with spring onion. Serve it hot.