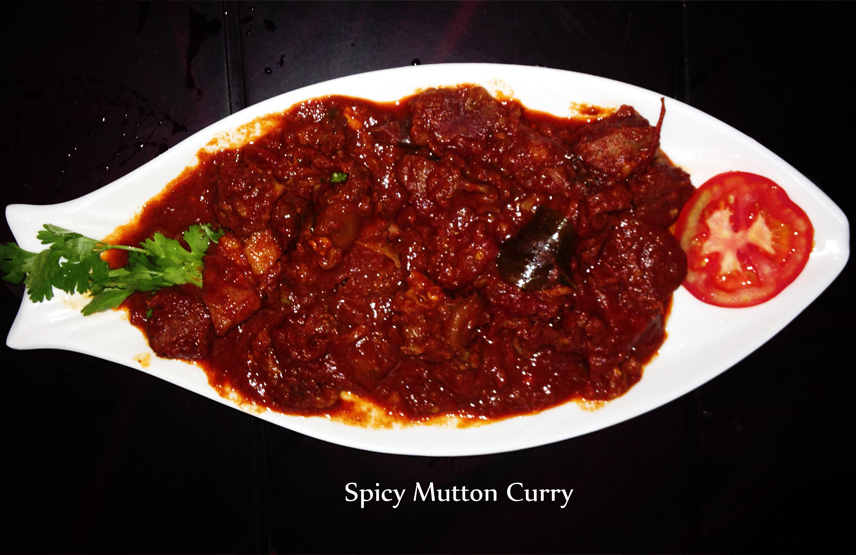 Hi Friends, Today i am introducing another non-vegetarian recipe with you guys, and that is "Spicy Mutton Curry. Here in kerala most of the people like spicy foods. So i thought this time i have to try with mutton. So i prepared it, hope you guys will  definitely like it.The most notable ingredient in Kashmiri cuisine is mutton. It has over 30 varieties and it has been strongly influenced by the cuisines of Central Asian, Persia and North Indian plains.Preparing Mutton or Lamb curry the authentic Indian way is the best. The curries would be finger licking, rich and delicious. The dish goes perfectly with Pulao, mutton biryani, naan, romali rotis.Biryani is one of the most exquisite, popular and loved dishes all over India. The Biryanis are prepared in different styles and flavors. Hyderabad, a city from the Southern State in India is synonymous with Biryani. It is a preparation where cooked basmati rice and cooked meat (lamb or chicken) and fresh spices and herbs are mixed together. Biryani was brought to the Indian subcontinent by the Muslim travelers and merchants.Naming few of the popular Biryanis are: Hyderabadi Biryani, Lucknowi (Awadhi) Biryani , Calcutta Biryani, Iranian Biryani, Kacchi Biryani, Zafrani Biryani and many more.  Other popular mutton dishes are the Achar Gosht, Bhuna Mutton (Bhuna Gosht), Kakori Kebab, Mutton Shorba, Rogan Josh, Shahi Kurma, Shammi Kebab. Mutton paya etc.Mutton is eaten in various forms in India and mutton dishes are part of various festive occasions in India.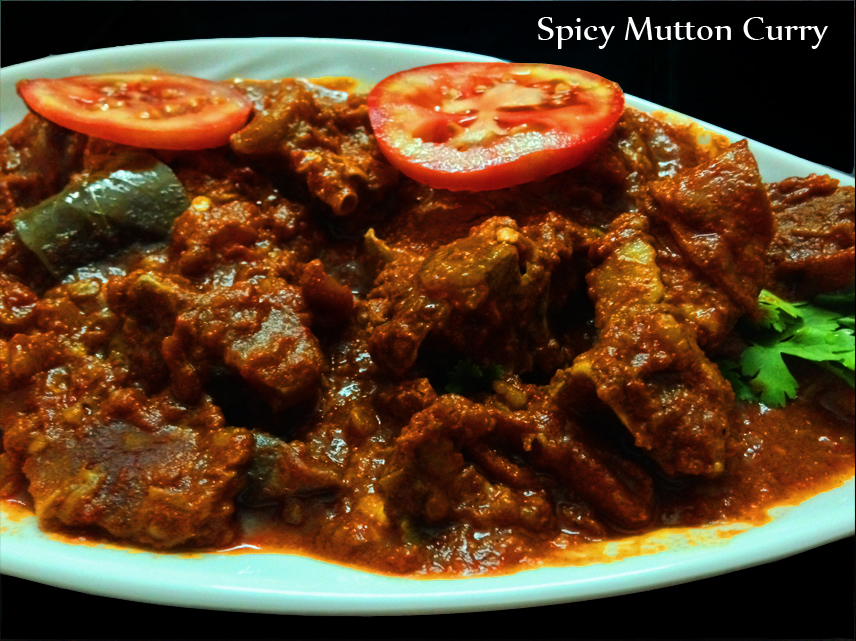 Health content :-Protein is essential for maintaining your muscle mass and building a strong immune system Each serving of mutton provides 4 milligrams of iron, or 22 percent of the daily value. Iron is necessary for healthy red blood cells and preventing anemia, and the iron from meat is in the form of heme iron, which is easy for your body to absorb. Zinc is a mineral that promotes a strong immune system, Potassium helps counter the effects of sodium, and a high-potassium, low-sodium diet helps lower your blood pressure.
Spicy Mutton Curry Recipe
Ingredients For Preparation :-
Mutton –  500 gm
Onion – 2 nos
Tomatoes – 2 nos
Potato –  1 no
Green chilli- 3 nos
Garam Masala powder – 1 tsp
Ginger garlic paste –  1 tbsp
Oil- 1 tbsp
Red Chiili Powder – 1 tbsp
Kashmiri Chilli powder – 1/2 tsp
Turmeric powder -1/2 tsp
Coriander powder – 1/2 tbsp
Curry Leaves
Salt – as per the taste
Ingredients For Marination :-
Yogurt – 1/2 cup
Garama masala – 1/2 tsp
Red Chiili powder – 1 tbsp
Kashmiri chilli powder – 1/2 tsp
Turmeric powder – 1/2 tsp
Pepper powder – 1 tsp
Vinegar – 1/2 tsp
How To Make Spicy Mutton Curry
Dear friends. first of all we have to marinate the mutton at least for 15-20 mins. For that, take a bowl add all the ingredients expect yogurt. After we can that too and make a paste.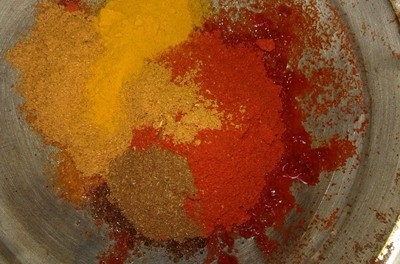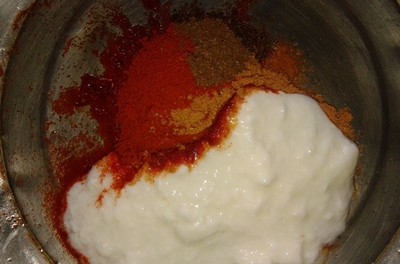 Now add Mutton Pieces and Pepper powder into the bowl and coat well .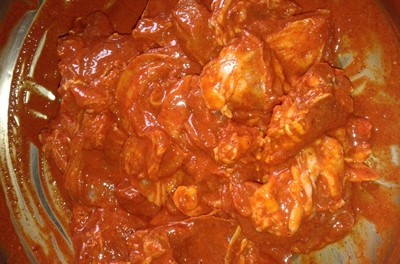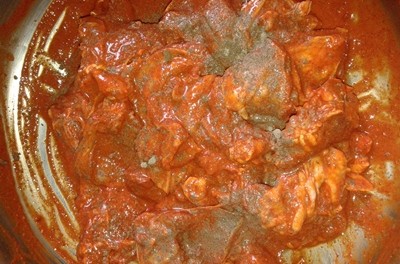 And leave it for at least 15-20 mins . Here i am keeping it into the refrigerator for the best result.while Mutton marinates we can arrange the other ingredients. such as slicing and chopping etc.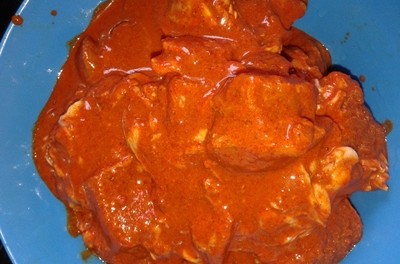 After marination , we can heat a pressure cooker into that we can add sliced onions.Cook it until it gets into light brown colour.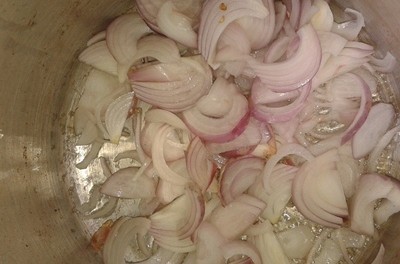 Then we add our ginger garlic paste into the pressure cooker and cook nicely foe 5-10 mins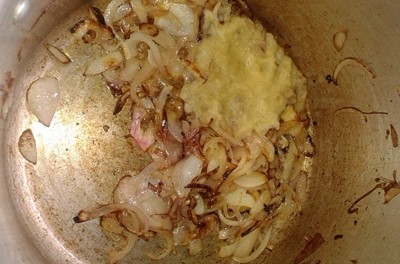 Now the time is to add our powdered ingredients. Such as, Coriander powder, red chiili powder, kashmiri chilli powder, garam masala powder, turmeric powder and salt as per the taste.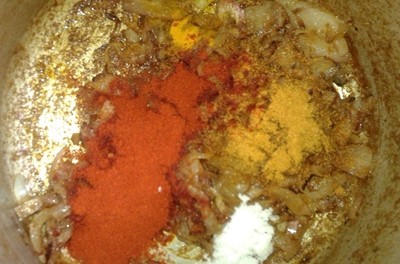 Mix well all together, after that we can add sliced tomatoes and green chiili into the pressure cooker. Again cook for 5 mins.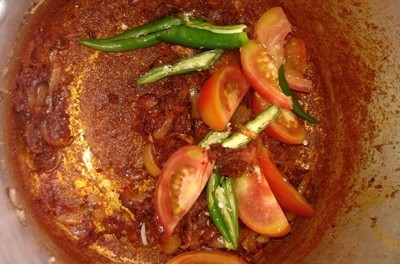 Now add the potatoes into it and mix well. Again cook for 5-10 mins.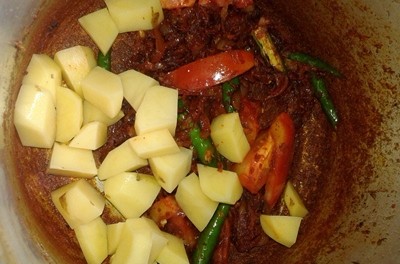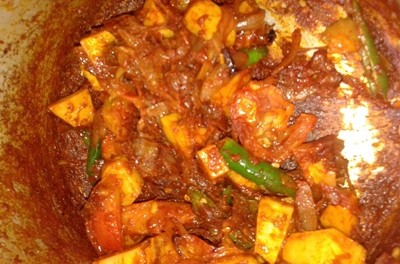 When tomatoes gets cooked we can add marinated mutton with required amount of water into the pressure cooker into the pressure cooker and after the first whistle, reduce the flame to low and leave it for 10 – 15 minutes or 3 whistles.  Wait till the pressure subsides and open the lid.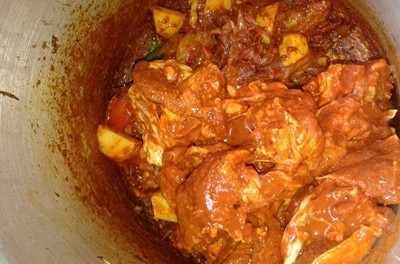 After that, add curry leaves . If you a thick curry, then you can cook for another 10 mins on medium flame without the lid.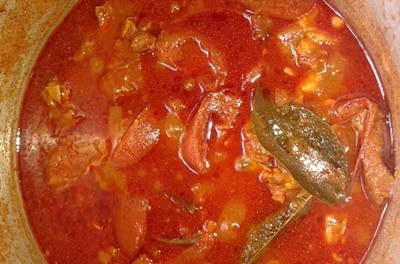 I have garnished the mutton with a sliced tomato piece and coriander leaves . So here the spicy mutton curry is ready to serve. Hope you guys like .