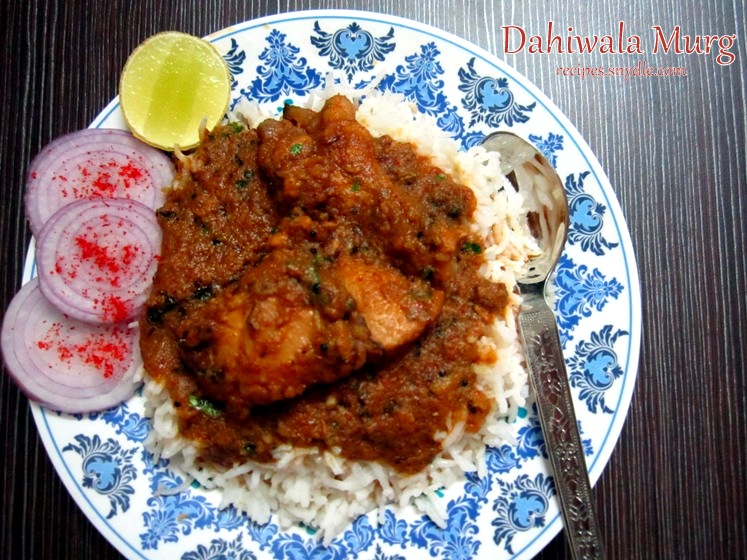 Dahiwala Murg Recipe / Chicken in Yogurt Sauce Recipe with Step by Step Pictures.
Hey foodies! Hope you are having a great weekend. Today I am sharing the recipe of Dahiwala Murg, which is a chicken curry that has a yogurt base. There are many versions of this recipe, this one I learned from one of my friends. They key to making a good chicken curry is roasting the chicken with the masala really well. This process is called 'bhunna' in Hindi and it brings out the flavor of the chicken into the curry.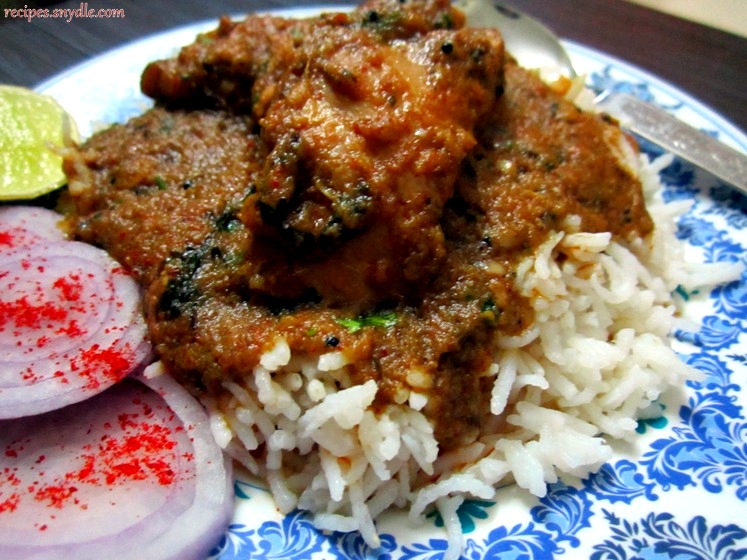 The roasting process takes up the major cooking time for this recipe. It may take a bit longer for this curry to get ready but its worthwhile. Make sure you use thick yogurt for this chicken curry recipe. I hung the yogurt in a muslin cloth for 2 hours and allowed the water to drip. Also, the yogurt should be whisked well. Otherwise, the yogurt can split and ruin the gravy.
So let's begin with the recipe for Dahiwala Murg or Dahiwala Chicken. his recipe yields 3 servings. For the purpose of measurement, 1 cup = 250 ml.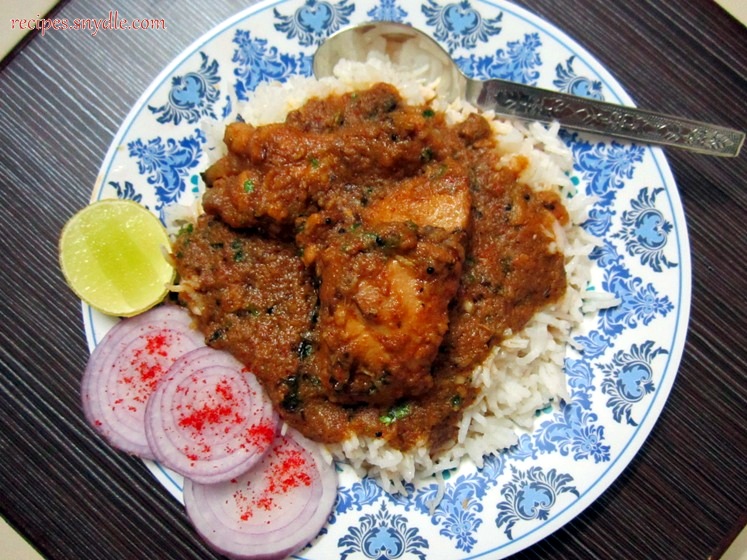 Ingredients
Chicken on bone – 750 grams
Onion – 3 medium, pureed
Tomato – 1 large, pureed
Ginger – 1 and 1/2 inch piece
Garlic – 12 cloves
Green chilies – 6
Curry powder – 2 tsp
Kashmiri red chili – 1 tsp
Red chili powder (spicy variety) – 1 tsp or to taste
Salt – to taste
Thick hung yogurt – 3/4 cup (not very sour)
Cilantro – a handful + some more for garnish
Oil – 5 tbsp
Water – 3 cups
Whole spices
Cumin seeds – 3/4 tsp
Mustard seeds – 3/4 tsp
Shahi jeera – 3/4 tsp
Bay leaf – 2
Black cardamom – 2
Star anise – 1
Black peppercorns – 1 tsp
Cloves – 5
How to Make Dahiwala Murg
Grind ginger, chili and garlic together. In a skillet heat oil. Add in the mustard seeds amd allow them to crackle. Then add the cumin seeds and allow them to sizzle as well.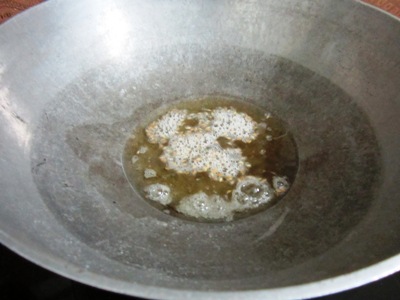 Then add the remaining whole spices and fry them for a few seconds till they become aromatic. Try not to burn the spices.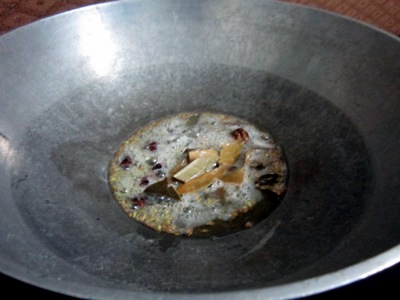 Add in the onion puree and saute it till it turns golden brown.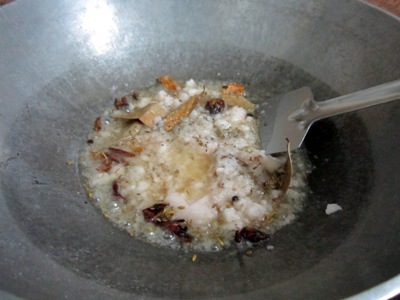 Add in the ginger, garlic and green chili paste and saute till the raw smell goes away.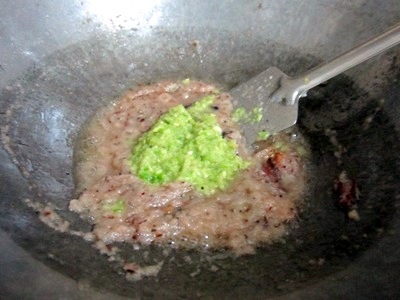 Add in the curry powder and red chili powder. Continue to cook the onion paste for about 3-4 minutes on medium low flame. Stir often.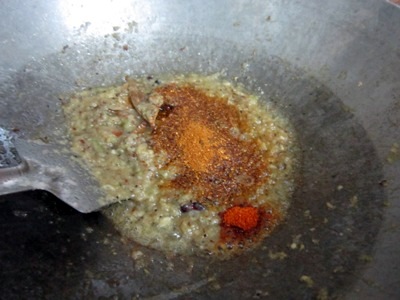 Add in the tomato puree little by little and saute till the raw smell of tomato goes away and oil begins to separate.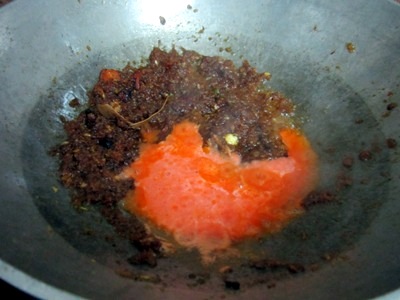 Add in the yogurt and cook for another 2-3 minutes. The oil will begin to separate again.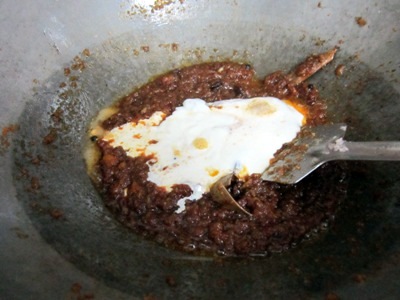 Add in the chicken, some salt and bhuno/roast it with masala till it loses its pink color and becomes white. Sprinkle some water if the mixture looks too try. Continue to roast for another 5-6 minutes.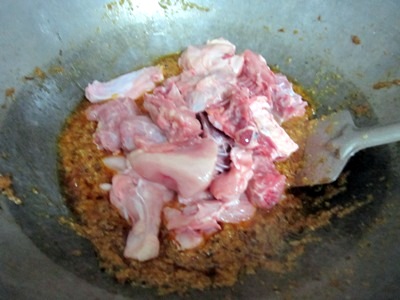 Add in the handful of chopped coriander. Mix well. The oil would separate again.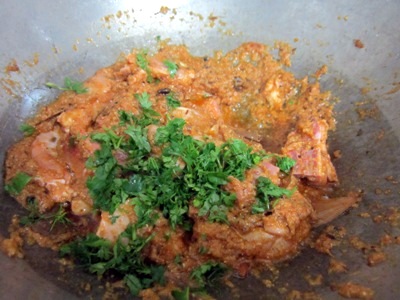 Add in the kashmiri chili powder at this stage and mix well. This will lend the curry a bright color.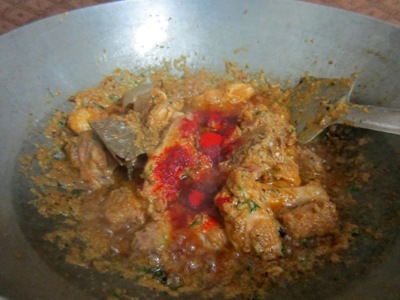 Add in the water and allow the curry to come to a boil. Cook without covering the skillet and let it cook.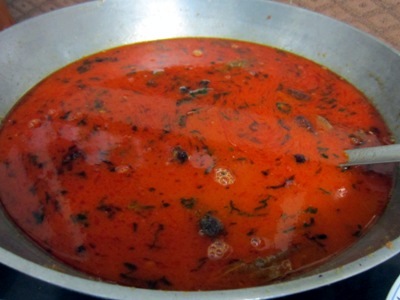 The water will evaporate, the chicken will absorb the flavors and become tender and juicy.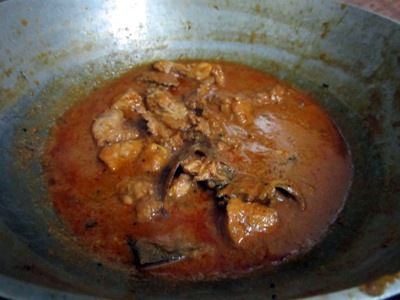 The oil will come on surface. Garnish with some more coriander leaves. Mix well. Switch off the heat.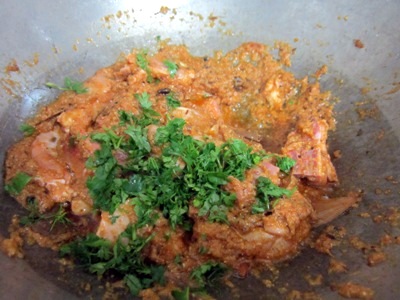 Dahiwala Murg is ready. Serve with roti or naan. I like it more with rice. So I topped some rice with curry and onion slices and fresh lemon. Enjoy!