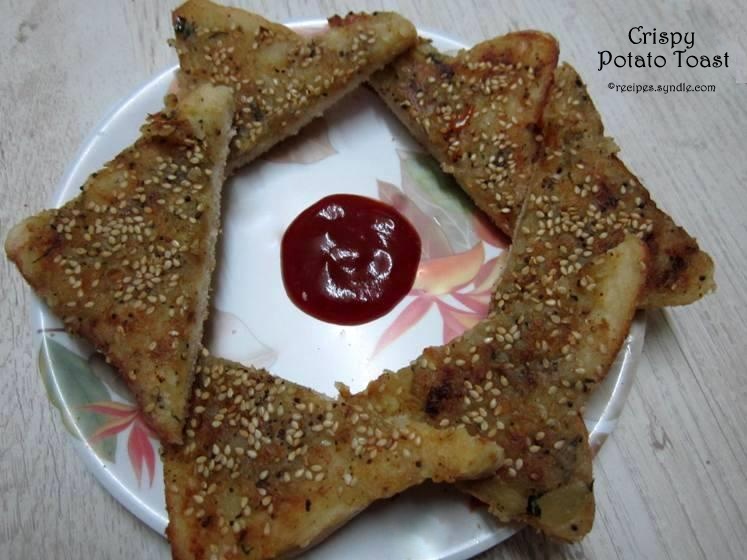 Hello buddies. Being home alone today I was in no mood to cook a proper lunch just for myself. So I made a sandwich. Sandwiches are great. You can make them in no time. I am a fan of sandwiches and I created one of my favorite sandwich recipes today. This is an open sandwich recipe. More so like a toast topped with cheese spread and creamy potatoes and toasted to get a crispy texture on top.
If you would be interested in more sandwich recipes, do check these out.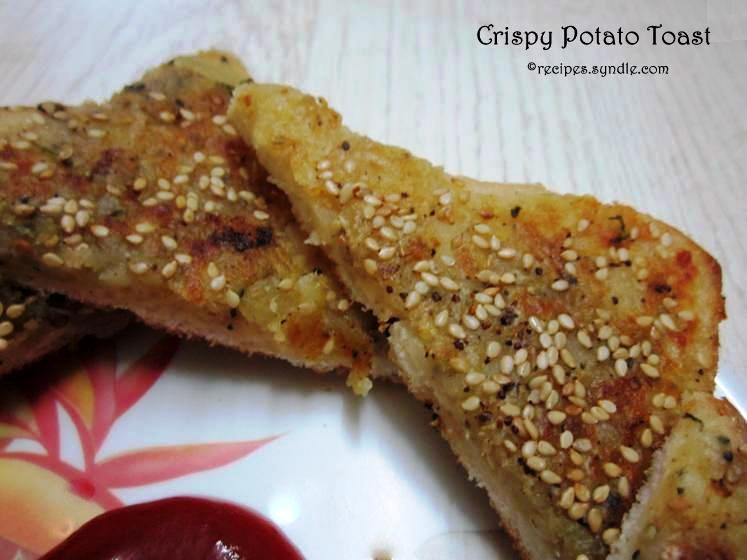 Let's start with the recipe of this potato toast. This recipe yields 6 open-faced sandwiches.
Ingredients
Bread slices – 6
Cheese spread – as needed
Potatoes 3 medium – boiled and mashed
Garam Masala – 1/3 tsp
Black pepper powder – 1 tsp or to taste
Salt – to taste
Lemon juice – 1/2 tsp or to taste
Sour cream – 2 tbsp
Butter – 2 tbsp
Mustard seeds – 1/2 tsp
Onion – 1 small, finely chopped
Green chili – 1, finely chopped
Ginger – 1/2-inch piece, grated
Coriander leaves – 3 tbsp, finely chopped
Sesame seeds – as needed
Oil – 1 tsp
How to Make Crispy Potato Toast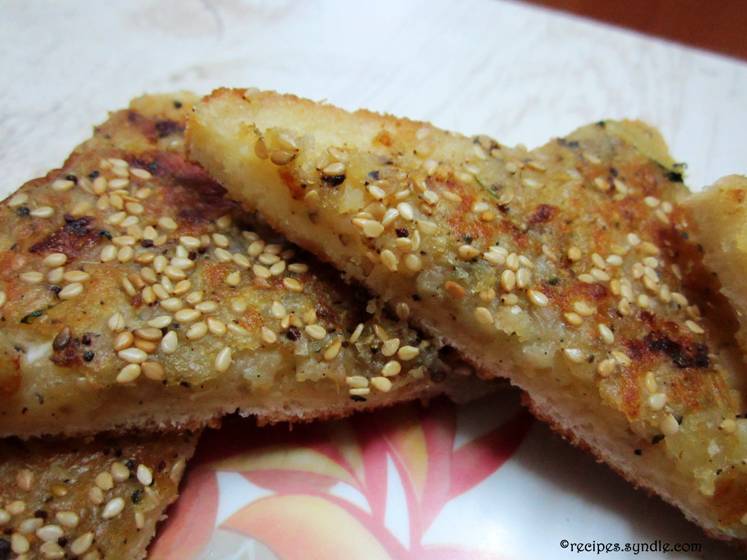 Heat oil in a skillet. We won't use much oil here since we will be adding butter in the end. Add in the mustard and let it splutter. Then toss in the onion.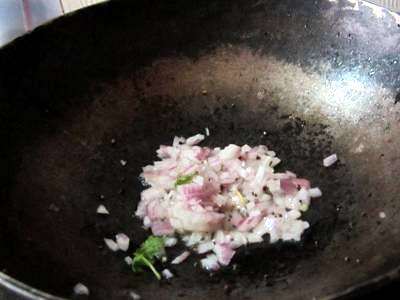 Saute the onion on medium heat till it softens a bit. Add in the ginger, green chili and saute for a few seconds till a nice aroma comes.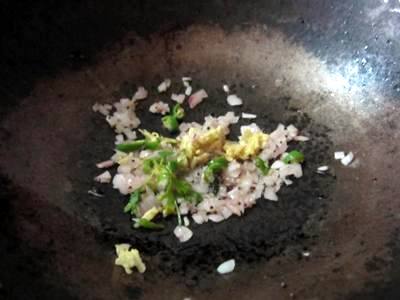 Add in the mashed, boiled potatoes, salt, garam masala, chopped coriander, black pepper, salt and lemon. Mix well and let the potato heat up nicely so that all the flavors combine well.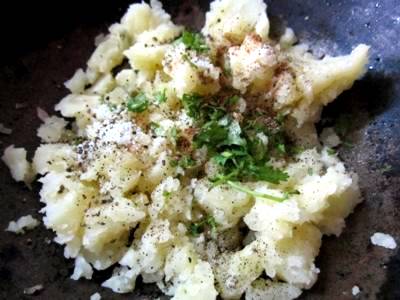 Allow the mixture to cool down a little. Add the sour cream and butter while the potato mixtue is still warm. Mix well.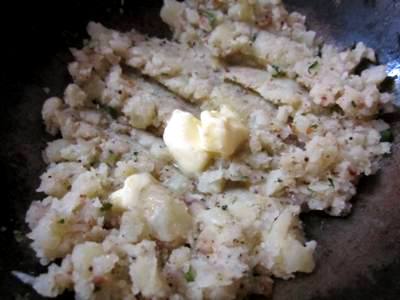 Dish it out. A very creamy, buttery potato filling is ready.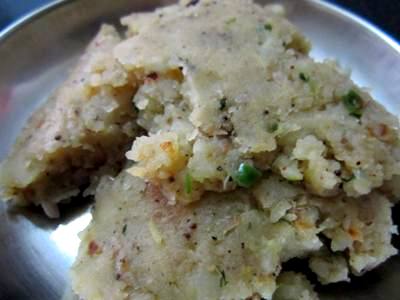 Now take bread slices. I made 3 sandwiches now and saved the half of the stuffing for later. Apply the cheese spread onto the bread slices generously.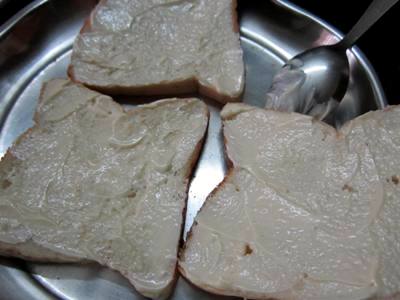 Apply a generous layer of potato mixture over the layer of cheese.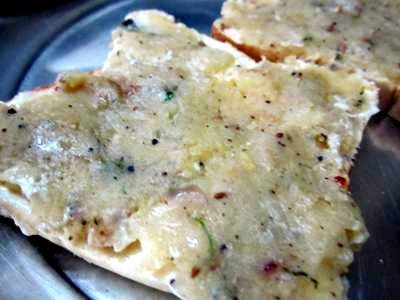 Sprinkle some sesame seeds and press them very gently with your fingertips to make them stick to the potato.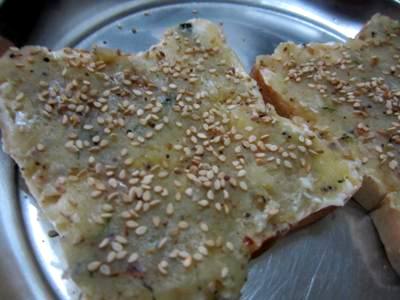 Heat the griddle and place the sandwiches potato sides up. I didn't use any butter while toasting the sandwich. But if you want to, you can. Allow the bread to toast on low flame for 5 minutes till it becomes a little crisp.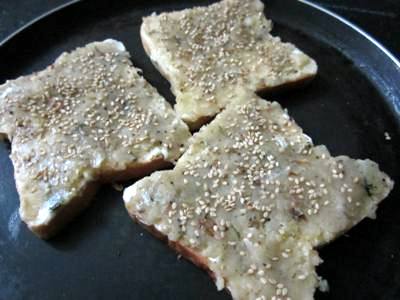 Flip the sandwiches carefully. Now increase the heat for a minute so that the potato develops a crust without losing a lot of moisture. After a minute, lower the heat and let it toast that way for a couple of more minutes till the sesame seeds get toasted and become fragrant.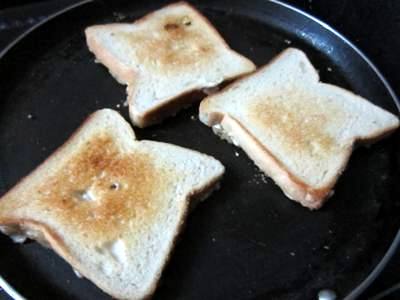 Flip again. If the bread is crisp enough, remove the sandwich onto a plate. Else toast for a couple of more minutes.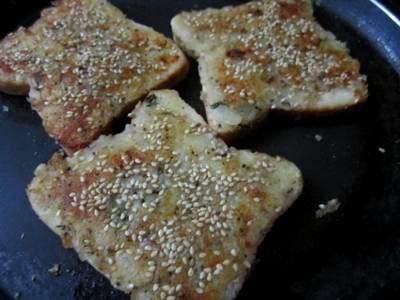 Cut the toast into half and serve with ketchup or any dip of your choice. Enjoy!