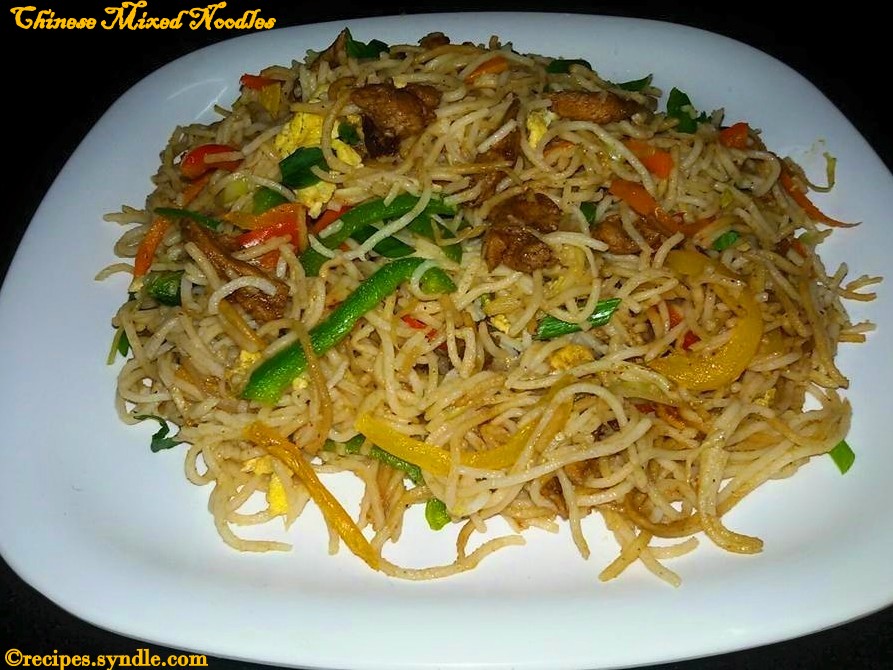 Hello Buddies!! I am again back with a very popular yummy dish, kids favorite Mixed Noodles. A healthy fast food  that you can make at home. It is a popular chinese meal. Sometimes on a busy day, we can have it without any other side dish. Sometimes Iused to cook it for my kid lunch box. Most of the kids would love the dish. This recipe is my son favourite among any other noodle recipe. Chinese noodles are versatile, avaliable in so many different forms like dry, gravy, soupy, stir fry , pan fry etc etc. Mixed noodles is always cooked with choice of shredded chicken, scrambled eggs and shredded veggies. It is a very delicious recipe and really quick to make and result will be good. I think you can substitute the meat with seafoods and other veggies also.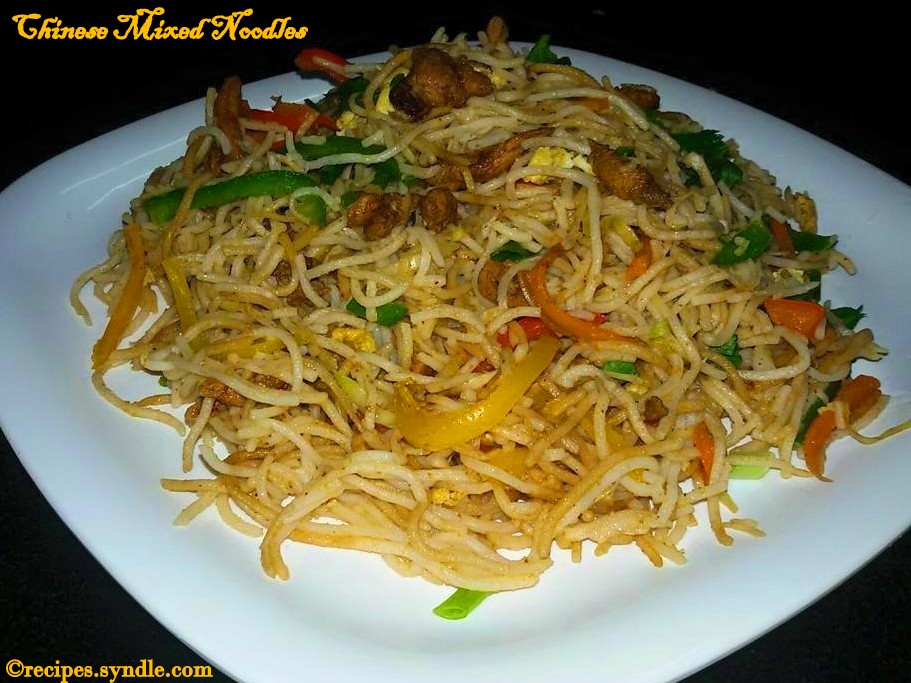 Its my families all time favourite dish! Noodles tossed with shredded chicken and vegetables or any other ingredients of your choice like mushrooms etc. Its a very quick and easy to make and perfect to serve with gravy of your choice. Here I served it along with Garlic Chicken. Lets see how I am going to make this yummy  and easy noodles.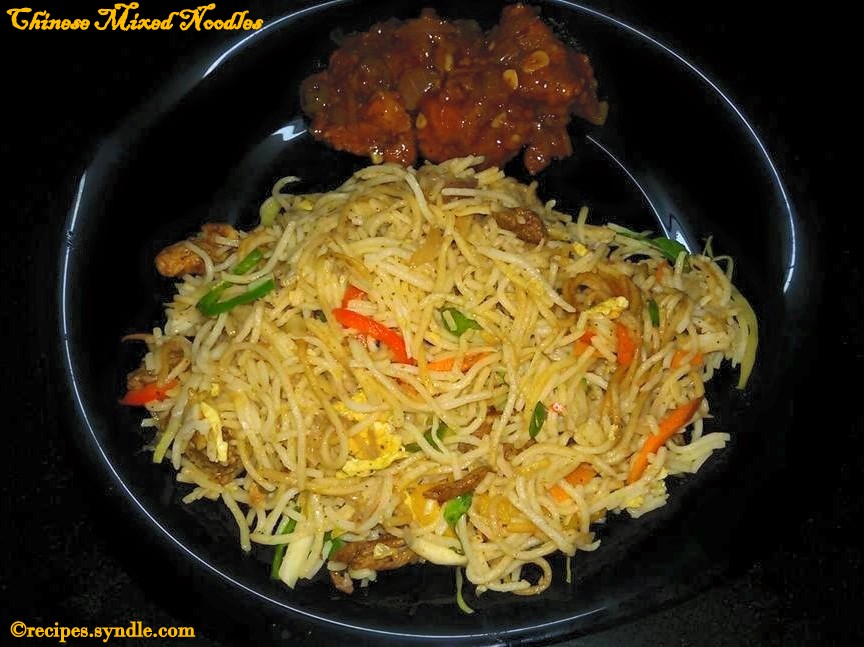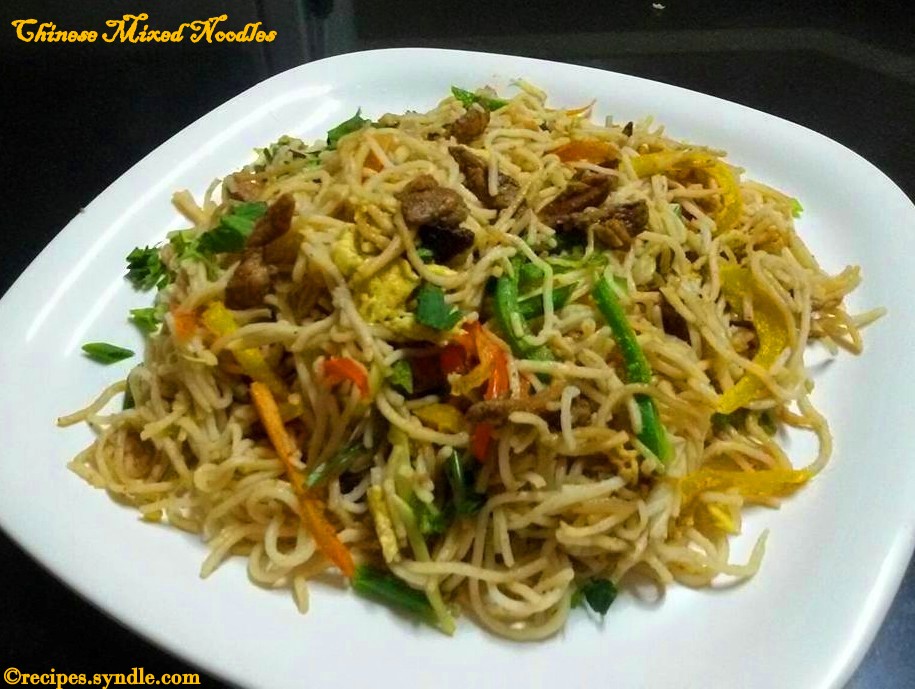 Chinese Mixed Noodles Recipe
Ingredients 
Noodles- 250 gram
Chicken breast- 100 gram, sliced to strips
Egg – 2
Mushrooms-1/2 cup
Onions- 1, thinly sliced
Green capsicum-1/2 cup
Yellow capsicum-1/2 cup
Red capsicum-1/2 cup, sliced to strips
Spring onion chopped- 1/2 cup
Celery leaves- 2tsp
Cabbage-1/2 cup, sliced to strips
Carrot -1/2 cup, sliced to strips
Ginger paste-1tsp
Garlic paste- 1tsp
Soy sauce- 1tbsp
Red chilly sauce/green chilly sauce- 2 tsp
Vinegar- 2tsp
Sugar- 1 pinch
Pepper powder- 2tsp
Refined oil- 1tbsp
Salt – to taste
How to Make Chinese Mixed Noodles
For preparing mixed noodles, cook the noodles first in salt water adding 2 tsp refined oil  for 4- 5 minutes. Drain it, rinse thoroughly with cold running water. Drain it again and keep it aside.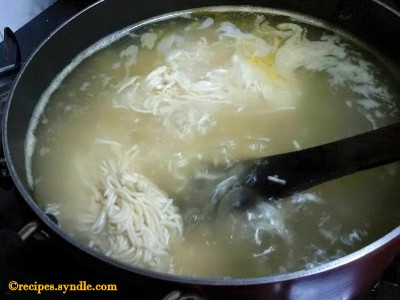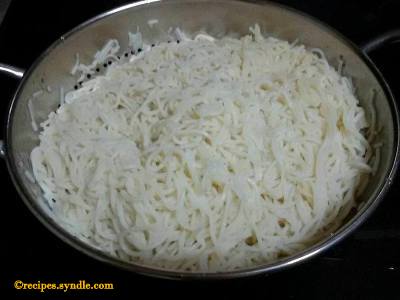 Marrinate chicken breast with soy sauce, salt, lemon juice for 1/2 hour.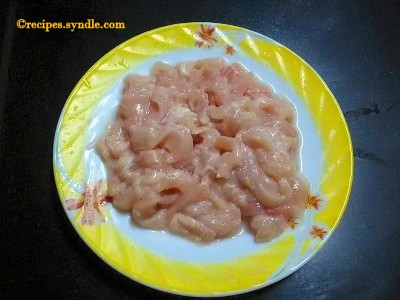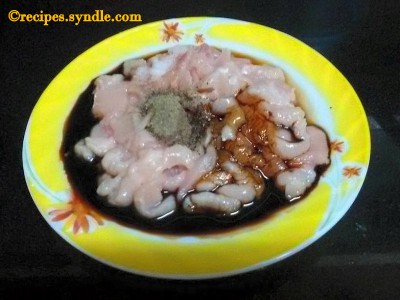 Cook the chicken pieces for 15 minutes with very less oil and water,  when it is half cooked add red chilly sauce and stir it till turn dry. Keep it aside.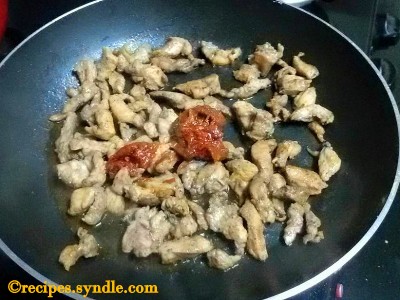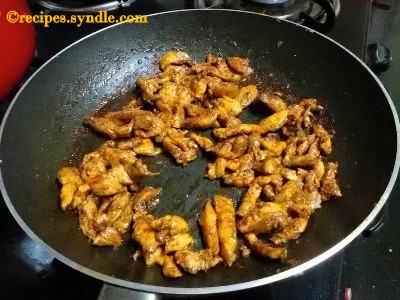 Beat the eggs along with salt and pepper, and scramble it.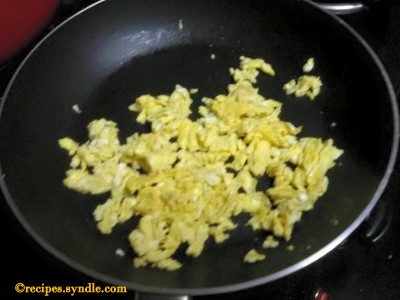 Cut all veggies thinly sliced. In a wide pan, heat refined oil. Saute onions for a minute.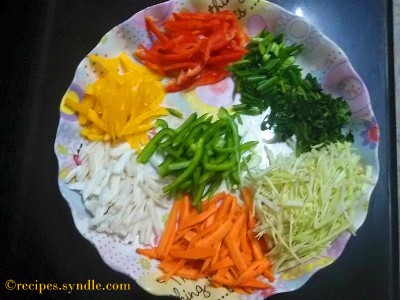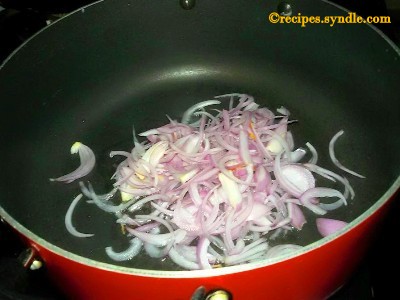 Turn the knob to high heat, add sliced cabbage, saute it for 15 seconds and add carrots.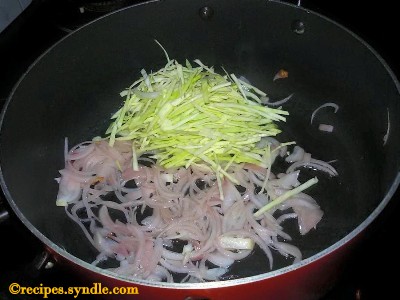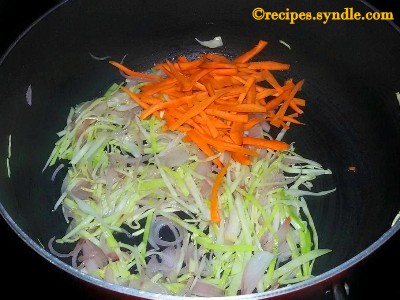 Continue stir frying add mashroom and saute it for a minute, then three colour capsicum together. Stir fry for about 25- 30 seconds.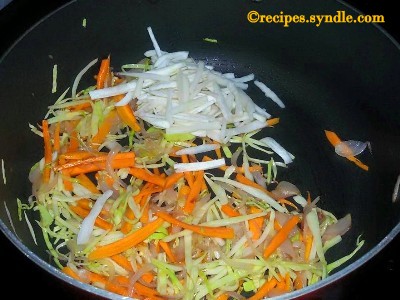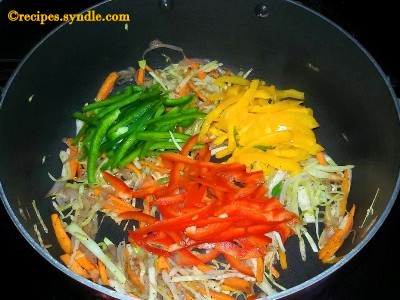 The veggies should not be over cooked or elese they may lose their colour and cripness. Now add ginger, garlic paste and saute it well.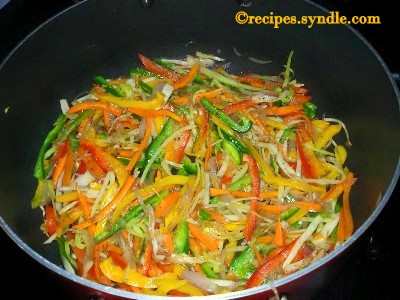 Now add the cooked noodles, toss it well. Stir fry until everything is well mixed. Then add fried chicken pieces and scrabbled eggs. Mix well and stir fry for few seconds.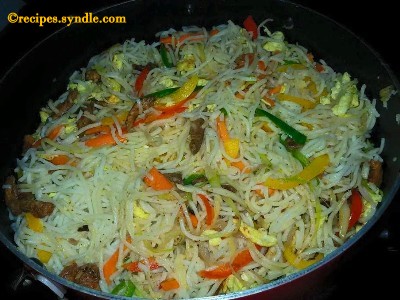 Then add in the sauces, soy sauce and chilly sauce,vinegar and sugar. Now toss in the noodles.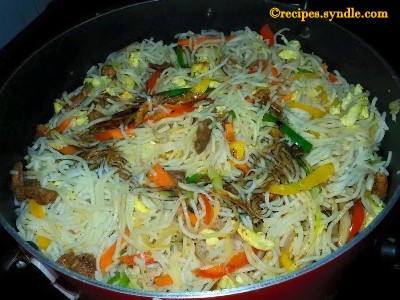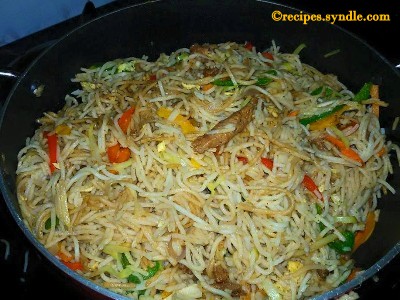 Season with little pepper powder, check salt and switch off flame. Granish it with spring onions and celery leaves.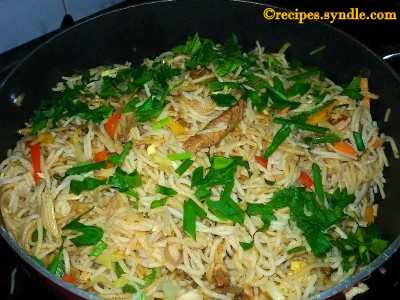 Serve hot with tomato sauce or any chinese gravy.