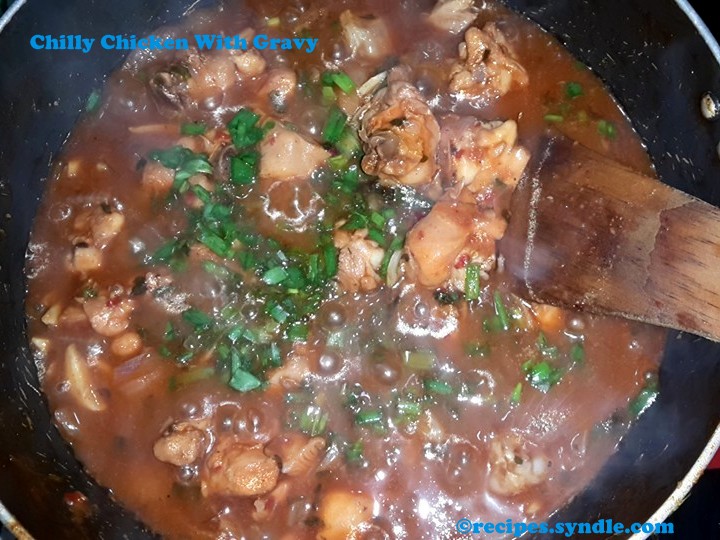 For all those who love Chinese food like me and who are always ready to eat Chinese food. This is the most easy and tasty chili chicken you ever have. Chilly chickenis a popular  indo chinese dish of chicken. In india  this may include a variety of  dry chicken preparation. Though mainly boneless chicken is used in this dish, some people also recommend to use bones chicken too. This is my own version and in this recipe i did not use any food colour, ajinomotto, vinegar. Believe me  chilli chicken turned out so so good , flavourful and very delicious  and matched 90% to the restaurant version. Hubby dear loved it a lot even  my kids liked it even though its spicy they had it with fried rice, so this receipe need baic ingredients for an  indo chinese recipe and that give you restaurant chilli chicken recipe. The receipe as follows
 Ingredients
 Chicken-500 gram
Soya sauce-2 tbsp
Pepper powder- 1tbsp
Corn flour-2tbsp
Salt-to taste
Egg white-1
Garlic chopped-3tbsp
 Onions-2 (dice cut )
Capsicum-1 nos
Spring onion-1tbsp chopped
Green chillies- sliced 5
Oil-half cup
lemon juice- tbsp
Corriander leaves ( its optional )
How to Make Chilly Chicken
Marrinate chicken with salt, soya sauce, black pepper, cornflour, egg white beaten and keep it at least for 20 mints.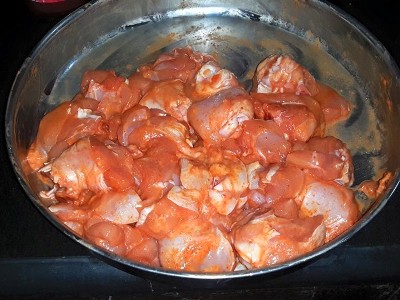 After 20 mints heat oil in frying pan and saute marrinated chicken for 10 mints for semi fry chicken pieces. Remove from pan and keep it aside.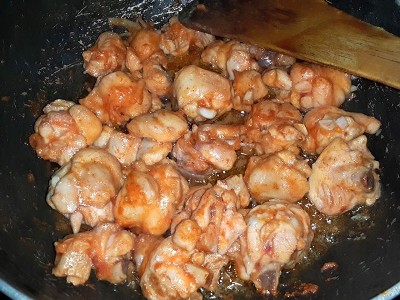 In that same frying pan, heat quarter cup oil and fry onion and garlic  till its transparent.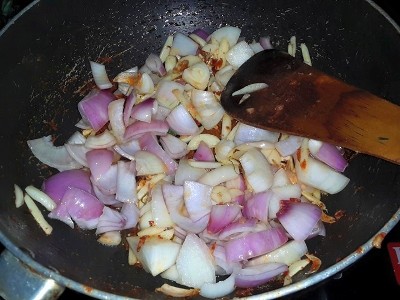 Add semi fried chicken pieces and saute well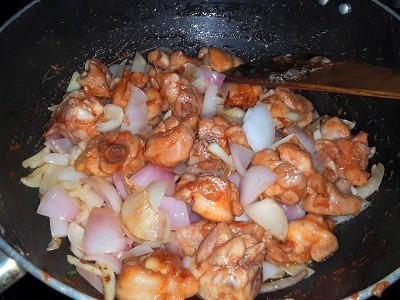 Then add green chillies capsicum and 1 cup warm water for gravy, wen water start boiling add lemon juice, spring onion, soya sauce, red chilli sauce, tomato ketchup, salt, pepper and 1 tsp sugar and mix it well and allow it to cook for 10 minutes.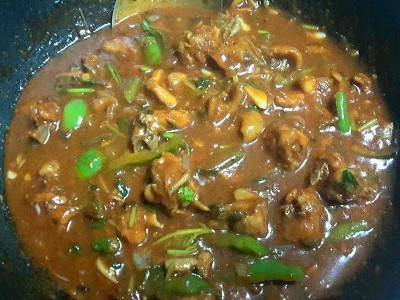 Dissolve cornflour 1 tsp in water and add in gravy. cook till it thickens. Serve hot with boiled rice or fried rice, nan, roti etc.