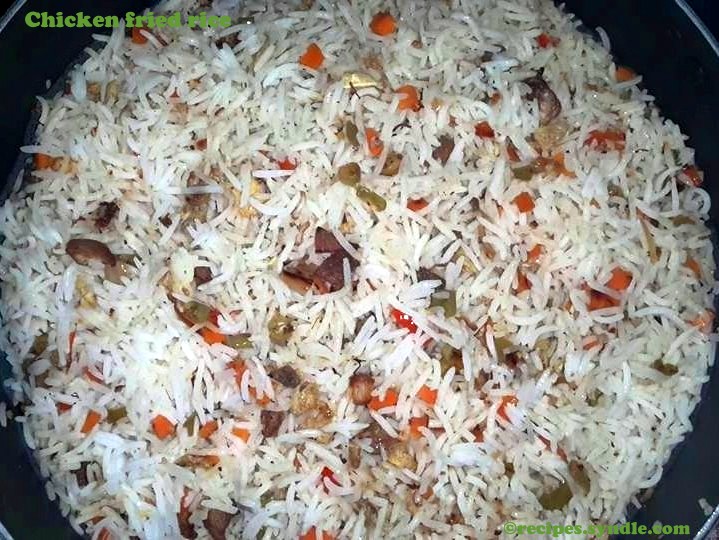 The harmonious integration of color, taste, and appearance made Chinese Cuisine popular all over the world. The choice of various ingredients, seasonings and the heating mechanism used in chinese cooking gives such a great perfection to all the senses.People in different countries add their own flavours and spices to Chinese food to customize it to their own taste. Fried rice ,with Gobi Manchurian as its side,is one of the tastiest and popular dishes in Indo-Chinese menu.I've got a real passion towards Chinese dishes,whatever it be.This is my favourite recipe of Chinese Fried rice and it's always been a hit in my home.
Its very first chinese dish for the blog.. though i make it now and then didnt get time to take step wise pictures.
And this is purely chinese and not the Indo-chinese dish available in our Indian restaurants and road side shops. No chillis or garam masala 🙂
I tried my best to find some authentic chinese dishes from books and other blogs and finally came up with this fried rice. Though i missed one main ingredient Oyster sauce
 Ingredients

Long grain basmathi rice (cooked along with salt and chicken stock )-500 gram
Chicken stock-4,cup
Onion-1 chopped
 Red capsicum-1 cup, chopped
 Green capsicum- 1cup,chopped
Carrot-1cup , chopped
Chinese beans-1 cup ,chopped
Lemon juice-2tbsp
Chicken breast piece-1 cup (marrianted with cornflour ,soyasauce ,little ginger garlic paste , little lemon juice and salt )
Egg-3( scramble along with pepper powder and salt )
Pepper powder-as needed
Cornflour-2 tbdp
Soyasauce-2tbsp
Ginger, Garlic paste-2tbsp
Salt-to taste
oil-3tbsp
How to Make  Chicken Fried Rice 
Heat a frying pan and add 1tbspn of oil.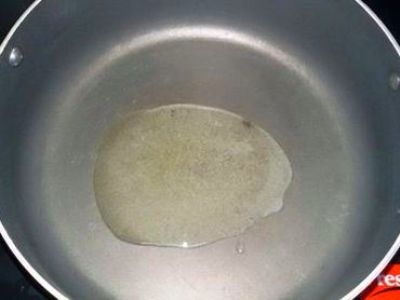 Once oil is hot add diced marrinated chicken pieces,saute them and let them cook for a couple of mints. Add  pepper powder and stir them nicely,drizzle some dark soy sauce and once chicken is cooked well transfer them to a plate and keep aside.
 Break the eggs in the same frying pan and scramble them, do not make them into tiny pieces, add sum pepper also once done  keep aside.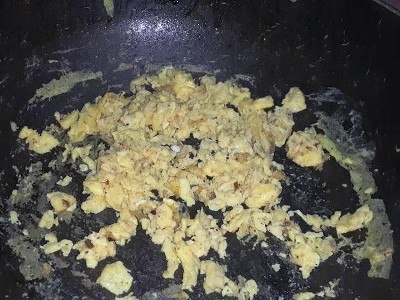 In the same add some more oil and throw in the chopped onions.Once onion get transparent add capscium both red and green, carrots,beans and saute well in high flame otherwise veggies colour may fade, after some minutes sprinkle some salt and lemon juice. Add spring onions also. Remove them from plate and keep aside.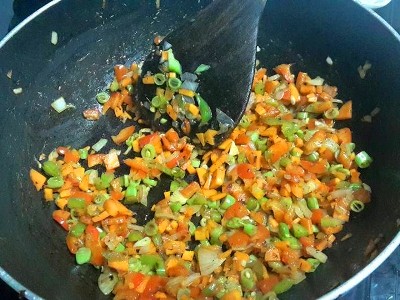 Rice should cook in a sauce pan with chicken stock and salt to taste.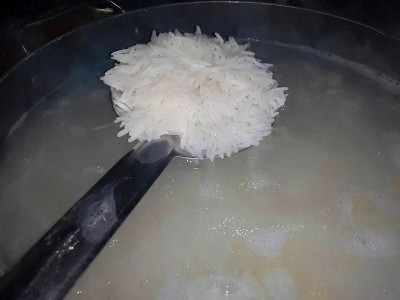 Now that everything needed for fried rice is ready, we just need to mix them all and fry them together .
Add the remaining oil in the pan (preferably a wok ) and add the cooked rice. Fy the rice for 3 – 4 mints and then add the eggs and mix it well with the rice
Now add the chicken and the onion capsicum carrot beans to the rice and mix them well and keep frying  in high heat for 1 mint.
Sprinkle some crushed pepper and add the lightsoy sauce and mix them.
Traditional Chinese fried rices have Oyster sauce as their main ingredient. However i didn't add it.
Transfer to a serving bowl and serve with any chinese gravy dish or just chilli/ tomato sauce.