Kare kare is a stew flavored with peanut butter. This dish is a favorite of many Filipinos because of its main ingredients thick savory peanut sauce and ox tail, tripe or both. I love kare kare, it is one of my favorite filipino dish. I always cook kare kare for special occasion and whenever I have cravings for its peanut sauce complimented by shrimp paste.
When I cook kare kare, I always use ox tail and tripe. But when I want to empress a guest, I make seafood kare kare. Yes! There are several variations of this dish as some uses goat meat and chicken meat. I have never tried goat kare kare or chicken kare kare, so I can't say anything about them.
By the way, this dish is only good to eat when you have shrimp paste because you won't be able to fully enjoy kare kare without it. The saltiness of the shrimp paste and sweetness of the peanut butter blend so perfectly that you will keep on eating until you are fully satisfied.
Aside from the meat, kare kare also include some vegetables such as pechay or bok choy, eggplant, banana flower bud, etc. The vegetables usually exceeded the amount of meats, but it depends on you if you want more vegetables or not. Kare kare is also colored with annatto oil, I don't know why but it's the way this dish is prepared.
This dish is always served during special occasions such as fiesta, wedding, birthdays and Christmas. It is definitely a popular dish in the Philippines and well loved by locals and foreign visitors.
Many people get intimidated by kare kare. They often think this is a difficult dish to cook but it is not. In fact, this is an easy dish to cook compared to other stew dishes I know. If you don't believe me, check out my kare kare recipe below.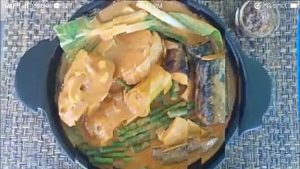 Kare Kare Recipe
Ingredients:
1 kl ox tail
½ kl tripe
1 banana flower bud, sliced
1 bundle string beans cut about 2 inches slices
1 bundle bok choy or pechay
3 pcs large eggplants (cut)
1 cup peanut butter or ground peanuts
¼ cup annatto seeds (soaked in water)
1 liter water
1 small pack bigas (optional)
1 onion, minced
2 cloves garlic, minced
Shrimp paste

Directions:
In a large pot, boil water and put the oxtail and tripe then cook for 3 hours or until tender. (Cook for 3 hours only if you don't have a pressure cooker) Once tender, remove from heat and set aside.
In a separate pot, heat oil over medium high heat and sauté onion and garlic then add the meat.
Next, add the banana flower, string beans, eggplant and peanut butter. Stir and cook for 5 minutes. Add the annatto seed mixture and simmer for 5 minutes.
Add the pechay, simmer for 2 minutes and turn off the heat. Keep it covered and leave for 2 minutes to cook the pechay.
Transfer to a serving dish and serve with shrimp paste.
P.s: I added the pechay last because I don't want the veggies to be too soft to eat. But if you don't mind overcooking the veggies then throw them all together to cook. I also don't use pre-mix kare kare for I want the savory taste of real peanuts.
In case you don't enough peanut butter, use bigas (toasted or plain ground rice) to thicken the sauce.
For the Shrimp Paste:
1 onion, cut
2 cloves garlic, minced
2 tomatoes
1 cup bagoong
Cooking oil
Direction: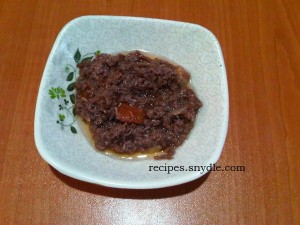 In a frying pan, sauté onion, garlic and tomatoes then add the bagoong and cook for 7 minutes or until done.