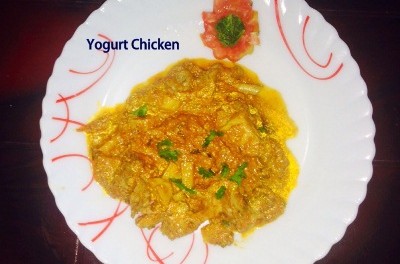 Yogurt or dahi is a versatile ingredient that can add a zing to almost all dishes. And when it is combined with chicken, the whole thing becomes an amazing delicacy. Today, I'm going to share such a hot and spicy recipe with you, which is popularly known as 'Dahi Chicken' or 'Dahi Murg' or 'Yogurt Chicken'. It is basically spicy chicken cooked in yogurt sauce. Sounds mouthwatering!!! Yogurt plays a vital role in every household kitchen. There are three types of yogurt: regular (whole milk), low-fat and skim. Low-fat and skim yogurt are good for people who are on a cholesterol lowering diet or just simply watching their weights. This type of yoghrt does not raise blood cholesterol levels. Yogurt is fresh dairy product that must be stored in the refrigerator. Yogurt is known and consumed in almost all parts of the world. Mediterranean Countries use a lot of yoghurt in their cuisine. Yogurt is a calcium powerhouse and a source of high-quality protein. Yogurt is nutrient rich because it is an excellent source of vitamins and minerals for its calories! The nutritional and caloric contents of yogurt are similar to those of the fluid milk from which it is made. So, it is an important source of calcium, protein, vitamins. Some of the health benefits of yoghurt are: It improves natural defence, it contains a good amount of phosphorus and 88% water. People with a risk of osteoporosis should eat at least one serving of yogurt per day. It has also been claimed that yogurt may protect against some types of cancer. Fresh yogurt is digested in about one hour as compared to the three hours it can take to digest milk. Individuals who have trouble digesting milk may find that fresh yogurt is much easier to digest and actually aids in their digestion as well. Other health benefits from fresh yogurt include decreased bloating, relief of both constipation and diarrhea and other stomach disorders. Chicken cooked in yogurt curry is a fantastic dish from the Kashmiri cuisine using exotic flavours. It is a mildly spiced dish, very delicious which can be eaten with naan, roti, chapatti or rice.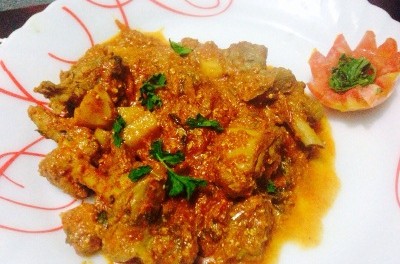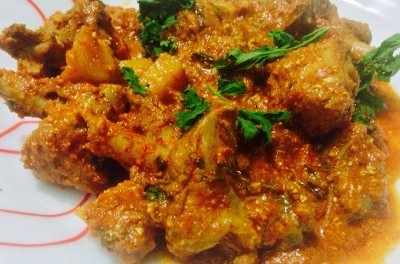 Yogurt Chicken/Dahi Chicken Curry Recipe
Ingredients :-
Cleaned Chicken – 250 gm
Onion – 1 medium size chopped
Ginger – 1 small piece
Garlic – 10 pieces
Green chilli – 2 nos
cumin seeds – 2 tsp
Red chilli powder – 1 tbsp
Kasmiri chilli powder – 1/2 tbsp
Coriander powder- 1/2 tbsp
turmeric powder – 1 tsp
Garam masala powder – 1 tsp
Oil – 2 tbsp
Salt – as per the need
Tomatoes – 2 medium size
Potato- 1 medium size ( cut into small pieces)
Fresh Yogurt – 1 cup
Coriander Leaves – chopped
How To Make Yogurt Chicken/Dahl Chicken Curry 
For making yogurt chicken, first we have to grind the onion, green chillies, garlic and ginger. Make it as a fine paste in a heavy duty mixer. Add very little water and blend it to a very smooth paste. Keep it aside.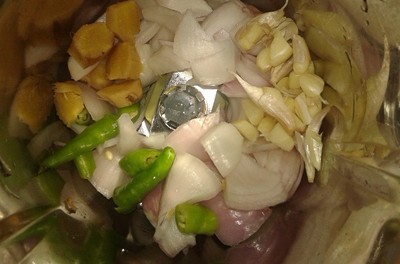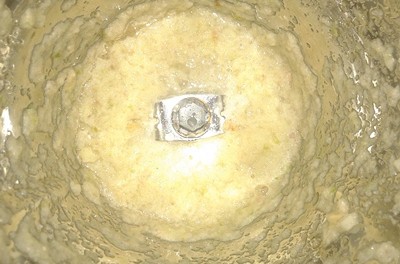 Now we have to heat the frying pan with 1 tbsp of oil, following with cumin seeds salute it well for 2 mins.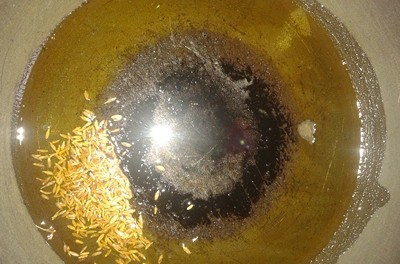 Now we have to add the paste of onion, garlic, ginger etc. Salute it well for 5-10 mins, like the second picture given below.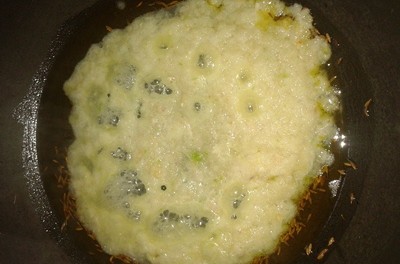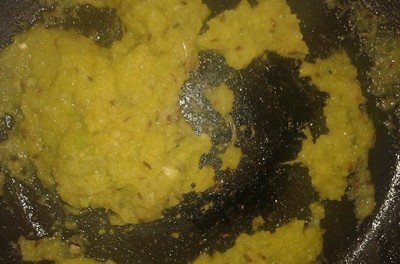 Add our powdered ingredients such as, red chilli powder, kasmiri chilli powder, coriander powder, turmeric powder, garam masala powder into the cooked pasted. And mix well , again cook for another 3-5 mins. Our masala will also cook with in that period.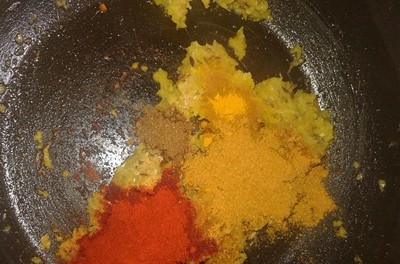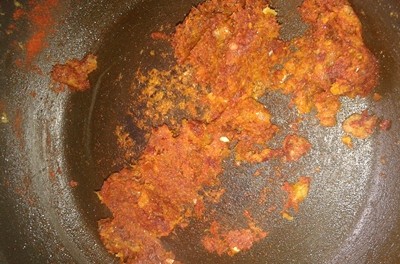 Now we have to add our tomatoes and potato into the cooked masala. Cover it and cook for 10 mins , so that tomatoes and potatoes will get cooked.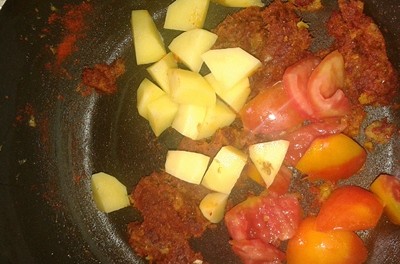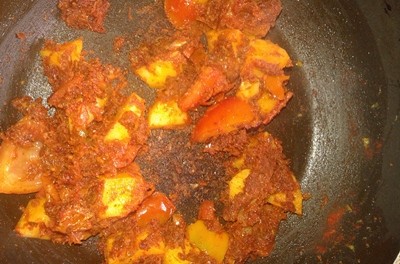 Add our cleaned chicken into the mix and salt as per the taste. Cover it, and again cook for 15-20 mins.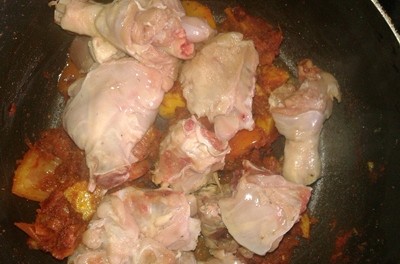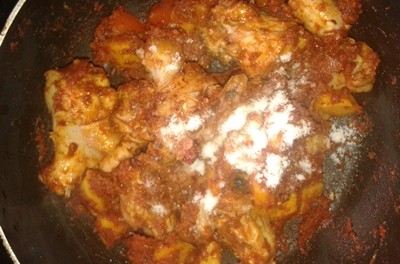 Take off the lid, check whether the chicken get cooked 80 %. If got cooked add a very little water and the yogurt into the pan.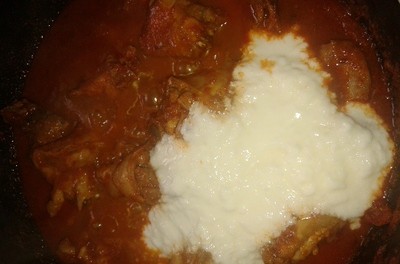 combine it well and cook it for another 10 mins.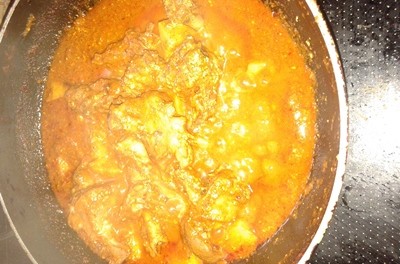 After that add some corinader leaves.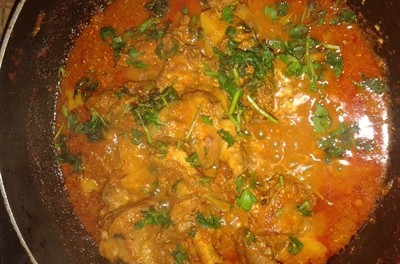 Here our delicious yogurt chicken is ready to serve.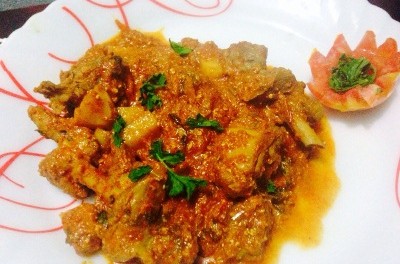 Hope you guys will Enjoy !!!!!