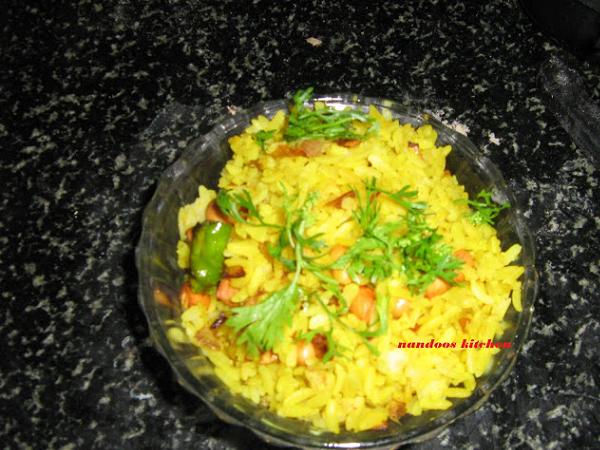 Poha upma is one of the delicious and easy to make breakfast recipe.  Poha is also called as Atukula or Aval in different languages across India.  It is a popular dish in Maharashtra and the people on low calorie diet can always rely on poha upma.
Poha is a traditional dish of Maharashtra.  Most of you might be familiar with Kande Pohe.  It is a famous recipe of Maharashtra which is very spicy.  Here I have used less number of green chillies because of my children.  If you want you can add 4 to 5 chillies along with some red chillies also which will give you some spiciness.
It is not necessary that it should be made plain.  You can also mix in sprouts to this which will add to its nutritional value.
Ingredients required
Poha                –  2 cups
channa dal       – 1 tsp
onion               –  1 big
hing                 –  1/2 tsp
cumin powder –  1/2 tsp
ginger              –  1 piece
green chillies   –  2 nos.
curry leaves
roasted peanuts-  1 tbsp
turmeric powder – 1/4 tsp
salt (to taste)
lime juice         –  2tsp
coriander leaves
Method
1.  Boil water for some time.  Switch off the gas and add the poha into it and keep for 2 min.
2.  Strain it nicely.  ( you have to get thick poha, if it is soft then when you put it in hot water it becomes sticky)
Preparation
1.  Heat oil in a pan.
2. Keep the stove in sim.  Add hing and cumin powder.  Saute for some time. Then add channa dal and again fry it.
3.  Add the onions and fry nicely till it turns pink.
4.  Then add ginger paste and cut green chillies.  saute it till the raw smell goes off.
5.  Then add curry leaves.
6.  Add the roasted peanuts, saute for some time and add turmeric powder and saute nicely
7.  Add the poha and salt.  Saute that for around 2 min
8.  Then finally add lime juice.  Garnish with coriander leaves
9.  Serve hot for your loved ones