Sundal is a South Indian dish which is usually made during Navarathri or vinayaka chathurti celebrations as an offering for god.  It is made with dry legumes.  You can make sundal with all kinds of legumes including, black or white chana, peanuts, green peas, rajma and many others.  It is very easy to prepare, tasty and healthy.  Since we are making use of dry chana, it is very important to soak it overnight or for 8 – 9 hours and cook it in a pressure cooker.  You can also cook soaked chana directly, but it is more time consuming and I always find pressure cooking a very convenient process.  While using a pressure cooker, make it a point to cook for 15 – 20 whistles, otherwise, chana will not get cooked properly.  You can also pressure cook for one whistle, reduce the flame and cook for 20 minutes, so that the chana gets cooked well.   You can also try making sundal with sprouts.  Don't throw away the water used for cooking chana as it is very nutritious.  You can use the water while kneading dough or add it to curry.  I always make chana as a school snack for my kids.  Sundal along with being an easy to make dish, it is also healthy and nutritious.  It can be given to people of all ages.  It doesnot contain any unwanted masala and since it is made out of legumes, it is protein rich.  But take care to clean the chana twice or thrice in water.  Now to the recipe..
Ingredients:
chana (black) – 1 cupsalt – to taste
coconut – 3 tablespoons
for tempering
oil – 1 teaspoon
mustard seeds – 1/2 teaspoon
curry leaves – few
asafoetida powder / hing – a pinch
urad dal – 1/2 teaspoon
dry red chili – 2
How to make chana sundal 
1.  Soak chana in enough water for 8 – 9 hours or overnight.  Drain the water after soaking, wash the chana twice in clear water.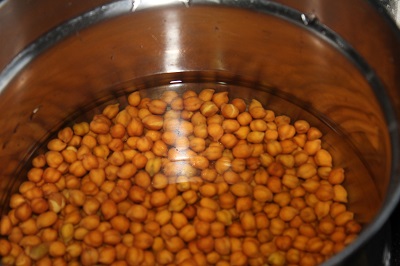 2.  Pressure cook the soaked chana with enough water and 1/2 teaspoon of salt.  Keep the pressure cooker in high flame till one whisle comes.  Then reduce the flame and cook for 20 minutes, or until chana gets cooked well.
3.  Wait till the pressure subsides.  Drain the excess water, and keep aside.
4.  In a pan or kadai, heat oil.  Splutter mustard seeds.  Now add urad dal, curry leaves, hing, dry red chili and saute for few seconds.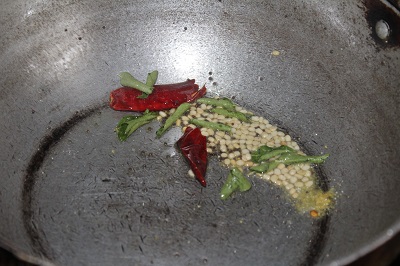 5.  To this, add drained chana, mix well and saute till the entire water evaporates.  Add salt.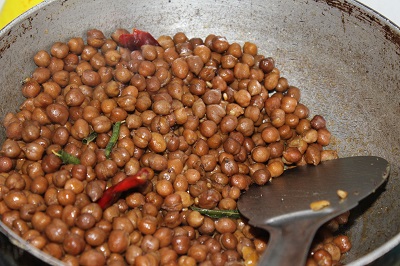 6.  Add grated coconut, and mix well.  Turn off the flame.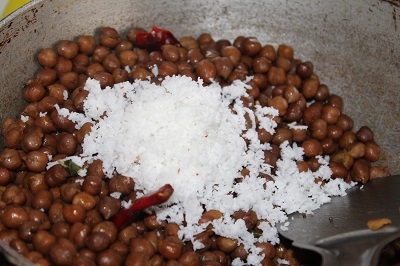 7.  Chana sundal is ready.