Mushroom pepper fry also called as pepper mushroom, is a tasty side dish which can be served along with roti, chapati or paratha.  Not only for roti, it can also be served along with rice and any gravy.  It can be served along with rice dishes such as pulao.  This dish has got a peppery flavor.  I have made this using button mushrooms, but you can use any variety of mushrooms available.
The addition of capsicum is optional, but I would suggest the addition of capsicum as it enhances the flavor of the dish.
The amount of moisture content in mushrooms is high, so always cook mushrooms on low flame, until the entire water gets evaporated.  Spread the mushroom pieces in the pan in such a way that all the pieces come in contact with the pan, and water gets evaporated from all the pieces.  Keep stirring in-between to avoid sticking to the bottom of the pan.
Rub the dirt from the surface of mushrooms using a neat cloth or tissue.  Then quickly rinse them under water and pat them dry.  Don't keep it immersed in water for a long time, as it tends to absorb water quickly.  And make it a point to use mushrooms soon after purchasing.  It is advised to use them within one or two days of purchase.  Hope you will all like the recipe of mushroom stir fry.  Now to the recipe..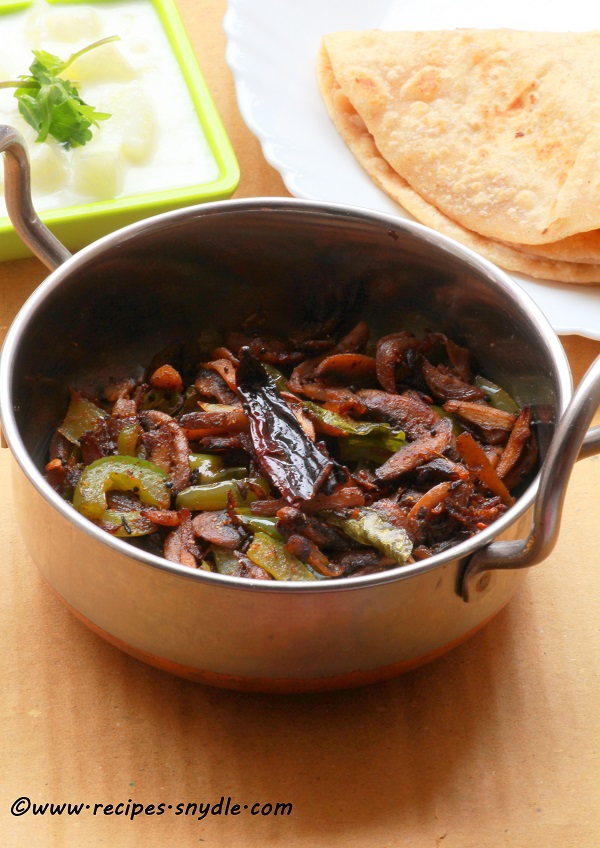 Ingredients
mushrooms – 200 grams
capsicum / bell peppers – 1 (small )
onion – 1 (chopped)
crushed ginger – 1/2 teaspoon
garlic crushed – 1/2 teaspoon
green chili – 1
curry leaves – few
asafoetida powder – a pinch
pepper powder – 1/2 teaspoon
fennel seeds  – 1/2 teaspoon
dry red chili – 1
lemon juice – 1 teaspoon
salt – to taste
coriander leaves – few (chopped)
How to make mushroom pepper fry 
1.  Clean mushrooms and trim the edges.
2.  Slice them into pieces, keep aside.
3.  Heat oil in a pan or kadai.  When hot enough, splutter mustard seeds.   Add fennel seeds, dry red chili, curry leaves and hing.  Saute for a second.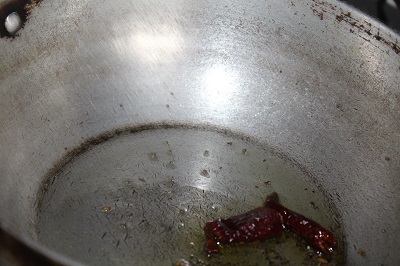 4.  Add sliced onion and saute till it becomes brownish in color.  Add ginger garlic paste, green chili and saute till the raw smell of ginger and garlic goes off.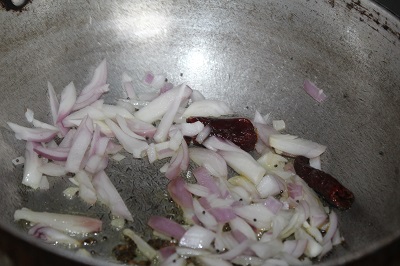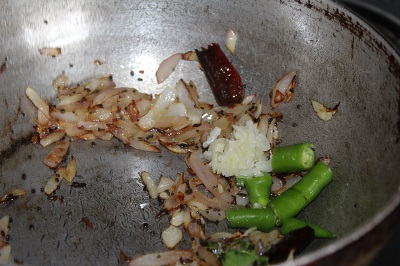 5.  Add coriander powder, turmeric powder and mix well.
6.  Add capsicum pieces and saute well till it gets shrinked.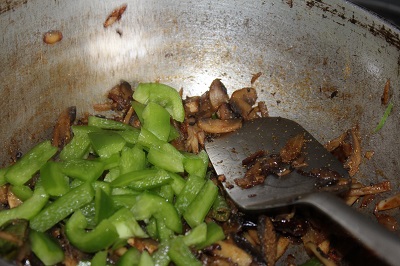 7.  Add sliced mushroom pieces, salt, and let it cook on medium flame until the entire water gets evaporated.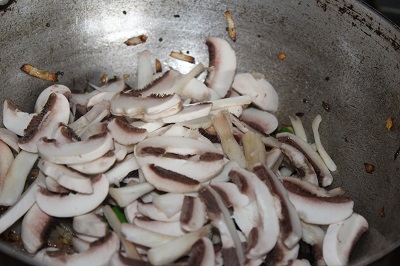 8.  Once the entire water evaporates, then increase the flame, and toss well.
9.  Add pepper powder and mix well.  Finally add lemon juice, mix well, and turn off the flame.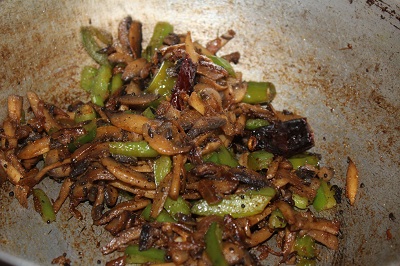 10.  Garnish with coriander leaves.