Tinolang manok is an onion and ginger based soup that my family loves to eat. Tinolang manok is an original filipino recipe. This dish main ingredient is chicken and usually accompanied with green papaya and chili pepper leaves. I love cooking tinola especially during rainy season as the soup helps keep my family warm and satisfied.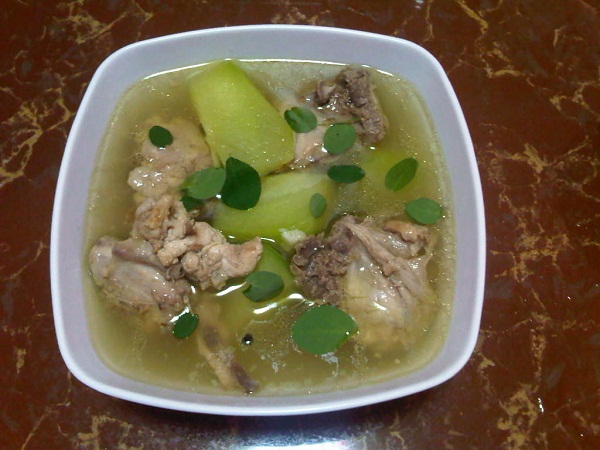 This dish is cook usually on low heat to bring out the chickens natural flavor and make the meat tender. By the way, you can also use chayote instead of papaya as substitute and malunggay instead of chili pepper leaves. But if you want to make your tinola healthier, add both malunggay and chili pepper leaves.
Tinolang manok is best served hot. Try this recipe if you are looking for a new chicken recipe. And remember, the secret to making tasty tinola is cooking it longer. Here's my tinolang manok recipe, enjoy cooking!
Tinolang Manok
Ingredients:
Chicken, cut into desired portions
5 cups water
Knorr chicken broth cube
1 tablespoon garlic, minced
1 thumb ginger, sliced thinly
1 onion, chopped
1 small green papaya, cut into wedges
Malunggay
Salt
Pepper
2 tablespoon fish sauce
Directions: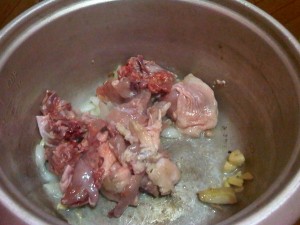 In medium sized pot, heat oil over medium high heat and saute garlic, ginger and onion. Put in the chicken and cook for 5 minutes.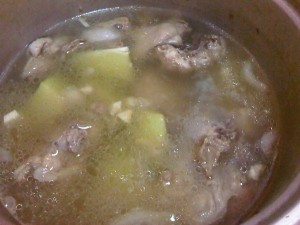 Add water, cover and simmer for about 45 minutes. Next, add the green papaya and knorr cubes then cook for 5 minutes more. Put in last the malunggay leaves and season with salt, pepper and fish sauce to taste. Cover and turn off the heat.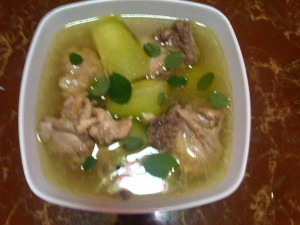 Serve hot and enjoy!
P.S: Adding fish sauce or patis is optional, you can skip it. 
As I said earlier, tinolang manok is a simple dish and easy to prepare. You don't need to be a chef or expert in the kitchen to make tinola. The simplicity of this dish is the reason why a lot of filipinos know how to cook tinola. In fact, even my 13 year old daughter can cook a delicious tinola.
Thank you for dropping by and checking out my tinolang manok recipe. Don't forget to bookmark this page to save the recipe. Have a nice day!