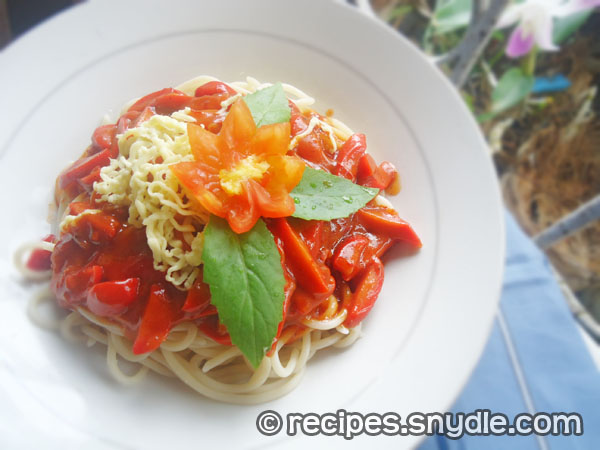 My childhood days were filled with spaghetti. We'd have spaghetti on special occasions, on birthdays, or on just random days. It was like the number one food among children—second only to cakes, ice cream and chocolate. Spaghetti with Ground Beef and Hotdogs!
Filipino Spaghetti is a bit different from the one most people are familiar with. Filipino spaghetti is sweet and cheesy. It is also common to see some hotdogs, ham and corned beef in it. Filipinos love putting lot of things in their spaghetti to make it more interesting and homey.
My favorite version of spaghetti is Spaghetti with Ground Beef and Hotdogs. I love the classic combination of ground beef and hotdogs. It's so simple and yet so delicious. It's like reliving all my childhood years with every bite. I love eating this with fresh garlic bread from the bakery and washing it down with iced or milked tea. I love putting lots and lots of sauce on my plate. There's nothing worse than dry and bland spaghetti.
Spaghetti with Ground Beef and Hotdogs
Ingredients:
450 grams uncooked spaghetti pasta
Salt and pepper
450 grams ground beef
1 teaspoon sugar
6 pieces of hotdogs, sliced diagonally
½ cup cheese, grated
½ pint of sweet and spicy banana catsup
2 tablespoons vegetable oil
1 pint tomato sauce
2 cloves of garlic, minced
½ cup tomato paste
1 small-sized onion, diced
½ pint beef broth
Instructions:
Cook hotdogs in a pan for a few minutes. Remove and set aside.
Sauté onions and garlic in the pan. Add beef and cook. Make sure the beef doesn't form into clumps.
Stir in the sugar, tomato paste, tomato sauce, catsup and beef broth.
Bring to a boil and lower the heat.
Simmer the whole thing until the beef is cooked and the sauce has thickened.
Add the hotdogs.
Cook the spaghetti pasta in a separate pot according to the instructions in the package. Drain the pasta.
Combine the pasta and the sauce, top with grated cheese and serve.
I love to play around with my food and I really like styling them. Well, here it goes, here's my favorite Spaghetti with hotdogs (lots of it) and ground beef! Let's dig in!