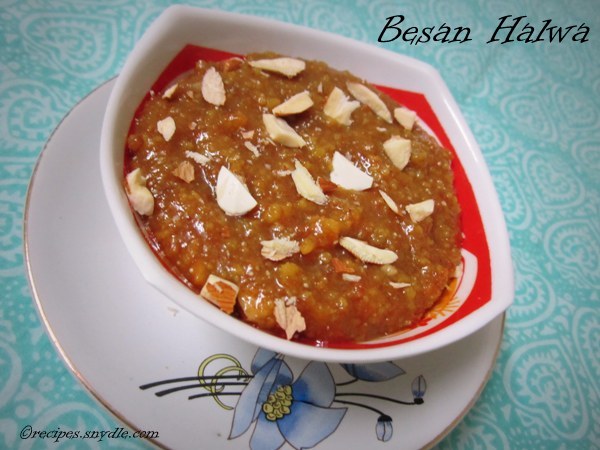 We Indians have a weakness for our traditional sweets. Halwa, jalebi, barfi or gulab jamuns; we love all of them equally! One of my personal favorites is the Besan Halwa. I have been to several sweet shops, but I have come across just a couple of them who sell Besan Halwa.
So, Besan Halwa is more of a make-at-home sweet for me. I had tried making Besan Halwa several times, using different recipes. But I could never achieve perfection, until now! Sweets made from besan (chickpea flour) such as Besan Halwa and Besan Laddoo often tend to stick to the palate. It is one of the most off-putting aspect of besan sweets. So I could finally come up with a recipe for Besan Halwa that won't stick to the palate and will taste absolutely gorgeous.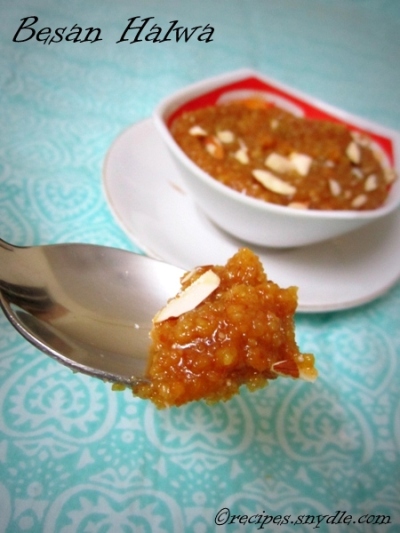 This Besan Halwa is grainy instead of smooth, and it would just melt in your mouth. This halwa has soft, granular texture that is somewhat like Mohanthal, which is yet another chickpea flour sweet. This is a very rich dessert with generous amounts of ghee / clarified butter and fresh cream. So just shun your calorie-consciousness for a while and enjoy this halwa.
In order to create the granular texture, I kneaded stiff dough of gram flour with some milk and ghee. Then I grated the dough into fine shreds. The further method is the usual one. I have added some pics of the kneaded dough and grated dough for your understanding. I hope the pics will help you.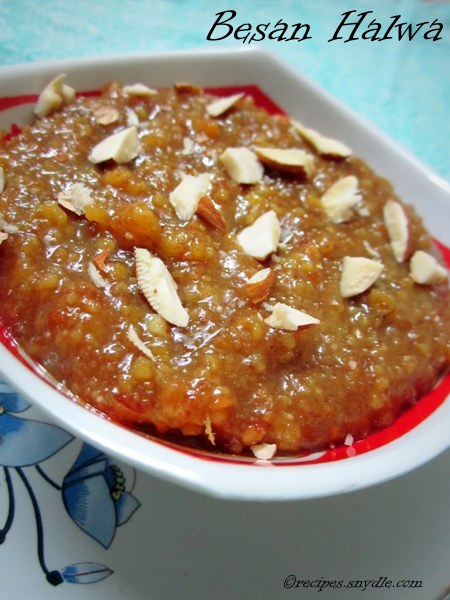 This recipe yields 3 to 4 servings. For the purpose of measurement, 1 cup = 250 ml. Let us now see how to make Besan Halwa at home.
Ingredients
For the Dough
Besan / Chickpea flour / Gram flour – 1 & 1/2 cups
Lukewarm milk – 1/2 cup or as needed
Ghee – 4 tbsp
For Making the Sugar Syrup
Water – 3/4 cup
Sugar – 1 cup
Saffron – 10 to 12 strands
Other Ingredients
Ghee – 1/2 cup + 1/4 cup
Cardamom powder – 3/4 tsp
Cashew nuts or almonds – 1/3 cup, broken
Fresh cream – 150 ml (I used Amul low-fat cream)
How to Make Besan Halwa
First we will knead the dough. Take besan in a bowl and add 4 tbsp ghee to it. Mix it well with your fingertips to incorporate the ghee evenly into the besan.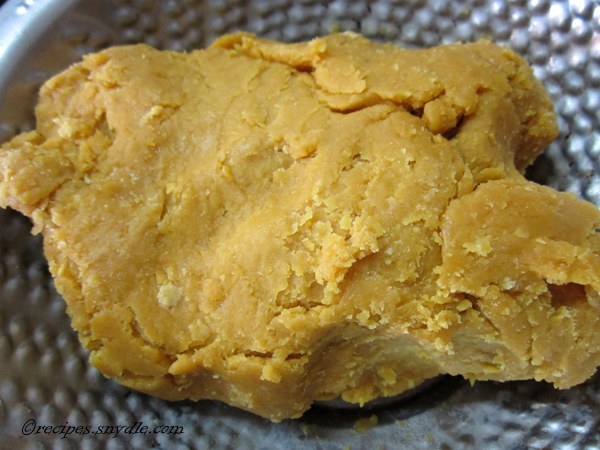 Slowly incorporate the lukewarm milk into the besan. Add little by little milk and knead stiffdough. The dough should not be extremely stiff; just a bit stiffer than the normal chapatti dough. Cover the dough with a damp cloth and allow it to rest for 10 minutes.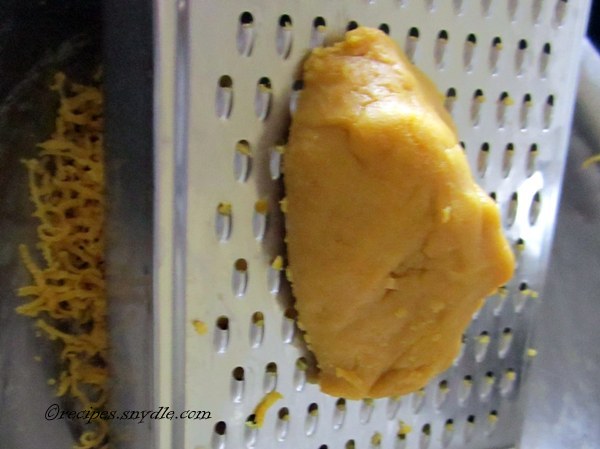 After the dough has rested, knead the dough once again for a minute. Grate the dough into shreds using a grater.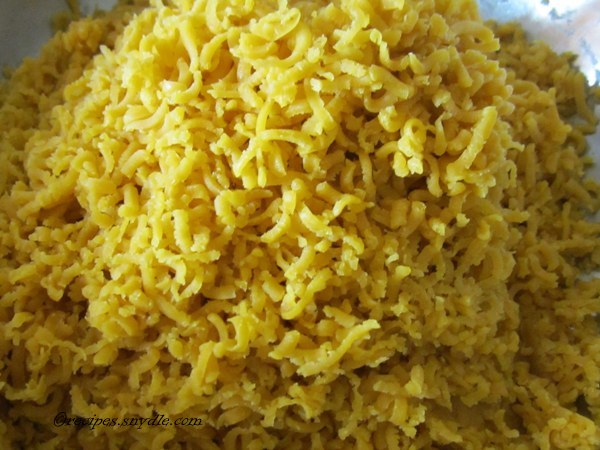 Heat a skillet and add 1/2 cup of ghee to it. Allow the ghee to just melt. Do not heat it up a lot. Toss in the broken cashew nuts or almonds and sauté them for a minute till they turn golden and smell nutty. Remove the nuts onto a plate.
Add in the grated dough in the remaining ghee and roast it on a low flame for about 30 to 40 minutes.
Keep stirring occasionally and roast till the raw smell of besan goes away completely. It will become aromatic and change color a bit. But make sure you stir around the besan often, otherwise the crumbs will become hard and chewy. We need the crumbs to stay soft.
While the besan is being roasted, let us make thick sugar syrup. Take sugar and water in a pan, and stir it around so that the sugar dissolves a bit. It will not dissolve completely.
Then heat the sugar solution. Bring it to boil and stir it occasionally. We need thick sugar syrup. It should be two-string sugar syrup.  Two-string sugar syrup means that when you press a drop of warm sugar syrup between your thumb and index finger and pull them apart apart, the drop of sugar syrup should be sticky enough to form two strings.
The sugar syrup will need about 15 minutes to be ready. Turn the heat off and add in the crushed strands of saffron. Mix well.Allow it to cool down a bit.
When the besan is well roasted, gradually pour in the warm sugar syrup and mix well till the besan absorbs the sugar syrup.
Now add in the cardamom powder and fried nuts and mix well. Cook for a minute, string constantly.
Add in the fresh cream and mix well. Cook for a minute. Keep stirring.
Finally add in the 1/4 cup of ghee and mix around well. The halwa will now look glossy, feel soft and start leaving the sides of the skillet. This means the halwa is ready.
Turn off the flame. Transfer the halwa to serving bowls and garnish with some more nuts. Serve warm or at room temperature. If you chill the halwa, it will harden up a bit, but will taste amazing.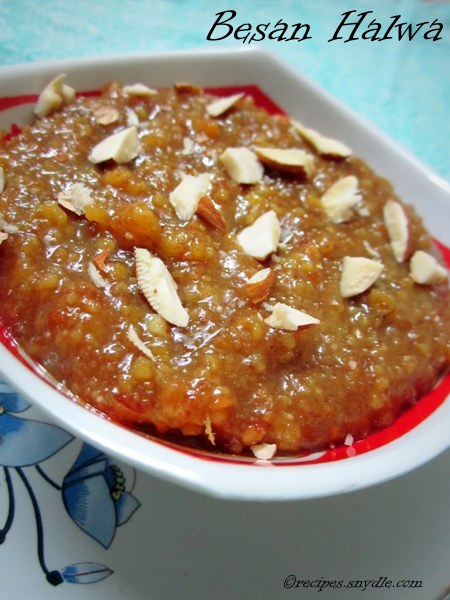 So do try this besan halwa recipe and I hope it will turn out good for you and that your family will relish it with joy!