Lady's finger or bhindi is very often used in Indian cooking.  Besan bhindi is a very tasty and easy to make side dish for chapati, roti or for rice.  There are various ways in which besan bhindi can be prepared.  Besan bhindi is nothing but okra or lady's finger cooked in besan or gram flour and few other indian spices.  This is a very easy recipe which can be easily made at home.
You can make this dish even when you are busy and needs to make something special.  

The main ingredient for making this dish is besan, and few other spices.  It is a very simple recipe made with lady's finger and it tastes great with dal, roti and rice.
My kids love okra, especially when it is crispy.  this method of making okra with besan is a best method where the okra will be crispy and kids would definitely love it.
Enjoy this lip smacking curry with roti, chapati and rice.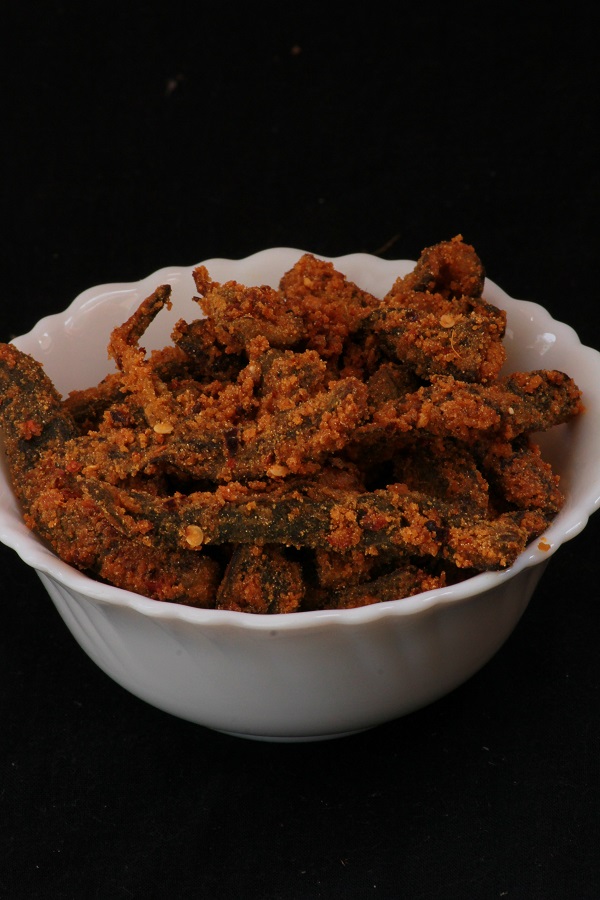 Besan bhindi recipe
Ingredients:
lady's finger / bhindi / okra – 250 grams
oil – 2 – 3 tablespoons
asafoetida powder or hing – a pinch
cumin seeds – 1 teaspoon
turmeric powder – 1/4 teaspoon
green chilies – 2 – 3 slit
besan or gram flour – 1 tablespoon
fennel seed – 1/2 teaspoon
coriander powder – 1 teaspoon
amchur powder or dry mango powder – 1 teaspoon
red chili powder – 1/2 teaspoon
garam masala – 1/4 teaspoon
salt – to taste
coriander leaves – 1 tablespoon
How to make besan bhindi
1. Wash bhindi, wipe it dry with a cloth.  Keep them aside.
2.  Cut the edges on both sides of the lady's finger, and then cut them into two halves.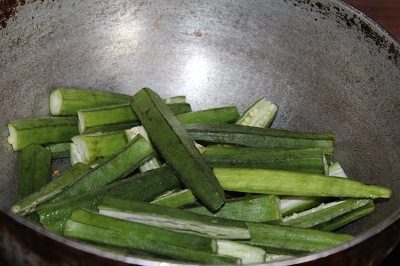 3.  Heat oil in a pan.  When oil is hot enough, add asafoetida powder and cumin seeds.  Wait till cumin splutters.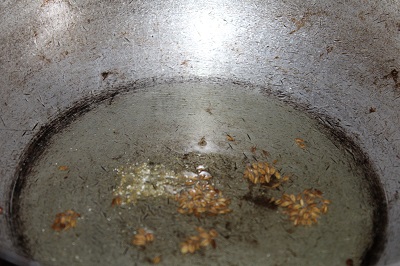 4.  Then add gram flour or besan, chopped green chilies, and turmeric powder.  Saute well on low flame till besan gets roasted well.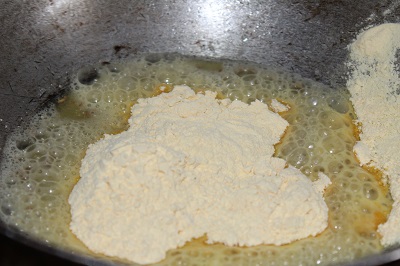 5.  Add bhindi pieces, salt and mix well until the masala gets coated well on the lady's finger. Add amchur powder, garam masala,and red chili powder.  Mix well.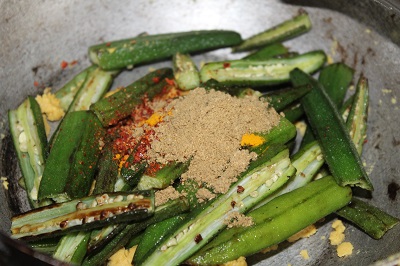 6.  Cover and cook on low flame till bhindi gets cooked well.  Open the lid in between and stir well so that it does not stick to the bottom or get burnt.
7.  Open the lid and let it cook for another 2 minutes.  Saute well until bhindi becomes dry.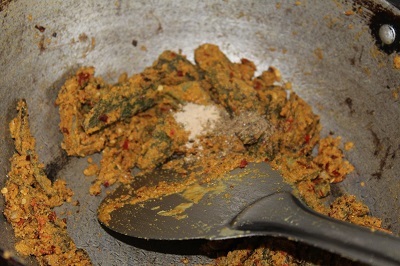 8.  Finally, add chopped coriander leaves, mix well and turn off the flame.
9.  Serve besan bhindi with chapati, roti or with rice.