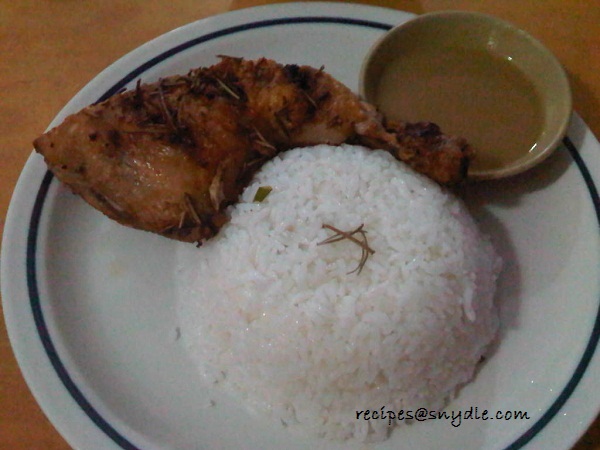 Tired of your fried chicken recipe? Looking for fried chicken recipe that doesn't take too much time to make? Well, I have here a fried chicken recipe that will make your house smells good. This is because the chicken is dredged in savory herbs then fried and paired with gravy.
My kids are tired of the old fried chicken recipe that I always make so I decided to serve them something different for lunch. Instead of coating the chicken in all purpose flour, I dredged the chicken in different herbs such as rosemary, fennel and dried parsley. I must say, it work not only because the fried chicken tasted much better but the aroma of the herbs really catches their attention. By the way, do you know what are the different herbs you can used for cooking?
What Are Herbs?
These are plants used for medicine, perfume, flavoring and food. In the culinary world, the typical herbs used for cooking are parsley, cilantro, rosemary, thyme, mint, chives, fennel, chives, basil and more.
Basil is similar to mint for it emits clove-like aroma and flavor. This herb is often used for foods like tomato sauce and pesto.
Parsley is another common and widely used herb in the culinary world. It has a light peppery flavor that makes it great for seasonings. Parsley is often used in salads, sauces and garnished over dishes.
Cilantro also known as coriander is one of the world's popular spices. It gives the food refreshing flavor, probably why cilantro is a staple spices in Asia and Latin world. Cilantro is great for grilled chicken, pizza and curry pastes.
Mint is usually found in sweet treats as its gives the food cooling effect. Mint is often used in North Africa and Middle East cooking. Mint is great for fresh salads, sauce or teas. Mint is perfect for lamb dishes.
Rosemary is a spice that gives pungent flavor to the food. This herb is used for sauces, stews, soups and meats. Rosemary has a strong flavor, so used sparingly. I believe, this herb is great for grilling lamb, chicken and fish.
Thyme is the most popular herbs in European and American cooking. This herb is perfect for any kind of vegetable, fish, poultry and meat. I love using thyme for roasting potatoes and chicken.
I hope, this information about herbs gives you a better idea on what to used for cooking.
This chicken recipe is quick and easy for lunch or dinner. Here's my fried chicken recipe, please let me know what you think as I love hearing from people who have tried my recipes.
Herb Fried Chicken
Ingredients:
1/2 Chicken (thigh or boneless)
½ tsp salt
1 tablespoon fennel
1/2 tablespoon rosemary
1/2 tablespoon parsley
Cooking oil
P.S: You can used any herbs for this chicken dish, I just used whatever I have in the pantry. 
How to Make Herb Fried Chicken
Direction:
In a plate or bowl, combine all ingredients. Make sure the chickens are coated completely with the herbs. Leave for 30 minutes. In a frying pan, heat oil over medium high heat then fry the chicken.
Cook for 5-7 minutes each side or until the chicken is done. Remove from heat and transfer to a plate with paper towel to get rid of the excess oil. 
Serve with rice and gravy.
If you want to make your herb fried chicken crunchier and tastier, you can dredged them in flour first then dipped in buttermilk. It is another way to make your fried chicken dish delicious.
I hope you find this recipe useful. If you like this dish and want to save the recipe, just bookmark this page to save the recipe on your computer. Thank you for dropping by and checking out my herb fried chicken recipe. Please feel free to browse other recipes on this page.
Thank you and happy cooking!