Today's recipe is an easy dessert made with beetroot – beetroot halwa.  It is very easy to make and delicious.  Just grate the beetroots, saute it in ghee, cook in milk, add sugar and ghee, mix well.  Halwa is ready.  Apart from being an easy to make sweet, it is healthy too.  Beetroot has got natural nitrates and it is believed that beetroot juice has the capacity to reduce blood pressure.  Beets contain a good source of betaine, which protects cells, proteins and enzymes from stress.
It is a very healthy dessert which can be made in a jiffy.  It is very easy and takes less than 20 minutes to prepare the halwa.  This procedure follows the same recipe as that for carrot halwa.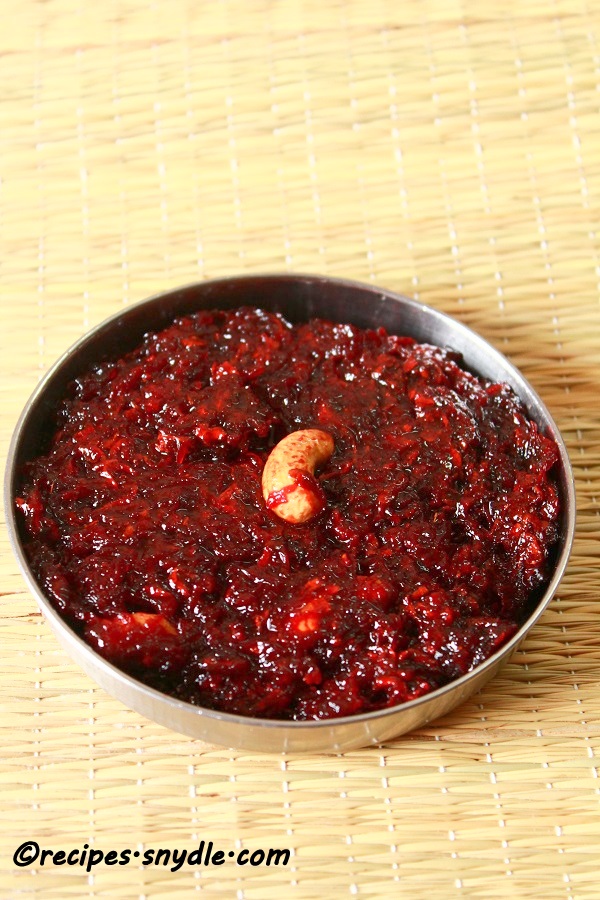 Ingredients 
beetroot  – 3 cups (grated)
sugar  – 1 cup
milk   –  3 cups
ghee – 3 tablespoon
cashew nuts – 10 – 12
cardamom powder  – 1/2 teaspoon
How to Make Beetroot Halwa
Wash, peel the skin and grate beetroot.  Keep it aside.
In a pan, heat 1 teaspoon of ghee, fry cashew till it changes color.  Transfer it to another plate and keep it aside.
In the same pan, heat a tablespoon of ghee, add grated beetroot and saute well till the raw smell goes off.
Then add 3 cups of milk, reduce the flame and cook on low flame.  Keep stirring in between to avoid sticking to the bottom.  
When milk has reduced to 75%, add rest of the ghee and sugar.
Stir well and continue to cook on low flame.
Finally add cardamom powder, roasted cashews and mix well. 
Beetroot halwa is ready.  It can be served hot or cold.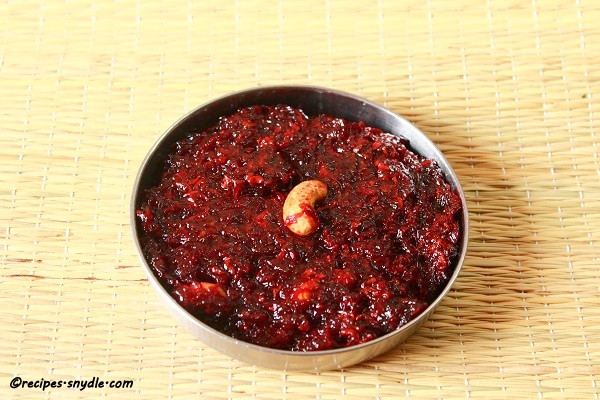 Hope this post was useful.  Do leave your comments in the box below.