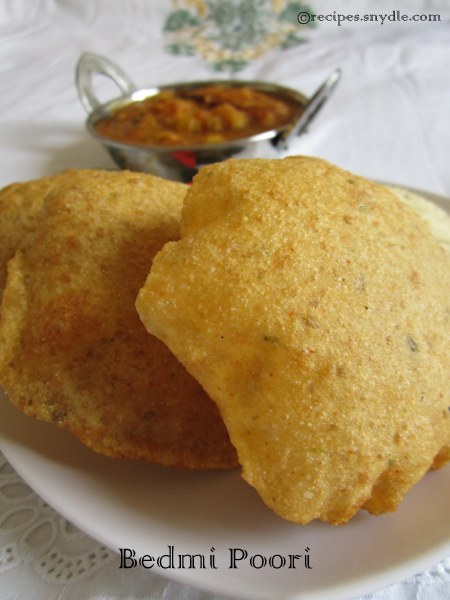 Hello dear buddies. With Ganeshotsav going on, festivity has been in the air lately. Today's recipe is Bedmi Puri with Aloo Tamatar Sabzi. In this post I am sharing the detailed recipe of Bedmi Puri. The recipe of Aloo Tamatar Sabzi will be shared in the following post.
Bedmi Puri is a festive recipe. It's a very filling and delicious deep-fried Indian bread that has its culinary roots in North India. Bedmi Puri is traditionally fried in ghee or clarified butter. But I chose to fry it in sunflower oil. If you like, you can fry it in ghee. Needless to say, it will taste more heavenly.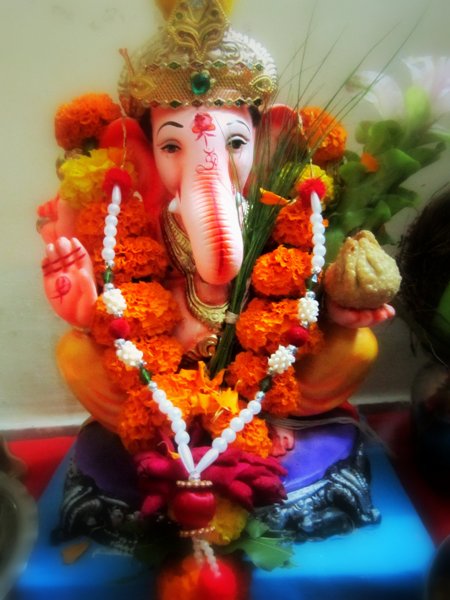 Bedmi Puri consists of wheat flour, spices, and the star ingredient – urad dal. Some people like to stuff the plain wheat flour dough with urad dal stuffing. I find it time consuming. So kneading the dough with spices and coarsely ground urad dal works better for me. The taste remains great. This puri has amazing flavors of asafetida, freshly pounded fennel seeds and coriander seeds. Not to mention the unique texture from the urad dal.
I added some fine semolina and gram flour to the wheat flour. Gram flour / besan gives the dough the much needed buoyancy. The fine semolina keeps the puri sufficiently crisp, even when it cools down. But that doesn't make the puri feel dry and parched. Bedmi Puri goes nicely with Aloo Tamatar Sabzi. You can try having it with your favorite side-dish as well.
For the purpose of measurement, 1 cup = 250 ml. this recipe yields about 25 puris, depending upon their size. Now, let us see how to make this scrumptious Bedmi Puri.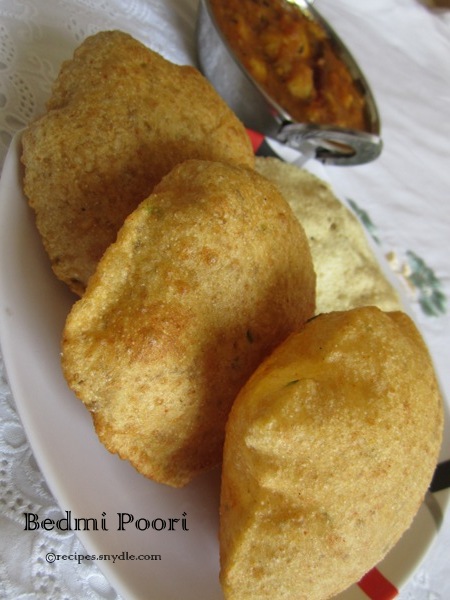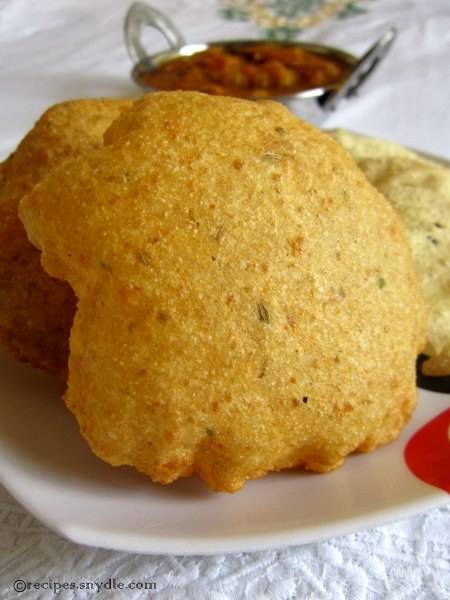 Ingredients
Wheat flour – 1 cup
Gram flour / Besan – 1/2 cup
Semolina / Rava – 1/2 cup, thin variety
Urad dal – 1 cup
Green chilies – 4
Oil – 3 tbsp
Salt – to taste
Red chili powder – 1 and 1/2 tsp
Asafetida / Hing – 1/5 tsp
Whole coriander seeds – 2 tsp
Fennel seeds / Saunf – 1 tsp
Water – 100 ml or as needed
Oil – for deep frying
How to Make Bedmi Puri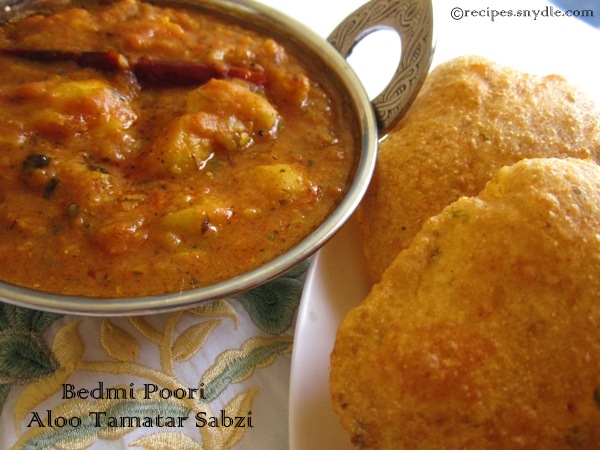 First of all, we need to work on the urad dal. Wash the urad dal and soak it in warm water. Allow it to soak for 2 to 3 hours. Drain the urad dal and grind it with the green chilies to a coarse paste using no or minimal amount of water. The paste should be so coarse that it would render a nice texture to the dough, but not so coarse that you won't be able to roll smooth puris without tearing them.
Dry roast the whole coriander seeds and fennel seeds on a tawa or in a skillet. Dry roast them together on low flame for about 3 to 4 minutes. Keep stirring the spices occasionally to prevent them from burning. The color will change a bit and it will start smelling earthy and aromatic. Turn off the flame and allow the spices to cool down.
Now coarsely crush the roasted coriander seeds and fennel seeds in the mortar and pestle. Alternatively, you can crush them in the grinder. Don't crush it too fine; just break them down a bit.
Sift the wheat flour, gram flour and semolina together in a bowl. Add in some salt to taste, red chili powder, asafetida, coarsely crushed coriander seeds and fennel seeds. Mix everything around really well with your fingers.
Add in the 3 tbsp oil and mix it well as that it gets distributed evenly throughout the flour. The mixture will look a bit crumbly right now. Now add in half the urad dal and mix it with your fingers trying to knead the dough. Add in more dal and keep kneading. If it looks too dry, add in some water.
The dough would look sticky. But it should be firm dough. Cover the dough with a damp cloth and allow it to rest for about 20 minutes.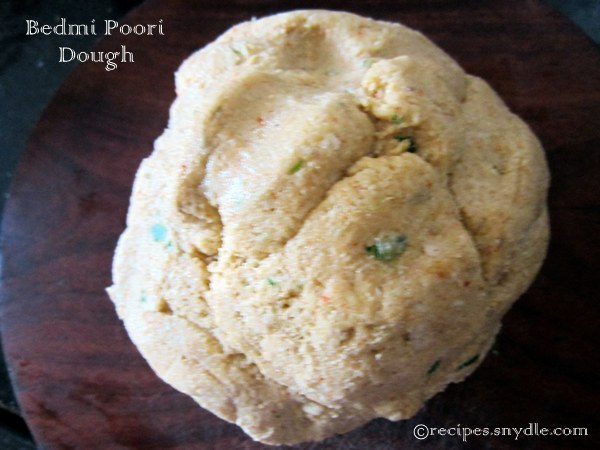 After the dough has rested, knead it once again for a minute. Oiling your palms will help. It prevents the dough from sticking to your hand. Now divide the dough into 25 to 30 lime-sized balls.
Take a ball and place it on the rolling surface. Flatten it a bit with your fingers. Try not to use any dry flour at this stage. You can apply 2-3 drops of oil to the dough ball before rolling it out, so that it won't stick to the rolling pin and rolling surface.
Keep the oil in a skillet to heat up. Roll out the dough ball into a 6 inch circle; not to thin or too thick. You can quickly roll out 5 puris at a time and fry them one by one. Don't roll them out all, else they will dry up and puff up on frying.
When the oil gets hot, turn the flame to medium. Carefully slide a puri into the hot oil and fry it on one side, by pressing it down gently with the perforated ladle. Flip it over and allow it to fry on another side. The puri will puff up and turn golden. Each puri takes about 20 seconds to fry. Remove the puri onto a kitchen towel. Fry the rest of the puris as well.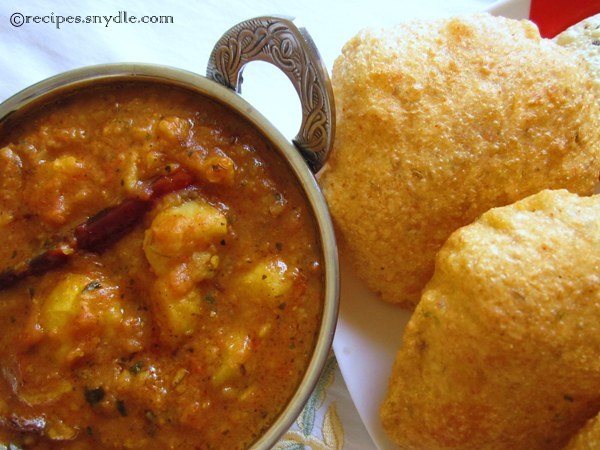 Serve the Bedmi Puri hot with Aloo ki Sabzi or your favorite side-dish. In the upcoming post I will share the recipe of Aloo Tamatar Sabzi. Stay tuned.