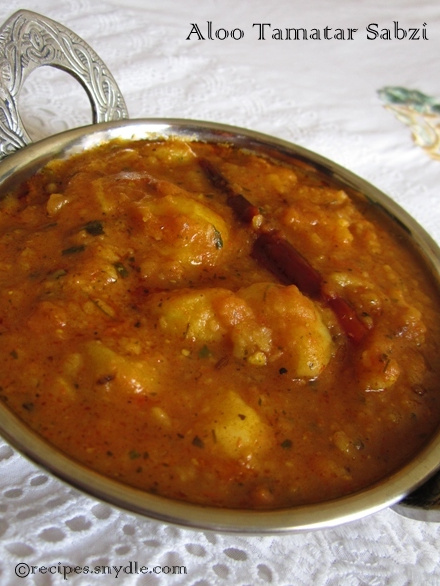 Hello folks. As I had promised in the previous post, I am sharing the recipe of Aloo Tamatar Sabzi. I had served this deliciously tangy dish with Bedmi Puris / Urad Dal Puris . This is a very festive combo. The house gets filled with aromas from the freshly ground spices. This dish consists of boiled potatoes cooked in tangy tomato based gravy. The gravy is moderately spicy. The color of this dish definitely looks feisty. I used fresh red and ripe tomatoes and kashmiri red chili powder to achieve such vibrant red color. So this dish is not something that will make you run to the kitchen to grab a glass of water.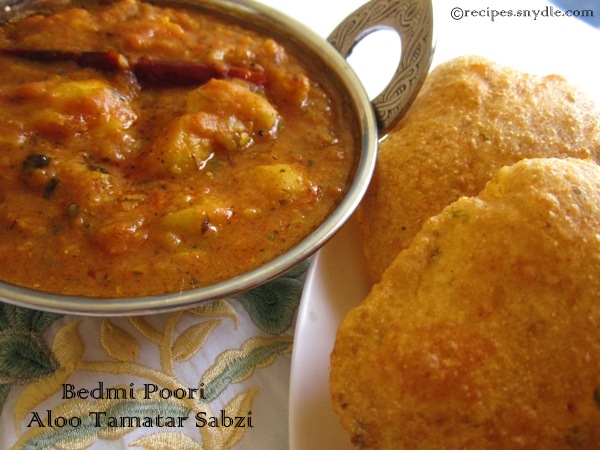 Some people also add hing / asafetida to this curry. But since the Bedmi Puris already have hing / asafetida, I prefer not to add it to the curry. I did add a couple of whole dried red chilies in the oil in the beginning. Their flavor is amazing and they taste great when you bite onto them.
In a nutshell, this not just any run of the mill aloo ki sabzi. Let us see how to make this yumilicious dish. For those who are trying to cut back on calories, you can have this curry with roti instead of puris. This recipe serves 3 to 4.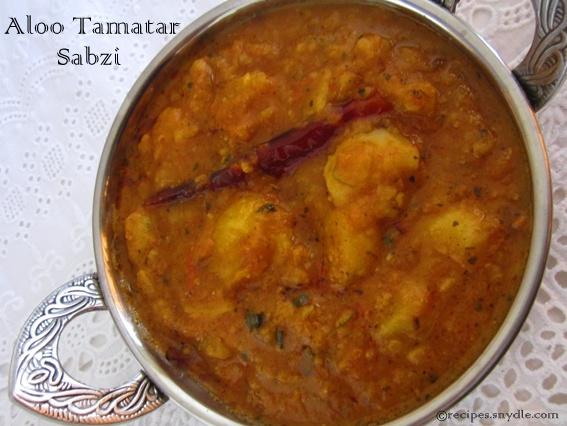 Ingredients
Potatoes – 4 medium, boiled and peeled
Tomato – 2 large, pureed
Ginger – 1/2 inch piece, julienned
Whole dried red chili – 2
Green chilies – 3, split lengthwise
Kashmiri red chili powder – 1 tbsp
Turmeric powder – 1/3 tsp
Salt – to taste
Kasoori methi / dried fenugreek leaves – 1 tsp
Coriander leaves – a handful, finely chopped
Sugar – 1 tsp, optional
Oil – 3 tbsp
Water – 200 ml
For the Spice Mix
Whole coriander seeds – 2 tsp
Fenugreek seeds / methi dana – 3/4 tsp
Cloves – 4
Black pepper – 3/4 tsp
Cumin seeds – 1 tsp
How to Make Aloo Tamatar Sabzi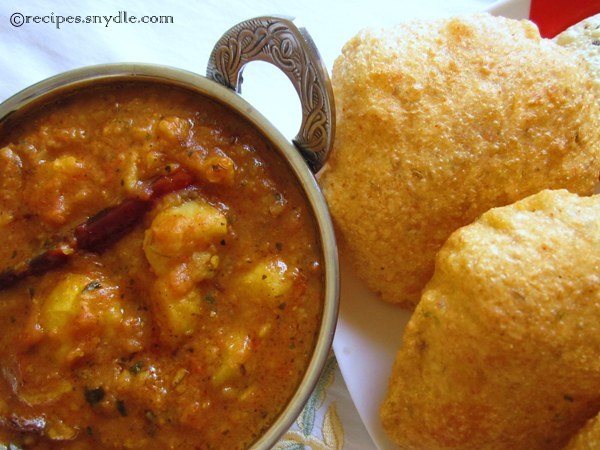 Boil the potatoes and peel them. Cut them into 1 inch cubes and set them aside.
Now prepare the spice mix. Dry roast the whole coriander seeds, fenugreek seeds / methi dana, black pepper, cloves and cumin seeds, on a tawa or in a pan. Roast them on low heat for about 3 – 4 minutes, till they turn aromatic and change bit of a color.
Allow them to cool down. Crush them into mortar and pestle to a coarse powder, as shown in the below picture. You may grind the spices in a grinder, but the taste won't be the same.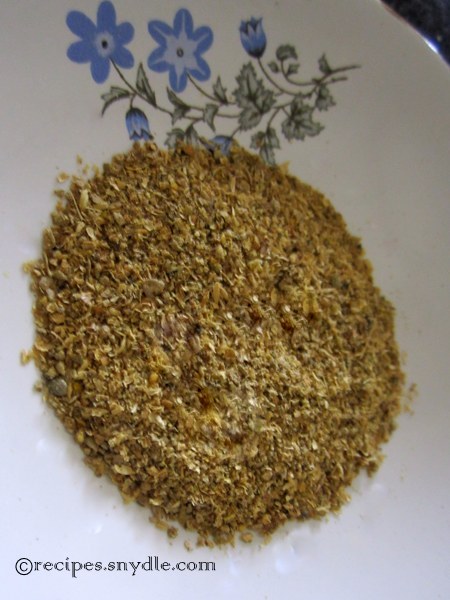 Dry roast the kasoori methi / dried fenugreek leaves on low flame for a minute. Allow it to cool down and then crush it between your palms. Reserve it for later use.
Puree the tomatoes as well.
How heat some oil in a heavy-bottom skillet. Toss in the whole dried red chilies and fry them for a few seconds till they release their flavor and turn a bit dark. Pour in the tomato puree and sauté it till the raw smell goes away and oil begins to separate.
Add in the turmeric powder, kashmiri red chili powder, and the ground spice mix and cook for a minute or two till the spices lose the raw smell and become aromatic.
Toss in the green chilies and ginger juliennes and mix everything around. Toss in the dices of potato and add some salt and mix well. Sauté the potatoes with the spices for about 5 minutes till they take in the flavors of the spices. The oil will begin to separate again.
Now add some water and mix well. Adjust the salt, if need be. You can adjust the amount of water to achieve the desired consistency.
Cover the skillet with a lid and let it simmer for 5 minutes till the gravy thicken. Stir the gravy occasionally as it simmers.
Add in the sugar and kasoori methi and mix well. Finish the sabzi with chopped coriander leaves. Aloo Tamatar Sabzi is ready. Serve it hot with steamy fluffy Bedmi Pooris. Enjoy.