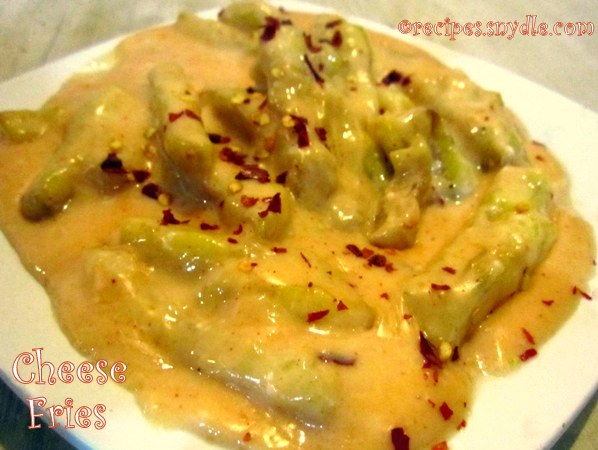 Cheese fries is one of my favorite comfort foods. This delicacy is known to have its roots in southern US. But I am so glad it made its way all the way around the world. It is really hard to find cheese fries in my town. There is just one place that I know serves decent cheese fries. So instead of being dependent on the outside, I decided to have my take on the cheese fries.
A bit of an online research helped me a lot. The recipes listed online called for fancy types of cheese which are not easily available here. All I could easily get my hands on were the cheddar cheese and the mozzarella. I felt that mozzarella won't be an appropriate choice for preparing the cheese sauce. I didn't want my sauce to get stringy. Hence I stuck to the good old cheddar.
I didn't want one of those white and bland cheese sauces. So I did a trick. Do you remember the Hot and Spicy Fries recipe that I recently posted? I used the hot and spicy sauce from that recipe to make these yummy cheese fries. For those who can get Monterey Jack or Sharp Yellow Cheddar, you can use either of them.
My sauce turned out very smooth and creamy. It didn't thicken a lot instantly and was pourable while still warm. It was like warm liquid velvet. It began to thicken when it cooled down. To make this cheese fries, you will need to take a look at the Hot and Sweet Fries Recipe. I have used the same sauce here along with the cheese sauce. You can find there the recipe of fries too. Again, I used plain fries. If you like your fries very crispy, coat them in a thick batter of corn flour and refined flour before tossing them into hot oil. Fry twice, according to the given method. You will get a crispy coating.
Coming back to the cheese fries, only the assembling part differs in this case. I fried the fries and set them aside. I prepared the hot and sweet sauce and cheese sauce simultaneously. I will share the recipe of cheese sauce here. I will also tell you how I assembled everything in the end.
This recipe will serve 2. For the purpose of measurement, 1 cup = 250 ml. Let us see How to Make the Cheese Sauce.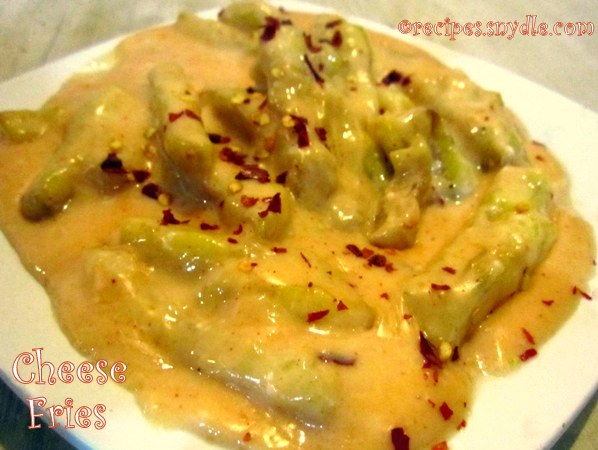 Ingredients
Maida / Refined flour – 1 tbsp
Butter – 1 tbsp
Full cream milk – 150 ml, at room temperature
Fresh cream – 75 ml
Processed cheese – 75 grams, shredded
Salt – 1/4 tsp
For Garnish
Red chili flakes – 1/2 tsp
How to Make White Cheese Sauce
Take a non-stick saucepan and add butter to it. When the butter has melted, add in the maida / refined flour and whisk it vigorously. Cook the flour for a minute or two to get rid of its smell. Keep whisking so that there are no lumps.
Now slowly incorporate the milk, little by little as you keep whisking. Bring the sauce to boil on low flame. This may take 3 to 4 minutes. Keep whisking.
Now add in the fresh cream and mix well. Add in the cheese and whisk gently. Keep the flame low. Allow the cheese to melt. Season with some salt. As soon as you see that the cheese has already melted, turn off the flame. The sauce should look like a smooth cheesy liquid.
Assembling the Cheese Sauce, the Hot and Sweet Sauce and the Fries
Cooking the two sauces simultaneously is a better idea. They will be ready at the same time. Pour in the thick hot and sweet sauce little by little into the white cheese sauce. Keep stirring it constantly. Check the salt.
Arrange the fries on a serving plate and pour the hot and zesty cheese sauce we just prepared over them. Garnish with some red chili flakes. You can use some greens of spring onion as well.
Cheese fries are ready. Serve hot. Enjoy.
Even though we used the same sauce from the hot and spicy fries, adding the rich cheese to it makes a big difference. You won't be able to tell it's the same sauce. That's how cheese works. I like my fries smothered in lots of cheese sauce. But if you like it more sophisticated, you can simply drizzle little sauce over the fries instead of whole lot of it. The cheese sauce can be used as a dip on the side with plain salted fries as well. Try making this at home and I hope you will love it as much as I do.