Today's recipe is banjara gosht.  Banjara is a Hindi word for people who don't have a permanent house, who roam about here and there like gypsy.  And gosht is mutton. It is a dish which is made with a combination of mutton, curd and freshly ground spices.  This dish is called banjara gosht because it is cooked in a banjara style.
Banjara gosht does not make use of tomatoes instead the sourness is provided by curd or yogurt.  The addition of curd depends on the sourness.  If the curd is very sour, then it would be better if you add 1/s cup of curd.  If the curd is not sour enough, then you can add upto 1 cup.
This dish makes of freshly ground spices and it gives it a nice flavor.  I am not sure about the origin of this dish, but I must admit that its taste is outstanding.
This is a perfect dish for people who love mutton.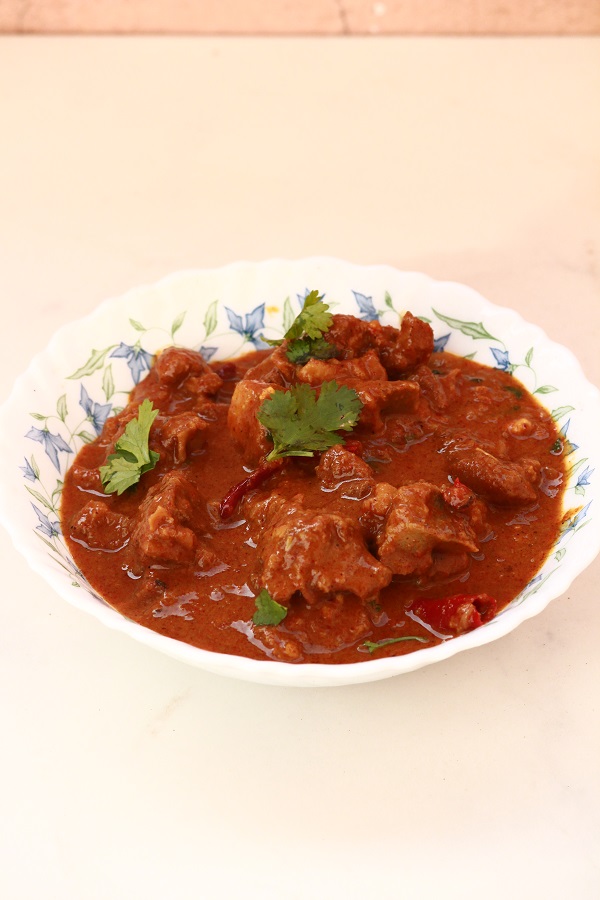 How to make banjara mutton recipe
Ingredients 
mutton – 1/2 kg or 500 grams
onion – 2 medium finely chopped
pepper corns – 4 – 5
black cardamom – 2
cloves – 4
cinnamon – 1
nutmeg or jathika – 1
fennel seeds or perumjeerakam – 1/2 teaspoon
star anise – 1 piece
mace or jathipatri – one small piece
ginger garlic paste – 2 tablespoons
red chili powder – 1 1/2 tablespoon
coriander powder – 4 teaspoons
turmeric powder – 1 teaspoon
thick curd – 1/2 cup
dry red chili – 5
coriander seeds roasted and crushed – 1 teaspoon
oil – 1/4 cup
coriander leaves – to garnish
How to make banjara ghost 
1. Clean mutton, cut into small pieces and keep aside.
2.  Add the cleaned mutton pieces to a pressure cooker with enough water and salt, and pressure cook for 3 whistles.
2.  Grind together cloves, cardamom, star anise, peppercorns, mace, fennel seeds, and dry red chilies to make garam masala.
2.  Heat oil in a pan, add dry red chili and saute for a minute.  Add finely chopped onions and saute till they become translucent.  Add ginger garlic paste and saute for 2 – 3 minutes in medium flame till the raw smell of ginger garlic goes off.
3.  Add red chili powder, turmeric powder, coriander powder, the ground garam masala and saute for 2 – 3 minutes till the raw smell of masala goes off.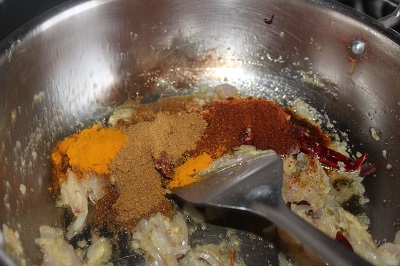 4.  Pour the mutton stock into a bowl, and add cleaned mutton pieces, to the pan, and mix well.  Add the stock also, mix well.  Add salt if necessary.  Cover and cook on low flame for 15 minutes.
5.  Open the pan, add yogurt, mix well.  Cook on low flame for 1 minute.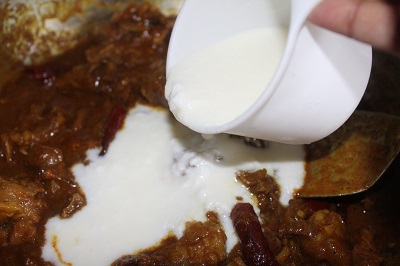 6.  Sprinkle crushed coriander seeds on top and mix well.
7.  Garnish with coriander leaves.
8.  Transfer to a serving bowl.  Serve banjara ghost with roti or chapati.