Ambur is a place in Tamilnadu very famous for its biryani dishes.  Their mutton biryani is very famous. Star biryani is a very famous restaurant in this area.  This arcot biryani is very unique compared to the other biryanis. They follow traditional dum cooking method.  A special rice variety called as jeeraka samba rice is used for making this biryani. The preparation is very simple, not at all complicated, and can be made in less than 1 hour. It is said that ambur mutton biryani is very light on the stomach and is easily digestible. Moreover, this biryani recipe does not make use of any masala powders like red chili powder, coriander powder or garam masala.  It just uses some whole spices for the aroma and the spiciness is got from red chili paste. 

The key ingredient for any mutton biryani is tender meat, a good quality rice and preparing it in the right way.  Also, the mutton has to be cooked in low flame to get the right texture.  

Dum cooking is a bit tricky and time consuming.  I always follow this easy pressure cooker method while making biryani.
Mutton biryani recipe
Ingredients 
for marination
mutton – 1/2 kg
turmeric powder – 1/2 teaspoon
salt – 1 teaspoon
curd – 1/2 cup
for biryani
jeeraka samba rice – 2 cups
onion – 2 (sliced)
tomato – 2 (finely chopped)
ginger garlic paste – 2 tablespoons
red chili paste – 4 tablespoons
bayleaf – 2
cloves – 6 – 7
cinnamon – 2
cardamom – 4
mint leaves – one handful
coriander leaves – 1/2 cup
oil – 6 tablespoons
lemon – 1 small
coriander leaves – a handful
How to make ambur mutton biryani
1. Wash jeeraka samba in water and then soak it in enough water for 15 – 20 minutes.
2.  Wash and clean mutton pieces, add them to a bowl.  To this add turmeric powder, rock salt, curd, mix well and keep aside for marination for 15 – 20 minutes.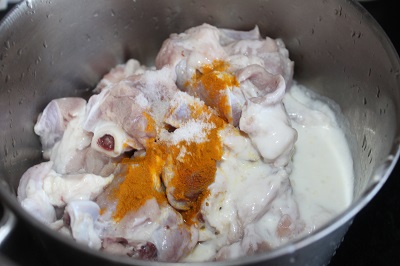 3.  Heat little water in a bowl, add the dry red chilies into it and keep it immersed in it for 10 – 15 minutes.  After that, transfer the dry red chilies to a mixer jar, grind it into a smooth paste.  Keep aside.
4.  Pressure cook marinated mutton with 3 1/2 cups of water for 3 – 4 whistles.
5.  Heat oil in another pressure cooker.
6.  Add the whole spices, cloves, cardamom, cinnamon, bay leaf, and saute for a second.  Then add ginger garlic paste and saute well on low flame till the raw smell goes off.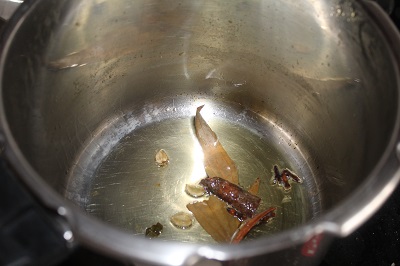 7.  Add onion, tomatoes, chopped mint and coriander leaves and saute them on medium flame.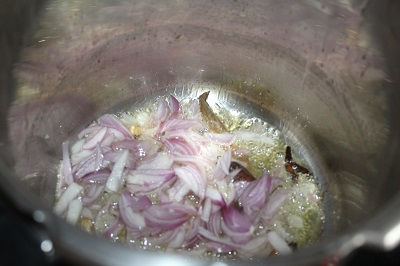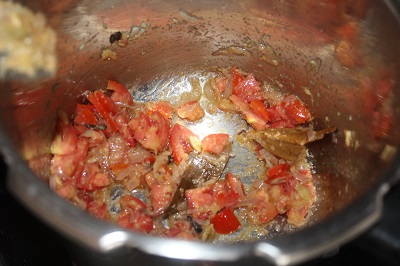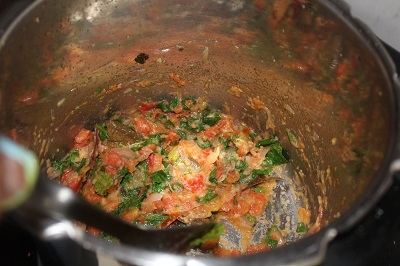 8.  Next add red chili paste, and mix it well.  The masala will become reddish by now.  But don't worry, when you add the rice and mutton, the spiciness will get reduced.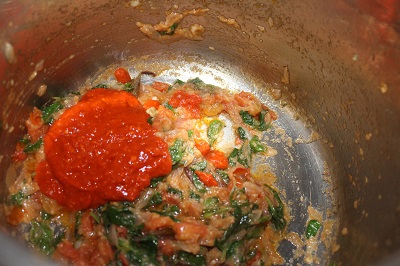 9.  Add the cooked mutton pieces and mix well.  Now add the mutton stock also.  Mix well.  Adjust salt as required.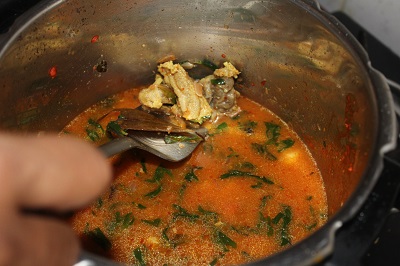 10.  Add the soaked rice, mix well.  Check for salt.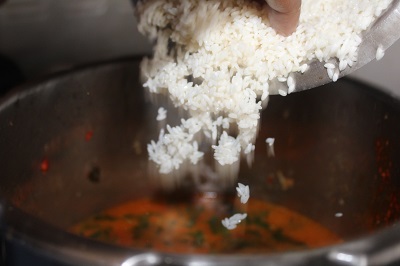 11.  Finally add lemon juice, chopped coriander leaves, mix well.
12.  Cover the pressure cooker with a lid, and pressure cook for 1 whistle or for 10 minutes on low flame.
13.  Wait till the pressure subsides.
14.  Open the pressure cooker, fluff the rice with a fork.
15.  Serve ambur mutton biryani hot with any salad of your choice.