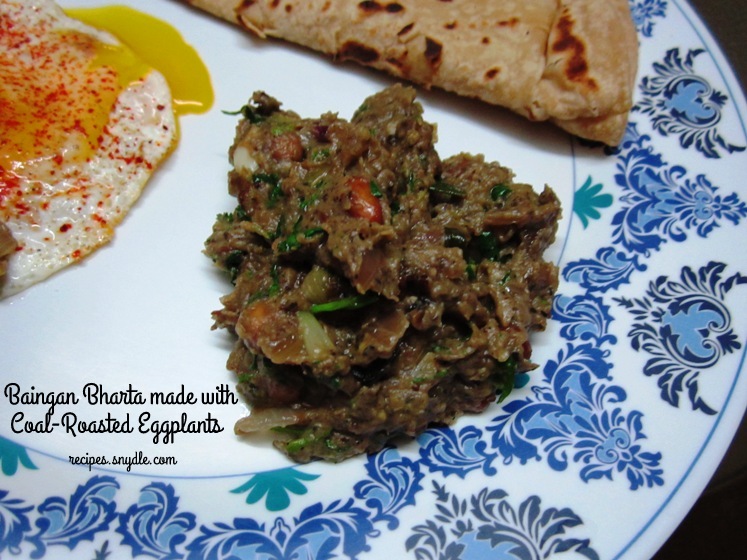 Baingan Bharta with Spring Onion Recipe | Khandeshi Vangyache Bharit Recipe with step by step pictures | Spicy Mashed Eggplant Recipe
Hey foodies! Today I am sharing the recipe of baingan bharta that is very different from what we usually prepare. This one is a khandeshi specialty. The best thing about this bharta recipe is that it uses no spice powders at all! No red chili, no turmeric, no garam masala! Can you believe that? And it still tastes amazing.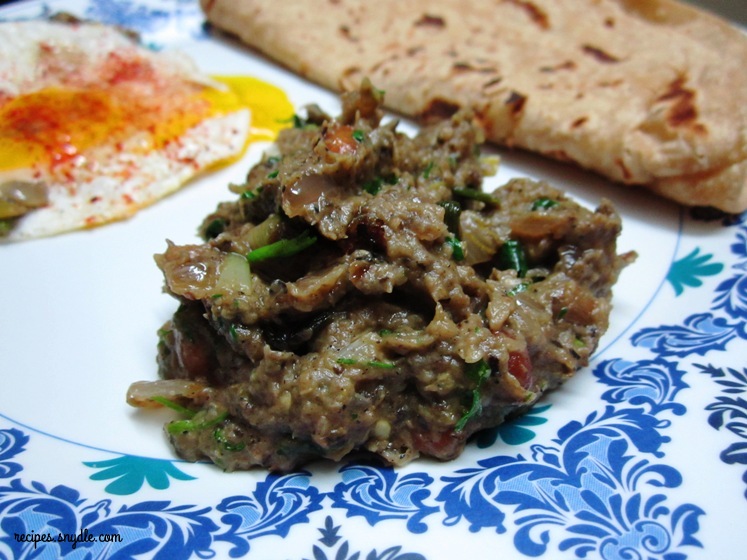 The key to an awesome khandeshi vangyache bharit is the spring onion greens. Yep, that's right. Quite an unusual ingredient for a bharta, isn't it? The next important thing is that you roast the egg plants and the green chilies directly onto the charcoal. The fried groundnuts added to the bharta lends the otherwise smooth and mushy bharta a crunchy texture when you bite into them.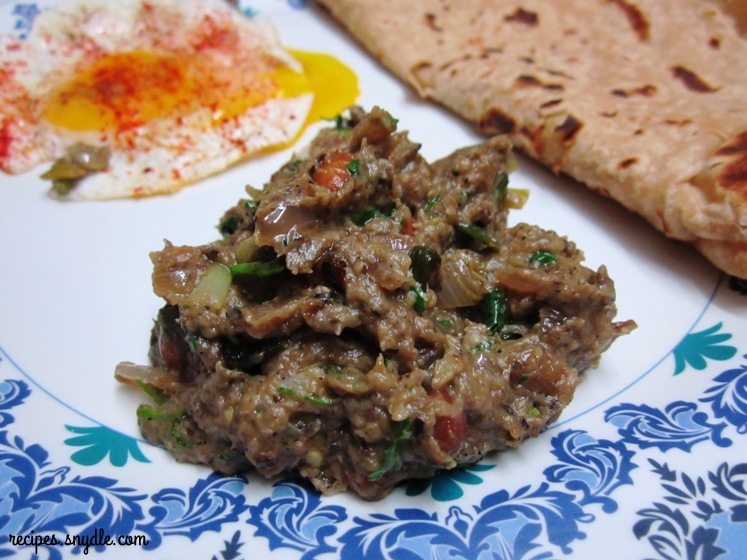 Make sure you choose small or medium size brinjals. They have a tender flesh and lesser seeds as compared to the large ones. So let's start with the recipe of khandeshi vangyache bharit. For the purpose of measurement, 1 cup = 250 ml. This recipe yields 4 servings.
Ingredients
Green brinjals – 4, medium sized
Garlic – 15 cloves
Green chilies – 5
Spring onion whites – 3/4 cup
Spring Onion greens – 3/4 cup
Coriander leaves – a hanful, finely chopped
Groundnuts – 1/4 cup, fried tll golden brown and crunchy
Peanut oil – 6 tbsp + some more to rub onto the brinjals/eggplants
Salt – to taste
Cumin seeds – 1 tsp
How to Make Khandeshi Vangyache Bharit
Wash and pat dry the eggplants. Rub some oil onto them and place them on red hot coals till the skin burns and chars and the flesh becomes tender. Also roast the green chilies on the coals. (Not visible in the picture because of low light conditions)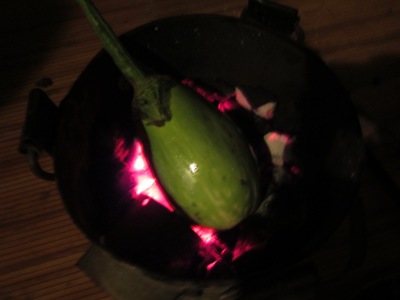 The eggplant will look like this. They shrink in size as well and smell nice and smokey.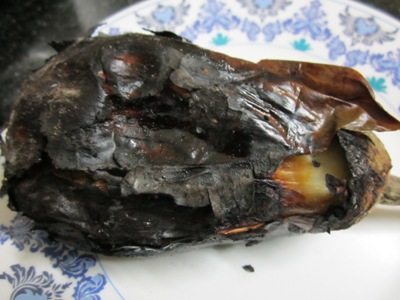 Peel them and separate the flesh. Mash it with a fork or just give them a whisk in the blender.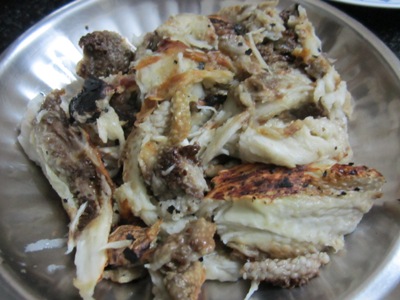 Heat peanut oil in a skillet and add in the cumin seeds. Let them sizzle.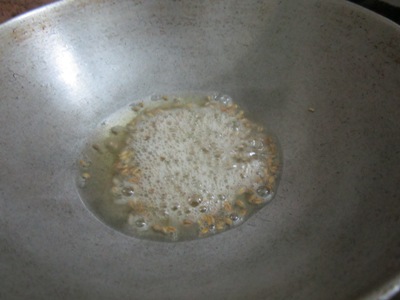 Grind the garlic and the roasted green chilies together. Add them to the oil as well.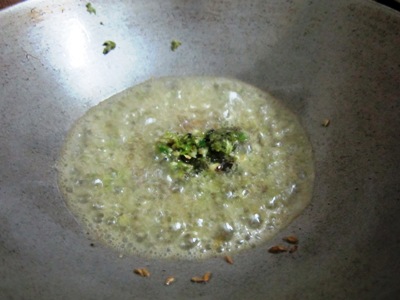 Add in the spring onion greens and whites and saute for a minute till they lose the raw smell.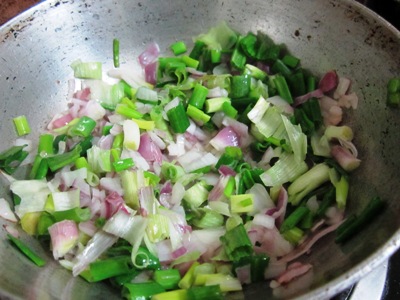 Add in the mashed eggplants and salt. Mix well.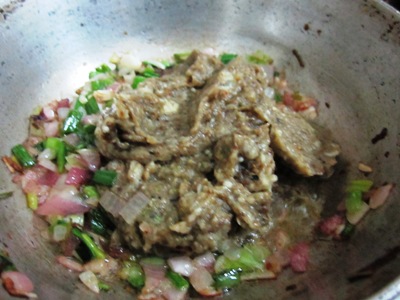 Add in the fried groundnuts and mix again. Cover the skillet and allow the eggplants to cook on low flame for about 10-12 minutes. Stir in between 3-4 minutes to prevent burning.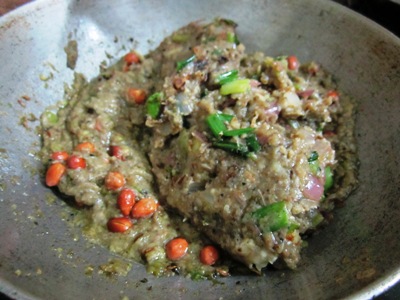 When done, add in the coriander leaves and give it a final mix. Turn the heat off.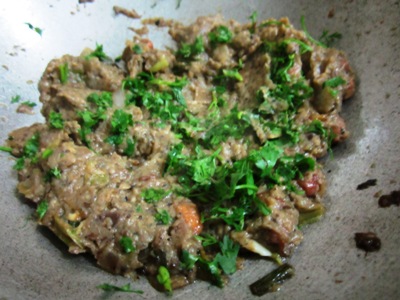 Quick, easy and spicy baingan bharta is ready. Serve hot with rotis or bhakris. Enjoy!