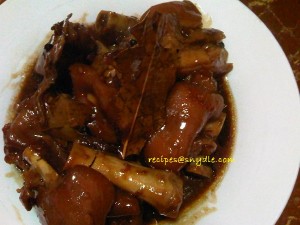 Paksiw na pata is a Filipino dish that you will love to eat again and again. This pork dish is simple but delicious. Paksiw na pata is made by braising the pork hocks in soy sauce, vinegar and sugar until tender and the sauce is thick.
I love paksiw na pata dish, it is one of my favorite pork dish. I love the sweetness and saltiness of the dish. If you are looking for a new pork dish to make for your family, why not give this recipe a try. You don't need to spend much to have a delicious pork dish for lunch or dinner.
Here's my version of paksiw na pata, please let me know what you think as I love hearing from my people who have tried my recipes.
Paksiw Na Pata
Ingredients:
1 kl pork hocks or pata, cut into 2 inches thick
½ cup soy sauce
¼ cup vinegar
3 clove garlic, chopped
1 onion, chopped
2 pcs laurel or bayleaf
1 tsp peppercorn
1 tsp salt
¼ cup sugar
4 cups water
Dried banana blossoms
How to Make Paksiw Na Pata
Direction: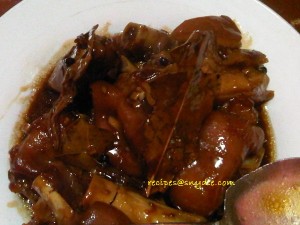 In a pot or pressure cooker, boil pork hocks until tender. Remove any skunk.
In a pot, heat oil over medium high heat then sauté onions and garlic. Add the pork hocks or pata and the soy sauce, vinegar, 1 cup water and the rest of the ingredients.
Cover and cook for about 30 minutes or until the sauce thicken and becomes gelatinous. Remove from the heat and transfer to a serving dish.
Serve with rice.
See how easy it is to make paksiw na pata. You can leave it and come back to serve the dish to your family. If you like the recipe, please bookmark this page to save the recipe on your computer.
Please feel free to browse other recipes in this page. Thank you for dropping by and happy cooking!