Avial is a dish prepared with as many vegetables as one can get.  It is a classic Kerala recipe.  It is a mix of all kind of vegetables in yogurt and grated coconut .  It makes use of vegetables like Ash gourd, pumpkin, raw banana, beans, yam, carrot, snake gourd, mango, long beans.  You can also add brinjals.  My grandmother adds bitter gourd along with that.  But I don't add bitter gourd and brinjals.
I had been to Trivandrum few years back and then I came to know about the story of how Avial came into being.  The Maharaja of Travencore used to perform Murajapam once in a year ( a vedic seminar).  Once it happened that there was no vegetables left on the day of Murajapam.  Only few pieces of various veggies were left.  The cook cut all these vegetables into long pieces and prepared "Avial".  The king liked it so much that he presented the cook with a gold bracelet and ordered that this dish will be prepared every year.  You can make use of any piece of vegetable which is available at present at your house.
It has got high nutritional value since you are making use of all the vegetables. It tastes best with steamed rice.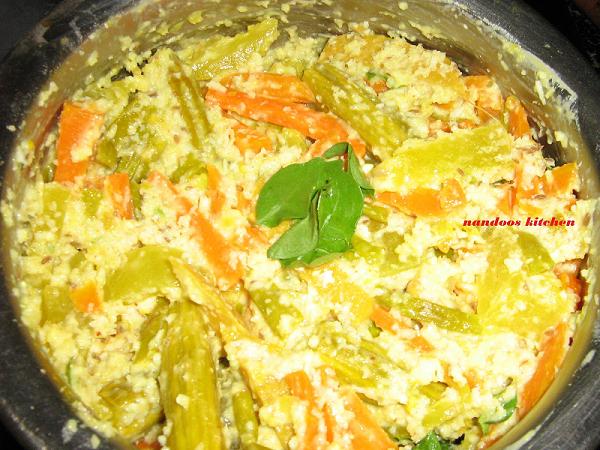 Ingredients required
Ash gourd              –  1 cup
Carrot                     –  1
long beans              –  few
mango                    –  1/2
yam                        –  1/4 cup
Drum stick             –  1
raw banana            –  1/2
yogurt (sour)         –  1/2 cup
green chillies         –  2
coconut oil
curry leaves
For grinding
grated coconut      –  1 1/2 cup
green chillies        –  1
cumin seeds          –  1 tsp
Method
1.  Cut all vegetables into one inch long pieces
2.  Heat coconut oil in a pan
3.  Add vegetables, turmeric powder, green chillies  and salt and mix well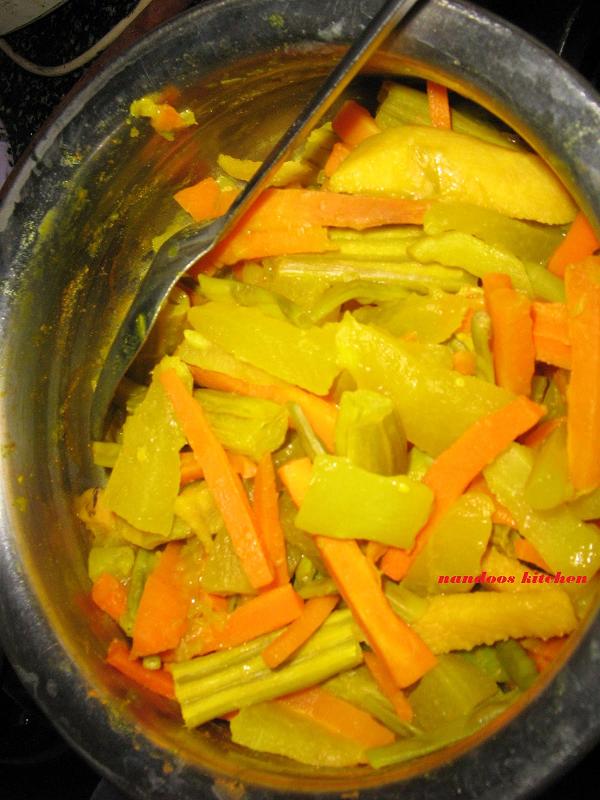 4.  Add 1 cup of boiling water and cook the vegetables until it becomes soft.
5.  Grind coconut with green chillies and cumin seeds (with out water)
6.  Heat coconut oil in a pan, add the veggies and toss
7.  Add the ground coconut paste and combine.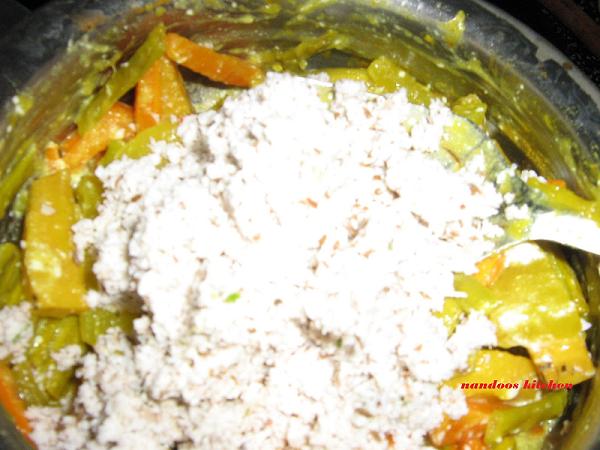 8.  Remove it from fire and allow it to cool.
9.  Then add the curd and mix nicely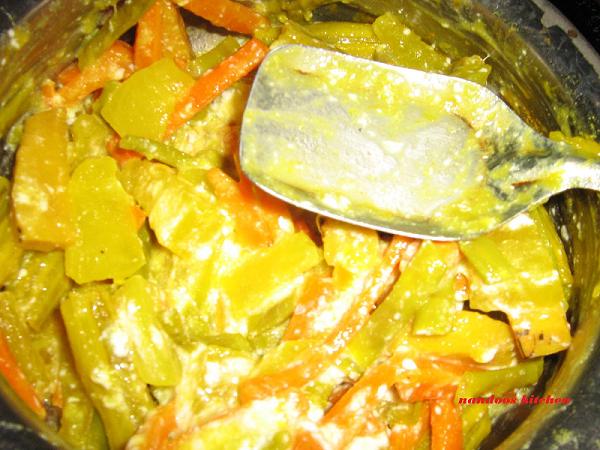 10.  Season it with coconut oil and curry leaves.