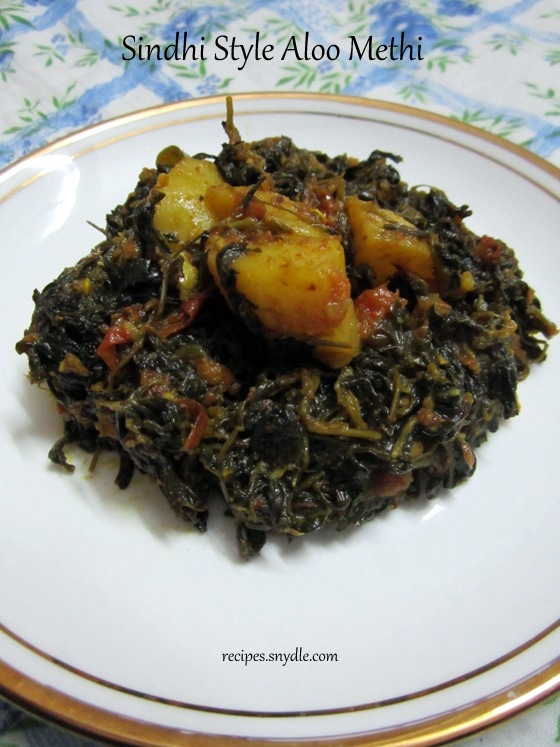 Sindhi Style Aloo Methi Recipe Hey foodies! Hope you had an awesome weekend. So here is an easy recipe to begin your weekend and combat the rush. It's called Aloo Methi Sabzi made in Sindhi Style. Like many of you know, I come from a Sindhi family and there are some recipes that are my favorites and very close to my heart. I learned this recipe from my Mom who cooks amazing food!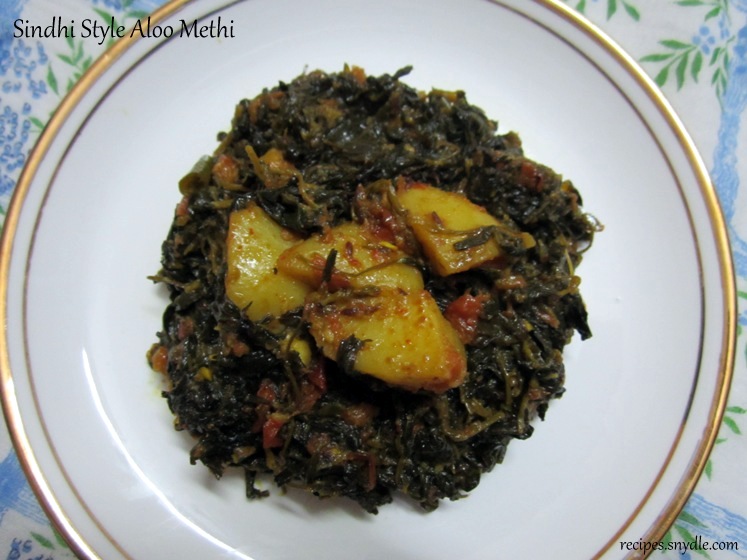 Aloo Methi is a dry sabzi/curry which goes really well with rotis. Even though its dry, it is quite juicy and so I like to have it with rice as well. For those who aren't familiar with the Indian cuisine, methi is fresh fenugreek leaves and aloo is the potato. This recipe calls for a lot of tomatoes and garlic. And surprise! This methi recipe is cooked using pressure cooker! That's new information, right? A lot of people whom I have treated with this homemade delicacy are surprised when I tell them I made the methi sabzi in pressure cooker. That's because cooking methi in skillet or kadhai is the most common technique.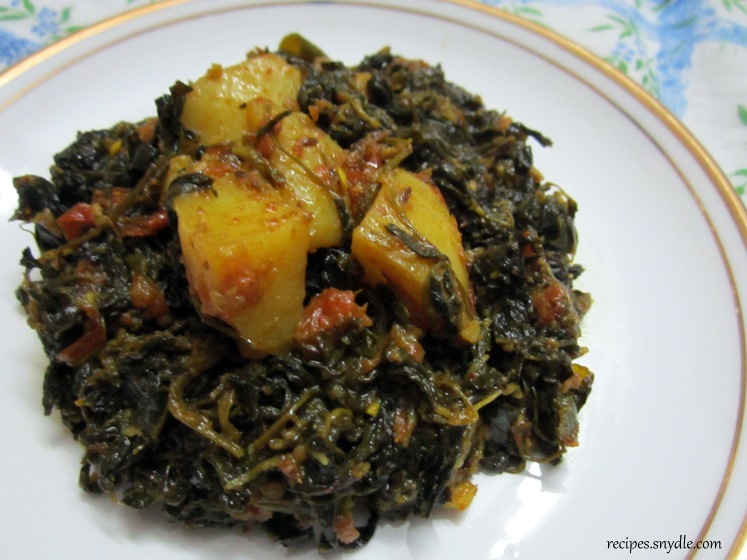 Also, I suggest you use methi that has small leaves. The small fenugreek leaves are tastier. So let's start with the recipe of aloo methi. This recipe serves 2. For the purpose of measurement, 1 cup = 250 ml.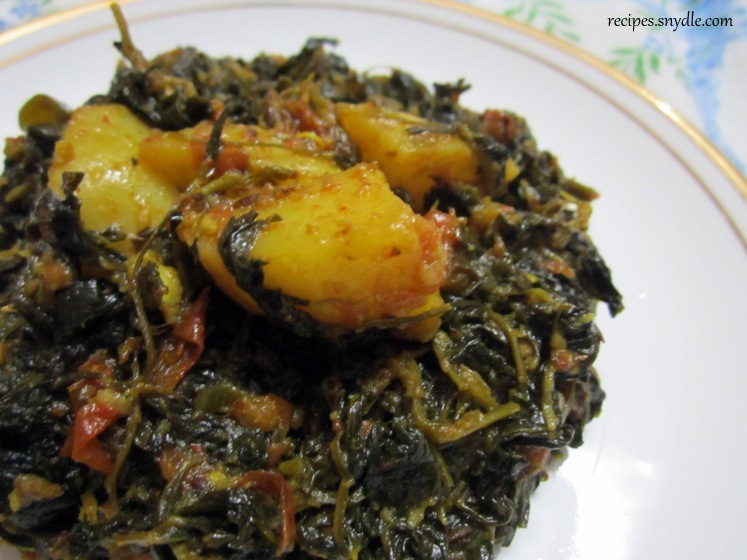 Ingredients
Methi / Fresh fenugreek- 1 medium sized bunch
Potato – 1 medium, diced
Oil – 3 tbsp
Cumin seeds – 3/4 seeds
Tomato – 2 medium, chopped
Garlic – 12 cloves, finely crushed
Green chilies – 2, chopped
Turmeric – 1/2 tsp
Red chili powder – 3/4 tsp
Coriander powder – 1 tsp
Salt – to taste
Water – 1/2 cup or as needed
How to Make Sindhi Style Aloo Methi
In a pressure cooker, heat oil. Add in the cumin seeds and allow them to splutter.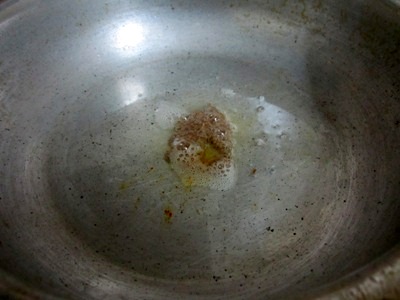 Add in the garlic and saute on low flame till the raw smell goes away. This will take a minute or two.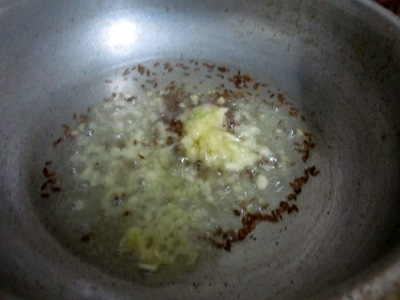 Add in the tomatoes and some salt and cook till the tomatoes get mushy.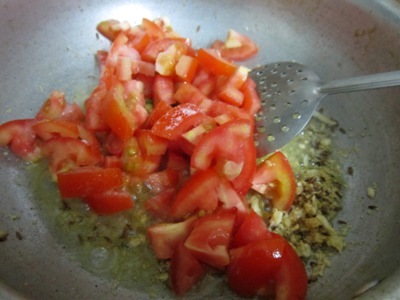 Add in green chilies after a few minutes and continue to cook till the tomatoes soften and oil begins to separate.
Add in the turmeric, red chili powder, potatoes and mix well. Cook for a minute.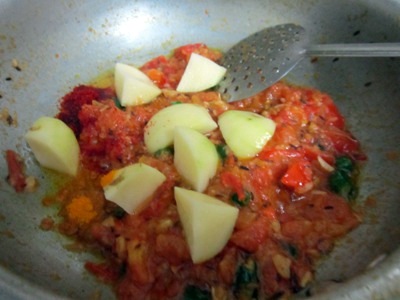 Add in the coriander powder and roast the potatoes with the masala for 3-4 minutes.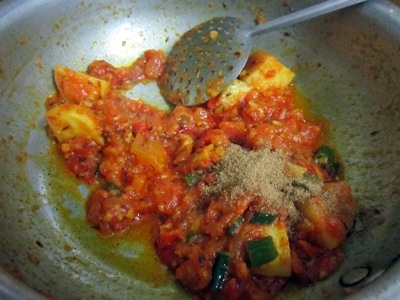 Add in the fenugreek leaves and mix well.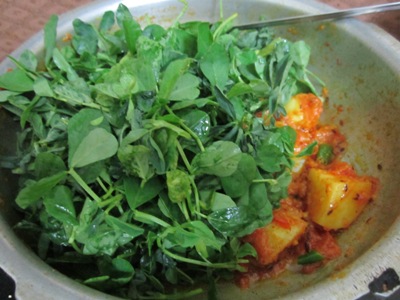 The fenugreek leaves will shrink and release their own water.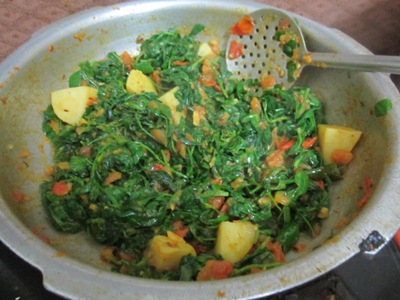 Now we have to pressure cook the veggies. So add some more water, just enough to pressure cook for 5-6 whistles.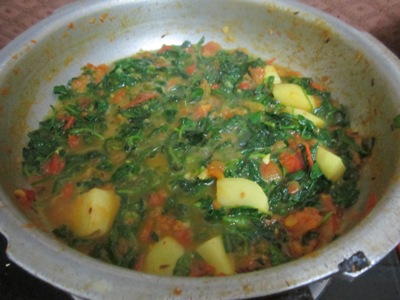 When done, switch off the heat and allow the pressure to release on its own. Open the cooker and check if there is any water left.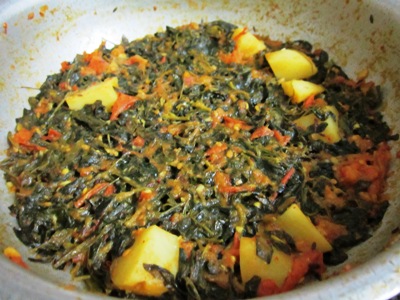 If yes, then continue to cook the aloo methi on high heat to dry up the moisture. Stir often. The oil will begin to separate again, which is when you know the sabzi is ready.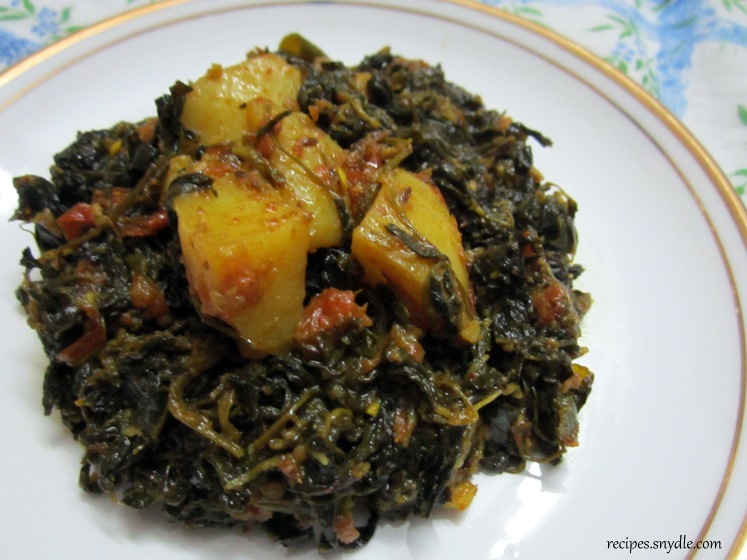 Turn the heat off. Serve hot with rotis or rice with some dal. Enjoy!