Last week, I went to Cubao with my son. We didn't have breakfast before we left for office. So, we decided to eat in Chowking, a popular Chinese fast food chain. I ordered chicken that comes with wonton soup. It is the first time I tried wonton soup and I find the soup delicious.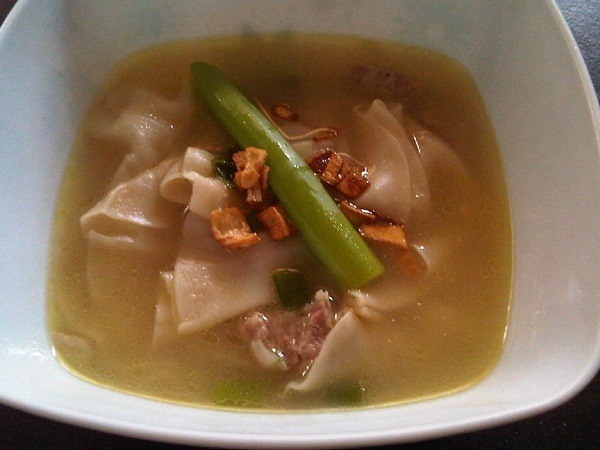 Ever since I tasted Chowking's wonton soup, I never stop craving for its taste. I wanted to recreate the soup. And since, I have wonton's sitting in the fridge ready to be fried or steamed, I said to myself this is the time to try and recreate Chowking's soup. By the way, I always make a batch of dumplings because my kids love them. So, when my husband wants hot and hearty meals, the first thing that comes to mind is wonton soup.
Wonton soup is definitely a comfort food. The delicious taste of the soup and dumplings will make you feel good. Well, this dish certainly made me feel good, so I know it will make us feel good.
In china, wonton soup is typically served in all Chinese restaurants and served across the world. This thin sheet of dough, filled with small portion of vegetable and meat filling is great for soup. My version of wonton soup is very easy to follow and the ingredients already available in your kitchen.
Here's my wonton soup recipe, enjoy cooking!
Wonton Soup
Ingredients:
2 pcs knorr chicken cubes
4 cups water
Leek, chopped
1 pack wonton wrapper
½ ground pork
¼ shrimp, peeled and chopped
2 small onion, chopped
1 garlic, minced
Salt and pepper to taste
1 teaspoon soy sauce
Direction:
For the Wonton:
In a large bowl, combine ground pork and onion then season with salt and pepper. Mix thoroughly. Open a pack of wrappers and get one piece. Place a teaspoon of ground pork mixture in the middle of wonton wrapper. Fold the sides up till the meats surrounded and press firmly. Repeat until all the wonton wrappers and filling have been used up. Set aside or refrigerate.
For the Soup: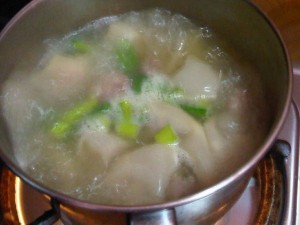 In medium size pot, sauté onion and garlic then put in the water. Bring to a boil and add into the pot knorr cubes. Simmer for 3 minutes and put in the wonton wrapper then the leek. Cook for 5 minutes. Season with salt, pepper and soy sauce.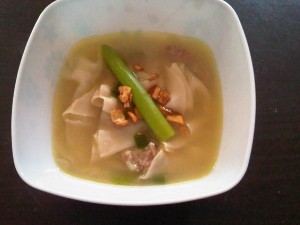 Transfer to a serving bowl and topped with toasted garlic. Serve with bread or rice. Enjoy!
Thank you for checking out my wonton soup recipe, please don't forget to bookmark this page to save the recipe on your computer. Have a nice day and happy cooking!