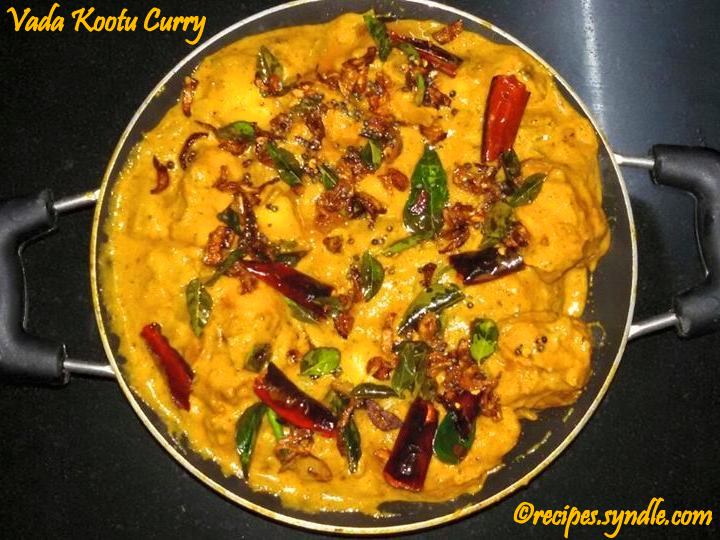 One of the highlights of my onam sadya is always delicious Vada Kootu Curry. Vada kootu curry is a semi spicy vegetable curry,can made more spicy also with urad dal flitters/ uzhunnu vada. Its the urad dal, soaked in water for 3 hours and made into a fine paste, fried and added  to a potato and coconut masala curry. In southern part of kerala its an essential dish for kerala sadya. I got this koottu curry recipe from my amma/mom,  its a very popular dish in Trivandrum, kerala. This is an absolutely delicious dish and is quite different from the other sadya recipes. This dish give the taste like a meat dish and will loved by all.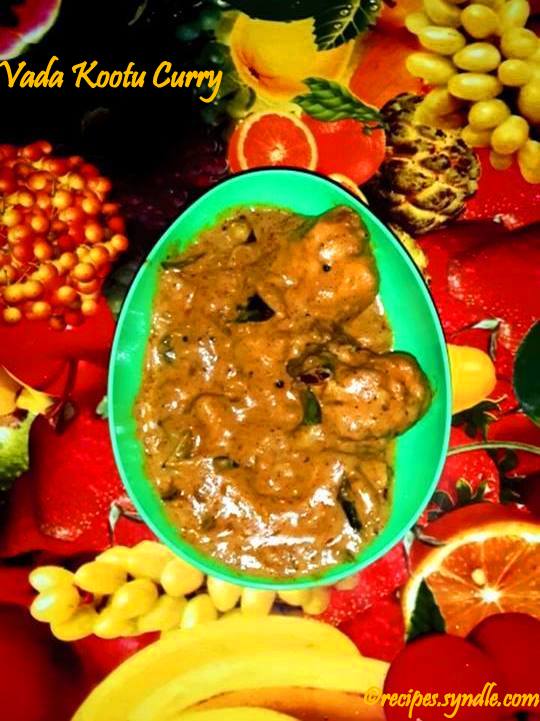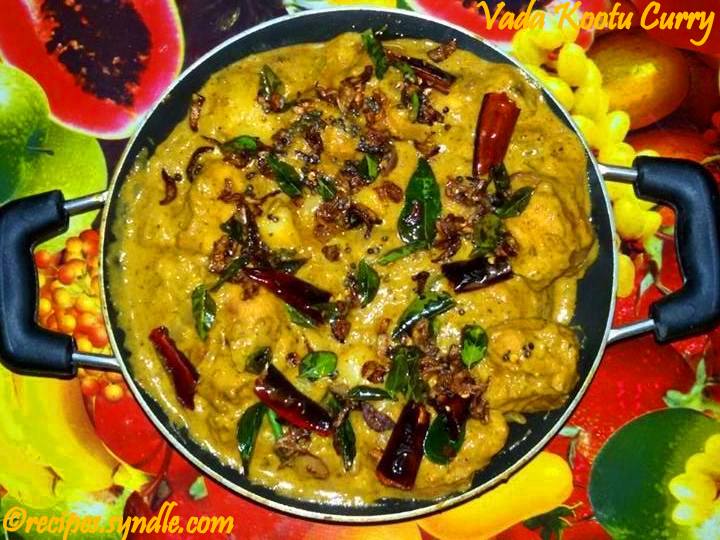 Vada Kootu Curry Recipe
Ingredients
Potatoes- 2, cut in cube shape
Onion-1, large cut in cube shape
Green chillies-2, split in lengthwise
Curry leaves-2 sprig
Thick Coconut milk- 1 cup
Thin Coconut milk- 1 cup
Salt- to taste
Coconut Oil- 1 tsp
For Grinding to Paste
All these ingredients should roast before grinding
Roasted Coconut- 1/2 cup
Chilly powder-1 tbsp
Corriander powder-1 tbsp
Garam masala-1 tsp
Pepper powder-1tsp
Turmeric powder-1tsp
For Making Urad Dal Flitters
Urad dal- 1/2 cup, soaked
Salt- to taste
Coconut oil- 1/2 cup
For Seasoning
Coconut oil-1tbsp
Mustard seeds- 1tsp
Shallots- 4, finely chopped
Curry leaves- 1 sprig
Dry red chillies- 2 or 3
How to Make Vada Kootu Curry 
 Soak the urad dal in water for 3 hours.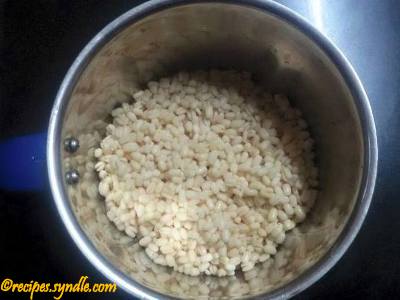 Drain the water and grind the soaked urad dal in a blender adding salt  to a fine thick paste. Add only a very little water, the batter should be thick not watery.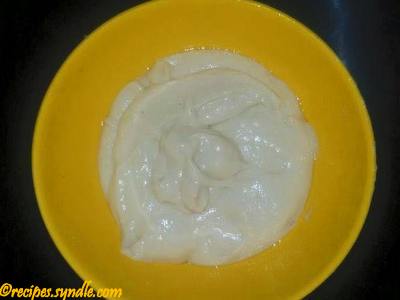 Heat Coconut oil in a frying pan, let the oil turn hot. Make small balls with the battar. The batter should be sticky, so you could grease the palm of your hands with water and make the balls. Drop the balls into the hot oil, deep fry it till it turns goldern brown in colour. Transfer it to a kitchen towel and keep it aside.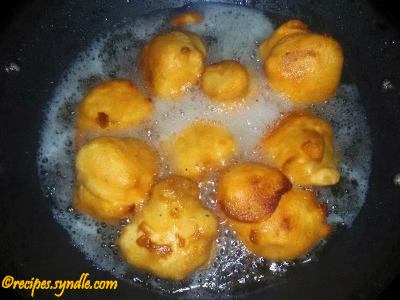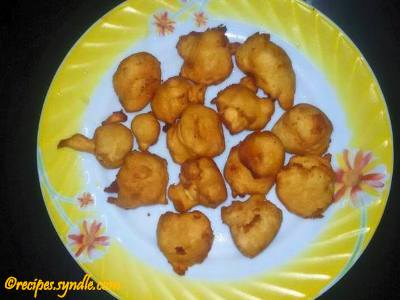 Heat a pan add 1 tsp coconut oil, add potatoes, onions, green chillies and curry leaves. Saute for a minute.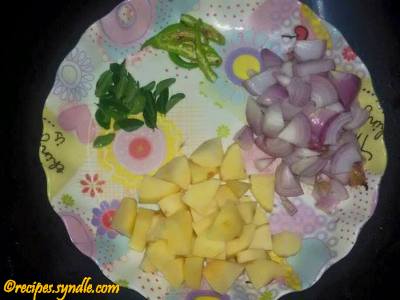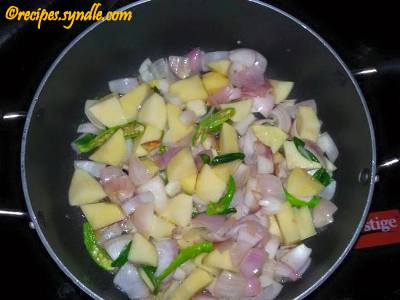 Add thin coconut milk, combine it well and cook covered till poatatoes turn soft and tender.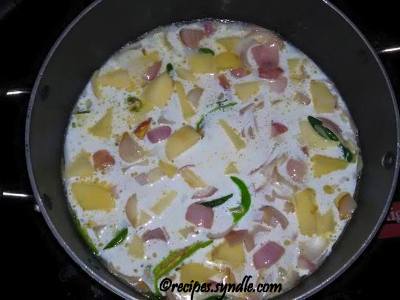 Mean while roast the ingrdients listed under ' For Grinding to Paste'. And after roasting grind it to a very fine paste.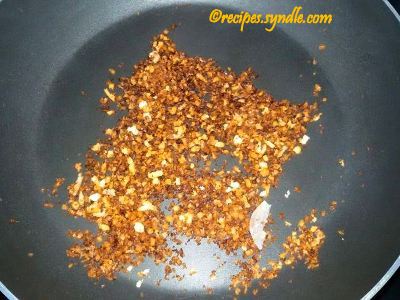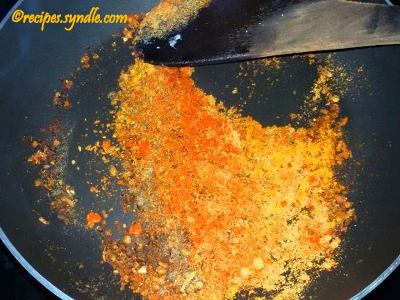 After potatoes are cooked, add the grounded masala paste to it. Combine well and add salt. Saute it for 2 minutes till the raw smell disappears.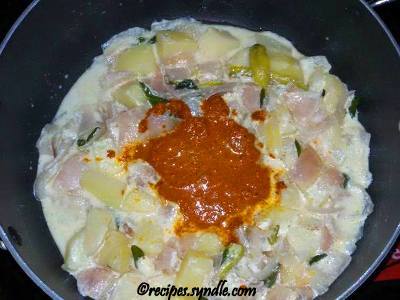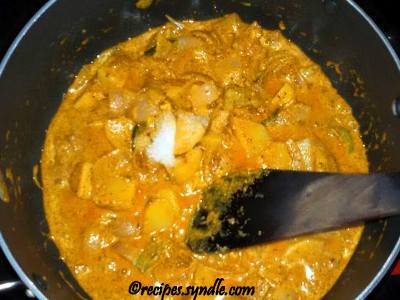 Add the fried vadas/ urad dal flitters, Combine with the gravy.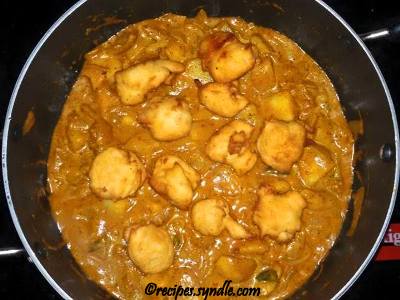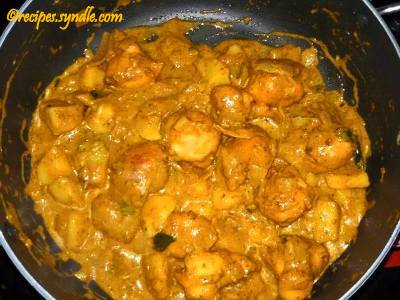 Now add the thick Coconut milk, Combine well and cook it for a few minutes. You can make the dish thick or thin the gravy down by adding more coconut milk or water. For sadya used to make the dish thick only.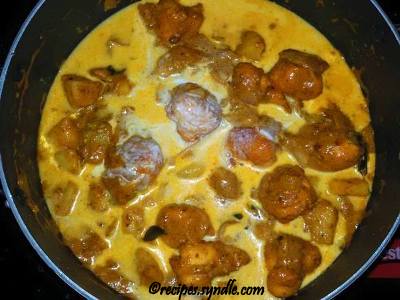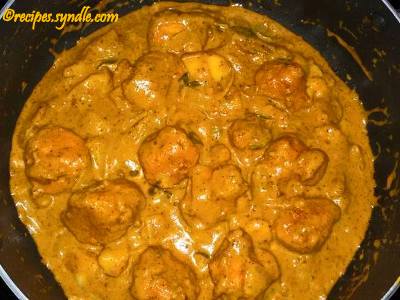 Remove it from heat and keep covered for sometime. The fried vadas will absorb some of the gravy.  Heat another frying pan pour oil, add mustard seeds, shallots, dry red chillies and cuury leaves and allow it to splutter.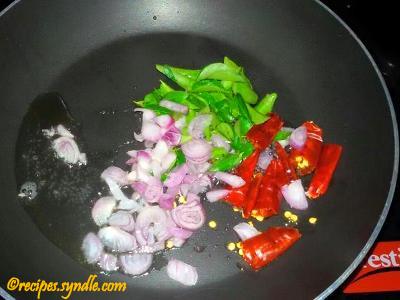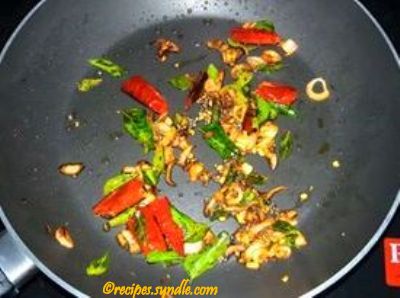 Now add the seasoning to the kootu curry.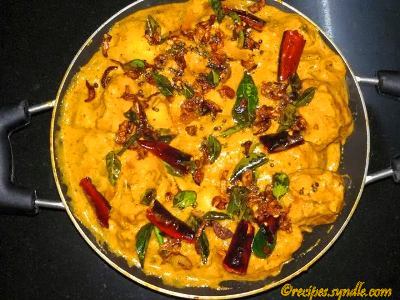 Serve along with sadya or as a main dish along with poori, roti, chappathi or plain rice. Enjoy !!