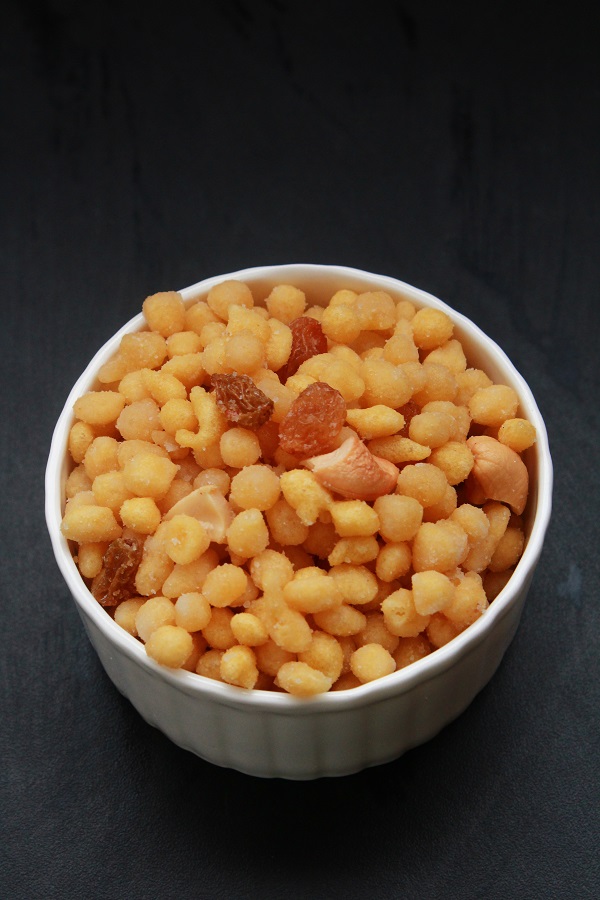 Today's recipe is a sweet dish – sweet boondi.  We all might have bought this delicious sweet from sweet shops.  But it is very easy to prepare at home.  And all you need is very few ingredients  which are readily available at home.  The main ingredients needed are besan or gram flour, sugar and water.
This is the first time I am making this boondi.  But it was very easy to make and it came out perfect.
Sweet boondi recipe
Ingredients 
besan / gram flour – 1 cup
baking soda – a pinch
cloves – 2
cardamom – 1
oil / ghee – to deep fry
cashew nuts – 1 tablespoon
raisins – 1 tablespoon
for sugar syrup
sugar – 1 cup
water – 3/4 cup
How to make sweet boondi recipe
1. Heat a teaspoon of oil in a pan.  To this add raisins and fry till it puffs up.  Transfer it to another plate.  In the same pan, add broken cashews and saute till it becomes golden brown color.  Transfer it to a plate and keep aside.
2.  Sieve besan flour and cooking soda, add it to a bowl.  Slowly, add water carefully, little by little and make a thick paste without lumps.  To this add little more water and make a paste of flowing consistency.  To this add a pinch of salt and mix well.  Keep it covered for 10 – 15 minutes.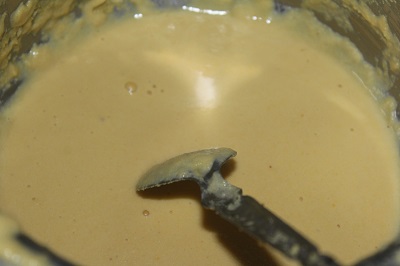 3.  You will need two ladles for making boondi.  One for making boondi and the other for frying them.
4.  Add sugar and water in a pan.  Boil the syrup till the sugar melts completely.  Then reduce the flame to medium, and boil the sugar syrup until it reaches a single string consistency.  Add 1/4 teaspoon cardamom powder, mix well and turn off the flame.
5.  Heat oil or ghee in another pan.  When the oil is hot enough, pour one spoonful of batter over the ladle, holding the ladle over the hot oil.  Use a spoon and spread the batter in circular motion and you will find the batter dripping into the hot oil.  Stir well so that it gets cooked well on all sides.  You will find that the boondis float on top.  No need to cook till crispy.  Boondi is soft from inside and crispy outside.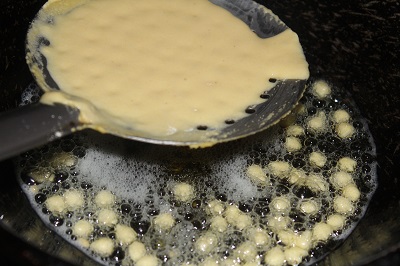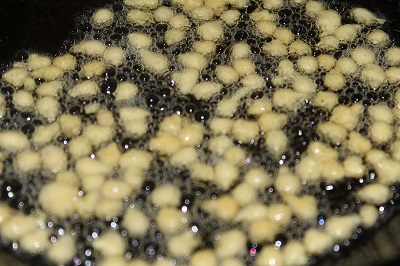 6.  Remove the boondis with a slotted spoon and immediately add it to the warm syrup.  Mix well.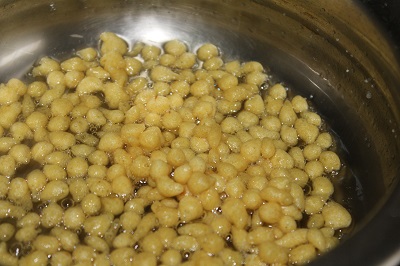 7.  Wipe and clean the ladle before you start making the next batch.
8.  Repeat the same steps with the rest of the batter.  Initially, the boondis will look sticky, but it will set after some time.  The boondis will absorb the sugar syrup and get set.
9.  Add fried cashew, raisins, fried cloves and mix well.