Stingray or Pagi in tagalog is a Filipino delicacy. This pagi recipe has the meat simmered in coconut milk, which is the favorite of Pinoys, especially Bicolanos who are known for their love of spicy food and the used of coconut milk.  Stingray or Pagi is one of the most underrated seafood, probably because it is restricted. When it comes to seafood's, most Filipinos only know popular fish such as bangus (milkfish), galuggong or tilapia. Additionally, most people don't even know that stingrays are edible when properly cleaned and prepared. In fact, pagi meat is not just edible but taste great especially when grilled and cooked in coconut milk. The meat taste is similar to shrimp and lobster, but its texture is like that of the chicken meat.
This stingray recipe is easy to follow, you can easily whip up a delectable dish with this type of seafood by simply following the procedures of the recipe.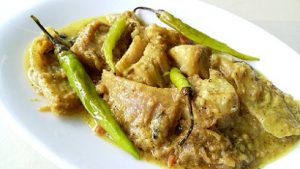 Rays are common food in some countries like Singapore and Malaysia. Ray is usually grilled over charcoal and served with soysauce. But, my husband prefers cooking stingray in coconut milk so I have no idea about the taste of BBQ stingray. There are many stingray recipes on the internet that you can try and this is one of the recipes that you don't want to miss.
Stingray Recipe (Stingray/Pagi in Coconut Milk)
Ingredients: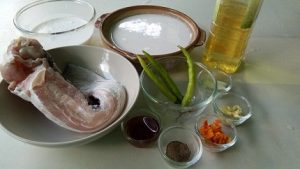 1 whole small pagi or stingray (tails removed and chopped)
2 Thumb Tumeric (Dilaw na luy), minced
3 cloves garlic, minced
1 pcs onion, chopped
3 cup coconut milk
3 Pcs Siling Haba
Fish Sauce to taste
Pepper to taste

Procedure with Step-By-Sep Pictures

In a pan, heat oil over medium high. Saute garlic, onion, and tumeric. Saute onion until limp and the garlic and tumeric until fragrant.

Next, put into the pan the pagi/stingray. Cook until slightly brown on all sides.

Once the pagi meat is brown on all sides, pour the coconut milk. Season with fish sauce and pepper. Simmer for 20 to 30 minutes or until tender.

Simmer for 20 to 30 minutes or until tender.  Put in siling haba, cook for 2 to 3 minutes more. Turn off the heat and transfer to a serving dish.

Serve and Enjoy!


How to Cook Stingray in Coconut Milk Video Tutorial


I hope you find my stingray recipe easy to follow and feel free to drop a line or two on the comment box. I love hearing from my readers especially about what you think of my recipe. I have more recipes posted on the seafood, beef, pork and cakes section, please check them out. Thank you and have a nice day and happy cooking!