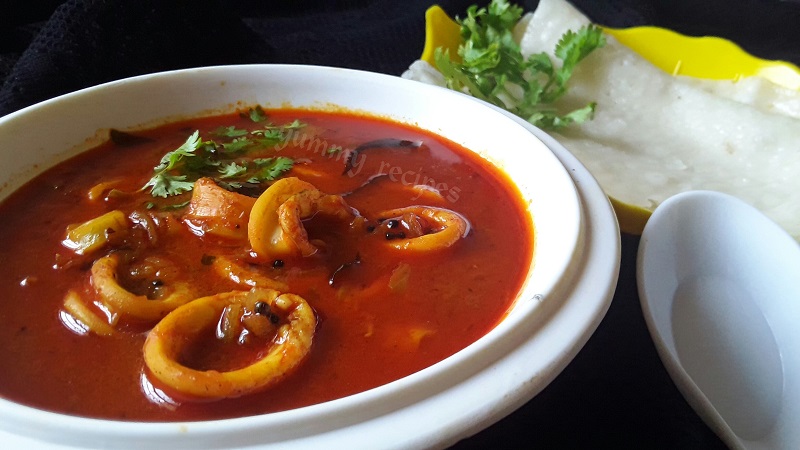 Squid in coconut milk is my favorite curry. For this we just use very little ingredients. The coconut milk gives you a special taste to our squid. It's a best combination with dosa, chapatti, roti etc. For this recipe you can adjust the quantity of spices and water as per your taste.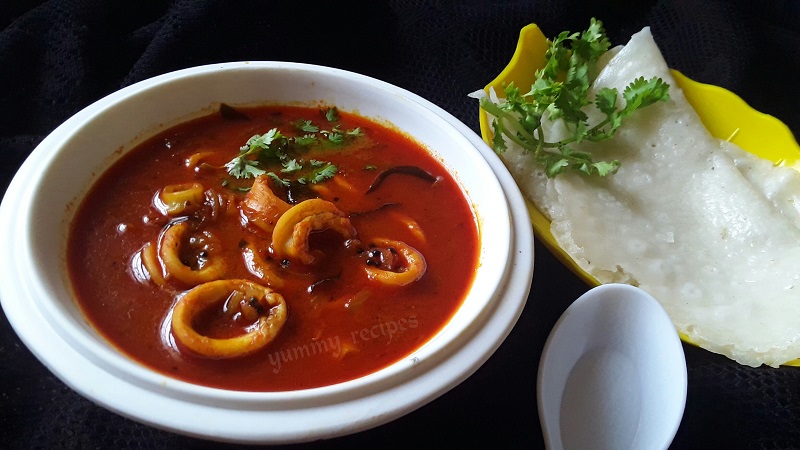 It has many health benefits. Squid is good source of protein. Also contains Omega-3, copper, zinc B vitamins and Iodine in addition to delicious. Try this recipe; I hope you will surely love it.
Let's see the method of preparation in bellow with detailed images. I hope all are enjoy my recipe with yummy recipes. Send your feed back in comment box.
Ingredients
Squid 1 cup that cut in to rings
Coconut milk 3 table spoon
Red chili powder 1 table spoon
Turmeric powder ½ teaspoon
Fennel powder ¼ teaspoon
Cumin powder ¼ teaspoon
Coriander powder ½ table spoon
Onion 1 chopped
Curry leaves 1 spring
Mustard seeds ½ teaspoon
Oil 1 table spoon
Water ½ cup
Salt to taste
Method
In a bowl add red chili powder, turmeric powder, fennel powder, cumin powder and coriander powder. Then add 1 tablespoon water and make a fine paste, keep it aside.

In a kadai heat 1 table spoon, add mustard seeds and curry leaves. Allow it to splutter.

Add chopped onions, sauté till light golden brown in color.

Then add masala paste in it, saute for about 1 minute.

Add ¼ cup water and mix well with the masala.  Allow it to boil.

Once the gravy starts boiling add cleaned and washed squid in it. Also add salt.

Then close the lid and cook for about 2 minutes in medium flame.

Then add coconut milk in it, mix well. Do not overcook, also check the salt.

The tasty squid in coconut milk curry is ready to serve with rice or chapatti. Thank you all.