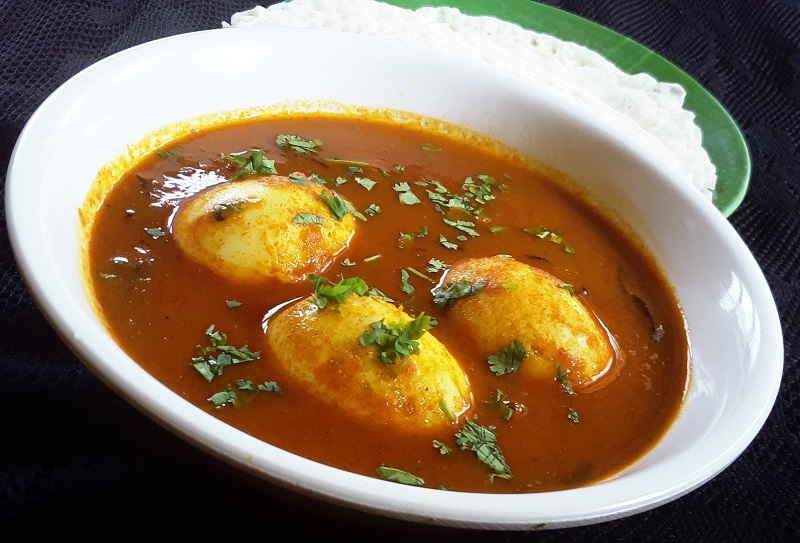 In this egg curry boiled eggs cooked in tomato and onion paste with adding spices. Egg is a healthy dish; I try to include eggs in our every day meal in different way. This is the simple way to make egg curry for dosa, chapatti and roti.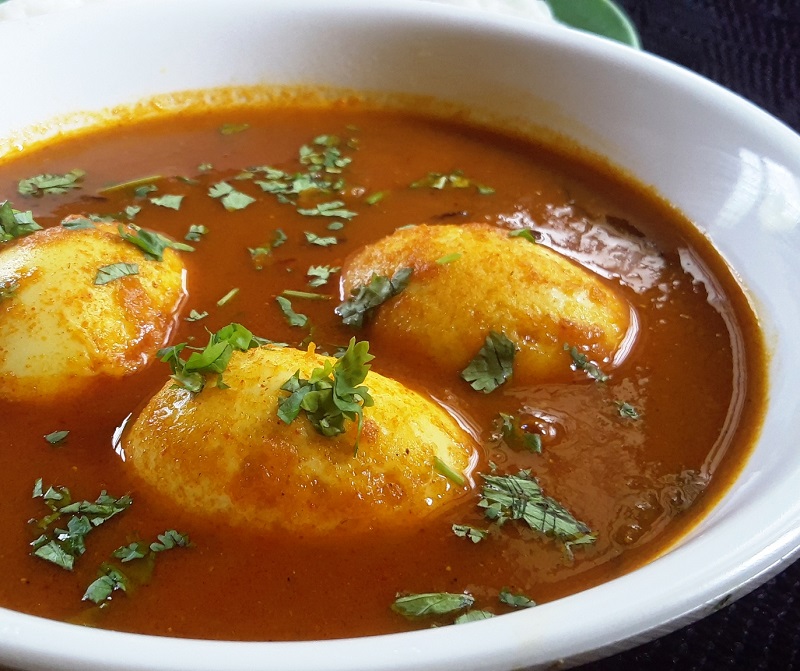 Eggs are a very good source of inexpensive, high quality protein. The whites are rich sources of selenium, vitamin D, B6, B12 and minerals such as zinc, iron and copper. Egg yolks contain more calories and fat. There are lots of different types of egg available; the most commonly raised are chicken eggs..
Ingredients
Boiled egg 3
Onion chopped ½ cup
Ginger garlic paste 1 table spoon
Tomato puree 1 cup
Curry leaves 1 spring
Oil 2 table spoon
Water ½ cup
Turmeric powder 1 teaspoon
Red chili powder ½ table spoon
Cumin powder ¼ table spoon
Coriander powder 1 teaspoon
Salt to taste
Method of preparation
In a blender add chopped onions and ginger garlic paste and make a fine paste. Keep it aside.

Heat oil in a pan fry curry leaves then add onion paste. Sauté 2 minutes in low flame.

Then add turmeric powder, red chili powder, cumin powder and coriander powder. Sauté well till its raw smell away from the masala.

Then pour tomato puree, sauté for 1 minute and close the lid and cook for 2 minutes in low flame.

Then open the lid and add ½ cups of water and salt. Allow it to boil.


Heat a pan and just fry the boiled eggs, then put in to the curry, check the salt.

Again cook for 3 minutes in flame. Sprinkle some coriander leaves (this is optional)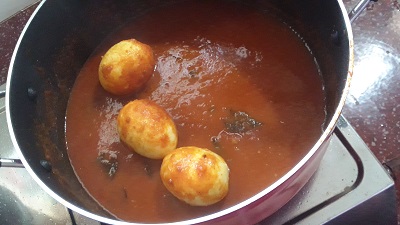 Then remove in to a serving bowl. The tasty egg curry is ready to serve. Enjoy cooking with yummy recipes.