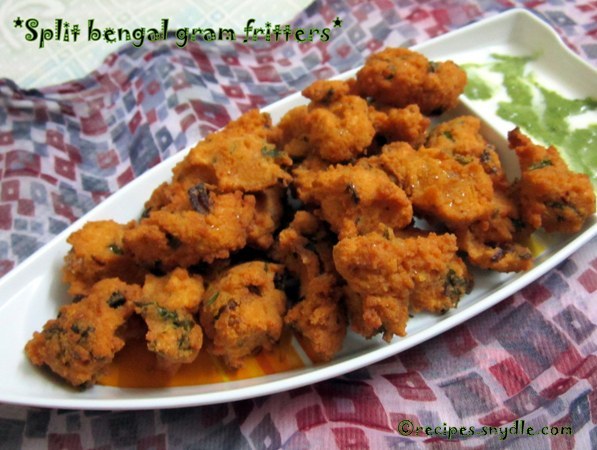 After sabudana vadas yesterday, I decided to make chana dal vadas. Chana dal is the split Bengal gram. The fritter made from chana dal are extremely delicious and filling. You can have it with green chutney or tomato ketchup. I served them with green chutney drizzled with some sweetened yogurt. The contrast of spicy with sweet leaves you craving for more.
The flavors of fritters, zesty chutney and sugary yogurt burst with your mouth and make you feel on cloud 9 on any rainy day! Yum! The fritters are crunchy on the outside and soft on the inside.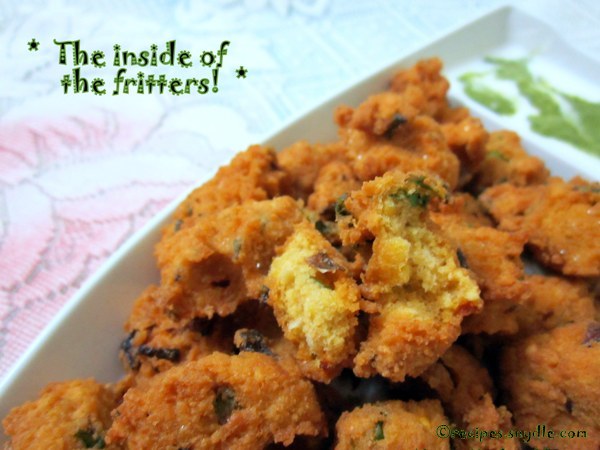 Ingredients
Chana dal / Split bengal gram – 300 grams, soaked for about 12 hours
Onion – 1 large, chopped
Ginger – 1 inch piece, finely crushed
Garlic – 10 cloves, finely crushed
Green chilies – 8, finely chopped
Cumin seeds – 1/2 tsp
Cilantro – 1/2 cup packed, chopped
Salt – To taste
Asafetida/Hing – A pinch
Oil- For frying
How to Make Chana Dal Vadas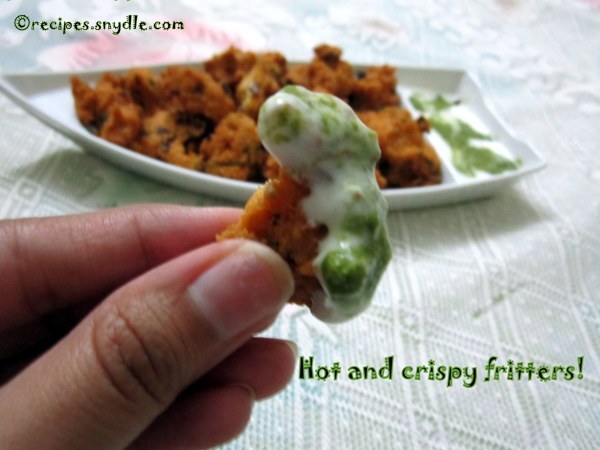 Wash and soak chana daal a day before, for about 12 hours. We won't be adding any water while grinding the chana daal, so we want it to be softened enough. Else the vadas will turn out dry and chewy instead of moist.
Grind the chana daal to a smooth paste without any water. Add very little water if at all need be.
Take the ground chana daal in a bowl. Toss in the remaining ingredients (except the oil) and to the ground chana daal and combine everything well. The batter should thick and not runny.
Heat sufficient oil in a frying pan. The oil should not be smoking hot, but hot enough. Check the temperature of the oil by dropping in a little batter. If it sizzles and comes up to float on the surface, the oil is at the right temperature.
Make bite-sized balls of the batter with your fingers, and slide it in oil along the sides of the skillet / frying pan. Do so very gently and be extremely careful. You can use a spoon to do it and drop spoonfuls of batter one by one into the oil.
Fry the fritters on medium to low heat till they turns golden brown and crispy. Taste a fritter to check if it's done from the inside as well.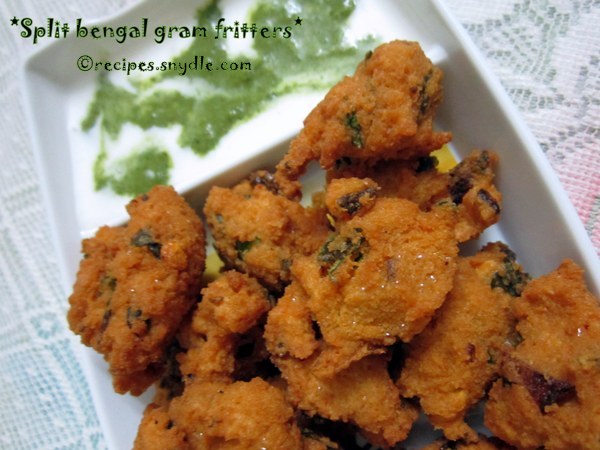 When done, serve the fritters with chutney or ketchup or just tea.
Enjoy!