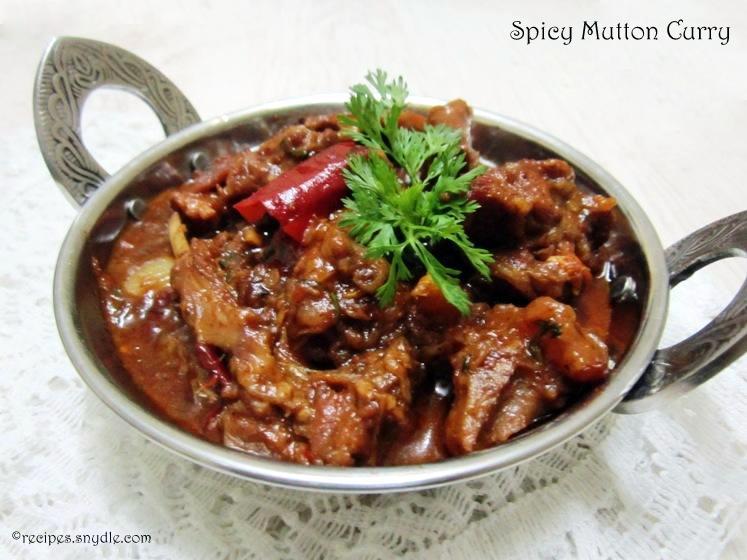 Hello, foodie buddies. Today I am sharing a very special recipe. This one of the quickest yet delicious mutton curry recipes I have ever made. I made this for dinner tonight when we had guests at a very short notice. With very little preparation and slow cooking method, you do not need to worry much over the cooking process. Just toss everything in a skillet and let it simmer away for an hour and a half.
The meat we get here in India doesn't get done fast enough. It takes a long time. So, at the end of the simmering process I pressure cooked the curry to finish it off. If the meat you get in your country gets cooked fast, you can complete the cooking process in the skillet itself.
best mutton curry recipe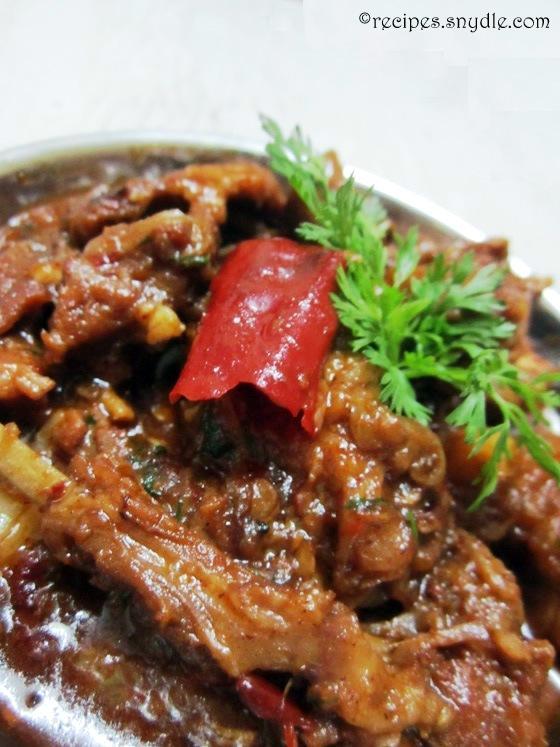 Let's start with the recipe of spicy mutton curry. This recipe yields 3 to 4 servings. For the purpose of measurement, 1 cup = 250 ml.
mutton curry recipe
Ingredients
Mutton / Lamb Meat – 500 grams
Onions – 3 large, finely sliced
Thick yogurt – 200 ml, whisked
Salt – to taste
Ginger – 2-inch piece
Garlic – 20 cloves + 10 cloves
Meat Masala – 2 tbsp (I used Everest brand)
Water – 1/2 cup or as needed
Coriander leaves – finely
Oil – 8 tbsp
Whole Spices
Bay leaves – 3
Black peppercorns – 1 tsp
Whole coriander seeds – 1 tbsp
Medium-hot dried red chilies – 12 (Byadagi mirchi – 4, Rasgulla mirchi – 4, Chapata – 4)
Black cardamom – 2
Cinammon sticks – 2-inch, 3
Cumin seeds – 1 tsp
Cloves – 6
How to Make Spicy Mutton Curry
Crush together finely the ginger and 20 garlic cloves in the mortar and pestle.
Heat oil in a skillet on medium flame. Add in the sliced onions, crushed ginger and garlic, 10 whole garlic cloves, all the who spices, salt all at once and mix everything well.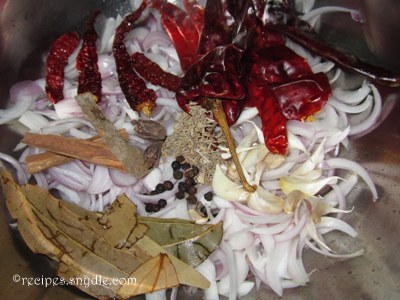 Add in the mutton and mix well.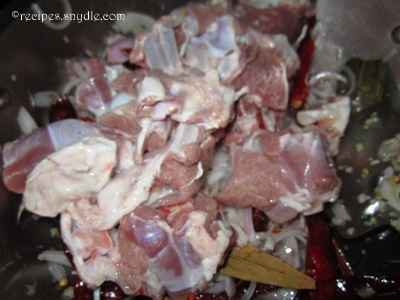 Add in the meat masala and mix again.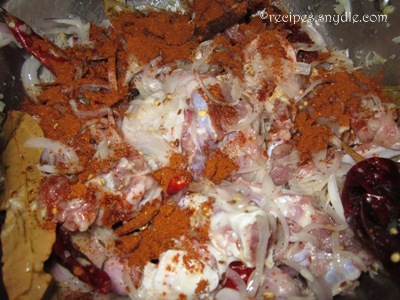 After 5 minutes add in the whisked yogurt.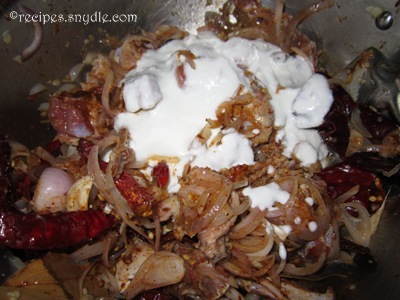 The mixture will look something like this.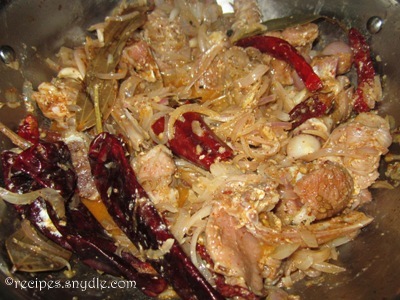 Cover the skillet and turn the heat to low. The meat and the onion will release their own moisture. Allow the meat to simmer away for an hour and a half. Check in between every 20 minutes and stir it around.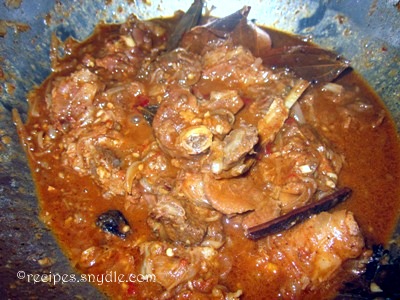 After an hour and half when all the flavors have combined well, transfer the meat to the pressure cooker. Add half cup of water or as needed, depending on your pressure cooker.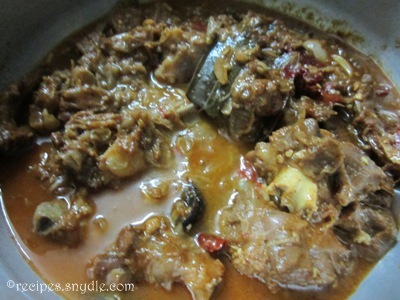 Cook it for 4-5 whistles or till the meat is done. Allow the pressure to release on its own. We need a thick gravy just enough to cook the meat. If the gravy is bit runny, dry it up by turning the heat on high and letting the moisture evaporate for a couple of minutes while stirring. Add in the finely chopped coriander leaves and mix.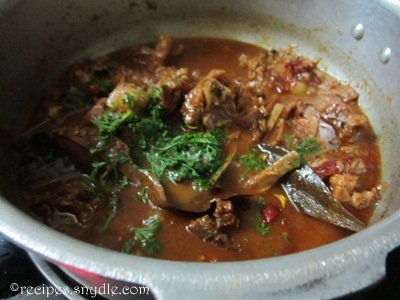 Serve hot with rotis and rice. Enjoy the spicy and hot mutton curry!