Hello I am Shemeena  coming to you with a new dish. But this time I am giving you something special. Special means it is really special. Kids will love it. Women will fascinate about this. Men will ask you to make it.
It is a special spicy chilli chicken. I am sure that once you make this and serve to your kids, your kids will ask you, again and again to make this. This can be served as an appetizer, or a side dish for dinner or lunch, or you can make it as your dish for BYOF party (Bring your own food).
Spicy chilli chicken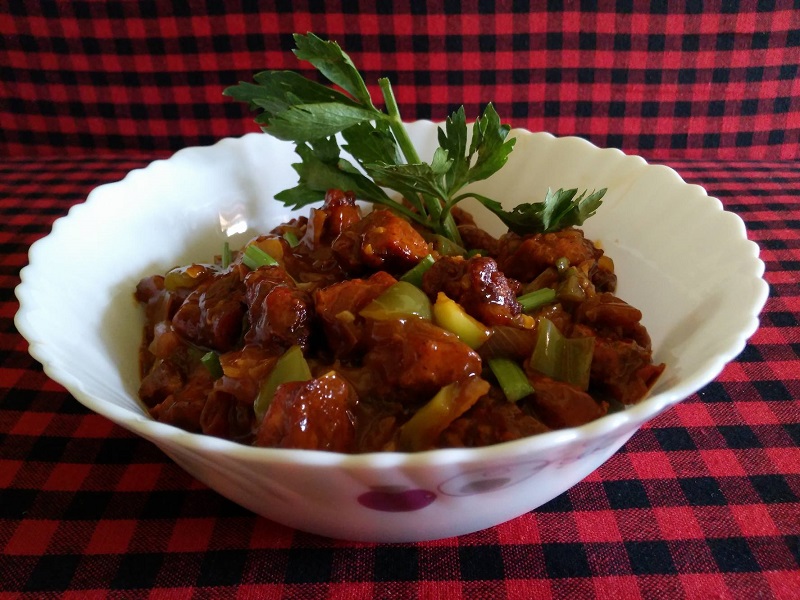 And for people who drink I am sure this will make a super side dish. So let us see how to prepare it
How To Make Chilli Chicken (Spicy Chilli Chicken)
Ingredients
Boneless chicken: 1 Kg
corn flour : 2 table spoon
Pepper powder :1 table spoon
Chilli powder : 1 table spoon (kasmiri)
Egg : 1
Sunflower Oil: 1 cup + 2 table spoon for seasoning (or as per your taste)
Ginger: small piece (sliced to small pieces or squashed)
Garlic: 3 sliced to small pieces
Onion :2 Medium sized, sliced to small pieces for seasoning.
Green chilli: 5  (Squashed)
Soya sauce: 1 tablespoon
Chilli sauce: 1 tablespoon
Tomato sauce : 1 tablespoon
Capsicum : 1 (cut to small pieces
Cut Boneless chicken to small pieces, clean it properly and make it ready for marinating in a pan.
Add one table spoon corn flour and 1 teaspoon of pepper powder to the chicken

Add one teaspoon of chilli powder and the egg to it.
Mix it thoroughly and keep aside for 1/2 an hour, for marinate

Now on the stove and keep a frying pan on it and add one cup of sunflower oil to it.
Once the oil is heated up properly add chicken pieces to the oil one by one.
Make sure that chicken is almost cooked (say 50 to 70%) off the stove and move the chicken pieces to a plate. 
Now let us start the second step of making it spicy as per our recipe description.  Take another frying pan and add 2 table spoon of cooking oil and heat it
Add the sliced ginger, sliced garlic to the heated oil.
Add sliced onion and squashed green chilli also to it. Stir well and season it until it become golden color
Add one tablespoon of soya sauce, one table spoon of chilli sauce to it 
Add tomato sauce and cut capsicum. stir well

Add the half cooked chicken pieces to this mixture and stir well, until it is cooked properly

mix the corn flour with half a glass of water. Mix it thoroughly to make it corn flour water

Add the corn flour water to, the spicy chicken. stir well until it is coode properly

Now your special spicy chicken is ready. You can serve this as an appetizer or as a side dish for a dinner.
Spicy Chilli Chicken Recipe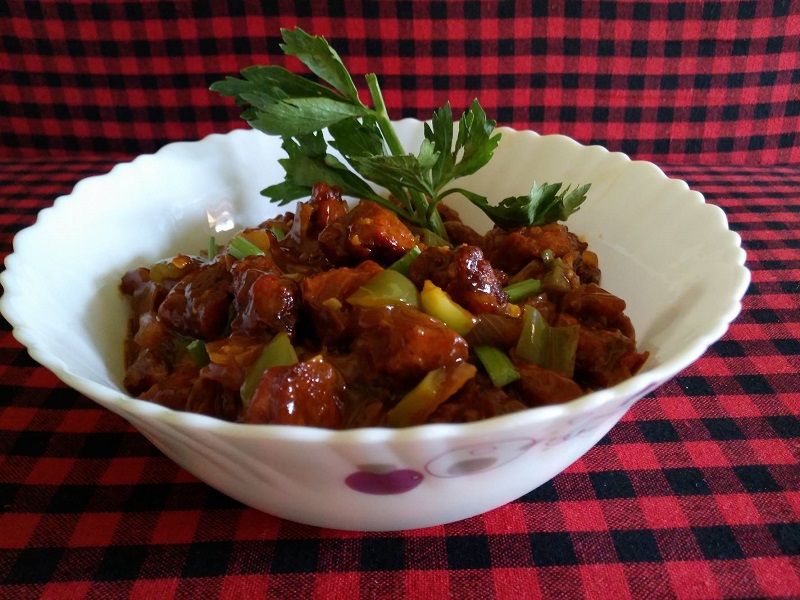 Spicy chilli chicken in Malayalam
ചിക്കൻ എല്ലില്ലാതെ ചെറുതായി കട്ട് ചെയ്തു കഴുകി വെള്ളം തോർത്തി എടുക്കുക
2 – 1റ്റെബിൽസ്പൂൻ കോൺഫ്ലോവേർ ചേർക്കുക
1ടീസ്പൂൺ കുരുമുളക് പൊടി ചേർക്കുക
1ടീസ്പൂൺ കാശ്മീരി ചില്ലി പൌഡർ ചേർക്കുക
ഒരു കോഴിമുട്ട അൽപ്പം ഉപ്പ്‌ ചേർക്കുക
നന്നായി മിക്സ്‌ ചെയ്തു അരമണിക്കൂർ വെക്കുക
പാൻ അടുപ്പിൽ വെച്ച് 1 കപ്പ്‌ സൺഫ്ലൊവർ ഓയിൽ ഒഴിക്കുക
ചിക്കൻ ഒരോന്നായി ചേർക്കുക
ഹാഫ് വേവായാൽ തീ ഓഫ് ചെയ്യുക
ഓയിലിൽ നിന്നു ചിക്കൻ കോരി മാറ്റുക
പാൻ അടുപ്പിൽ വെച്ചു ചൂടായാൽ സൺഫ്ലൊവർ ഓയിൽ ഒഴിക്കുക
ഒരു ചെറിയ കഷ്ണംഇഞ്ചി 3 വെളുത്തുള്ളി ചെറുതായി അരിഞ്ഞുവെക്കുക
ഇഞ്ചിയും വെളുത്തുള്ളിയും അരിഞ്ഞത് ചൂടായ എണ്ണയിലേക്ക് ചേർക്കുക
2സവാള അരിഞ്ഞതും ചേർക്കുക
5പച്ചമുളക് ചതച്ചതും ചേർക്കുക
1ടേബിൾസ്പൂൺ സോയസോസ് ചേർത്തിളക്കുക
1ടേബിൾസ്പൂൺ ചില്ലിസോസ്‌ ചേർക്കുക
1ടേബിൾ സ്പൂൺ റ്റൊമറ്റൊ സോസ് ചേർത്തിളക്കുക
ക്കട്ട് ചെയ്ത കാപ്സിക്കം ചേർക്കുക
ഫ്രൈ ചെയ്ത ചിക്കൻ ഇതിലേക്ക് ചേർക്കുക
ഹാഫ് ഗ്ലാസ് വെള്ളം ഒഴിച്ച് നന്നായി മിക്സ്ചെയ്യുക
കോൺ ഫ്ലൊവർ ചിക്കെനിലേക്ക് ഒഴിച്ച് ഇളക്കുക
സ്പൈസി ചിക്കൻ ചില്ലി റെഡി