Nadan Ayala Curry with ground coconut (നാളികേരം അരച്ച അയല ക്കറി) is one of the most popular dishes in Kerala, thus no need any further introduction. Kerala have two styles of fish curry cooking. This style is popular in Malabar area and is known as Malabar Fish Curry (Malabar ayla curry). This one is cooked with ground coconut and more thicker and will look more yummy. Now let us see How to cook malabar ayala curry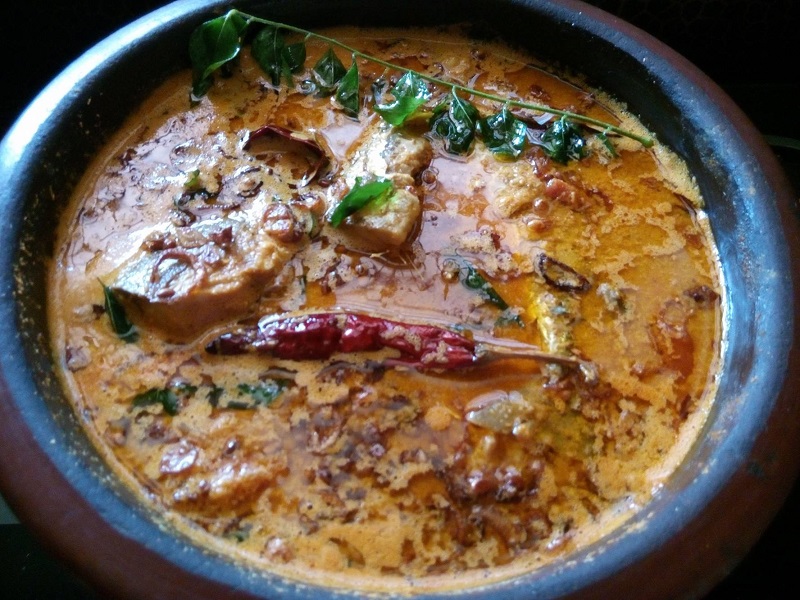 As we all know, Ayala (Yellow tail Mackerel) is a much sought-after fish in our area. We can cook a lot of dishes out of it like Ayala porichathu (Mackerel Fry), Ayala curry, Ayala mulakittathu and more.
My family loves this dish so I would like to share this special recipe to you, my friends. Try and give your comments.
Ayala Meen Curry Served
How to Make Nadan Ayala Curry with Coconut
Ingredients
Yellow tail Mackerel (അയല മീൻ) :1 Kg
Grated Coconut : 1/2
Tamarind : One lemon size.
Ginger : Small piece
Tomato: 3
Chilly powder : 1 teaspoon
Turmeric Powder : 1/2 teaspoon
Fenugreek seeds :1/2 teaspoon
shallots : 4 pieces
Curry leaves : 2
Red Chilli : 4
Salt : As per your taste
cooking oil: as per your taste (Coconut oil, sunflower oil or any cooking oil)
Steps to make Kerala Ayala Curry In Coconut Milk
Cut Ayala to curry pieces. Clean and wash thorougly.  
Put the tamarind in to a glass of water. Soak it and set aside. Later, squeeze it and get the tamarind water. 
Peel the ginger and ginger. Then, cut into small pieces. You can also grate or squash it. 
Cut the tomato into curry sizes (each tomato to 8 pieces)
Put the tomato, garlic and ginger into the clay pot.
Add 1/2 teaspoon of turmeric powder.
Add salt as per your taste.
Now, mix and squeeze the soaked tamarind again and again to make tamarind water. Add that tamarind water
Add one tablespoon chilli to grated coconut and mix well.
Add one glass of water and grind it in grinder or mixer to make fine and smooth paste.
Cook in medium heat.

Once the tomato is cooked, add in the Ayala fish.
Once the fish is cooked, add the ground coconut paste to the curry.
As the mixture boils and come up, turn off the stove and keep the curry pot aside.
Heat a frying pan, then add some oil.
Then, add fenugreek seeds.
Add curry leaves, Shallots and Red chilly.
Once it becomes golden brown, add the mixture to the Ayala curry. 
And there you have it, your Ayala curry with Coconut is done. Serve it with rice, puttu, chapathi kappa, pathiri or with some main dish.
fish curry for chapathi
1Kg അയല മീൻ വൃത്തിയാക്കി കട്ട് ചെയ്തു കഴുകി വെക്കുക
വാളൻ പുളി നാരങ്ങാ വലുപ്പത്തിൽ ഒരു കപ്പ് വെള്ളത്തിൽ കുതിരാൻ വെക്കുക
ഒരു ചെറിയ കഷ്ണം ഇഞ്ചി 3വെളുത്തുള്ളി ചതക്കുക
3തക്കാളി അരിഞ്ഞുവെക്കുക
ഒരു മന്ച്ചട്ടിയിൽ അരിഞ്ഞുവെച്ച തക്കാളി ഇഞ്ചി വെളുത്തുള്ളി ചതച്ചത് ഇടുക
ഹാഫ് ടിസ്പൂൺ മഞ്ഞൾപൊടി ചേർക്കുക
ആവശ്യത്തിനു ഉപ്പ്‌ ചേർക്കുക
പുളിവെള്ളം ചേർക്കുക
സ്റ്റൊവ് കത്തിച്ചു ചട്ടി അടുപ്പിൽ വെക്കുക അൽപ്പം കറിവേപ്പില ചേർക്കുക
തക്കാളി വെൻന്താൽ മീൻ ചേർക്കാം
ഒരു മുറി നാളികേരം ചെറുതായി ചിരവുക
ഒരു ടേബിൾ സ്പൂൺ മുളകുപൊടി ചേർക്കുക
നന്നായി തിരുമ്മി യോജിപ്പിക്കണം
ഒരു ഗ്ലാസ് വെള്ളം ചേർത്ത് മിക്സിയിൽ നൈസ് ആയി അരയ്ക്കുക
അരപ്പ് വെന്ത മീൻകറിയിലൊട്ട് ചേർക്കുക
തിളച്ചു വരുമ്പോൾ തീ ഓഫ് ചെയ്യുക
ചട്ടി അടുപ്പിൽ വെച്ചുചൂടവുമ്പോൾ വെളിച്ചെണ്ണ ഒഴിക്കുക
Half ടിസ്പൂൺ ഉലുവ ഇട്ട് പൊട്ടിക്കുക
കറിവേപ്പില cherkkuka
അരിഞ്ഞുവെച്ച ചെറിയ ഉളളി ചേർക്കുക
വറ്റൽ മുളക്‌ ചേർക്കുക
ഗോൾഡൻ കളരായാൽ തീ ഓഫ് ചെയ്യുക
മീൻ കറിയിലേക്ക് ചേർക്കുക