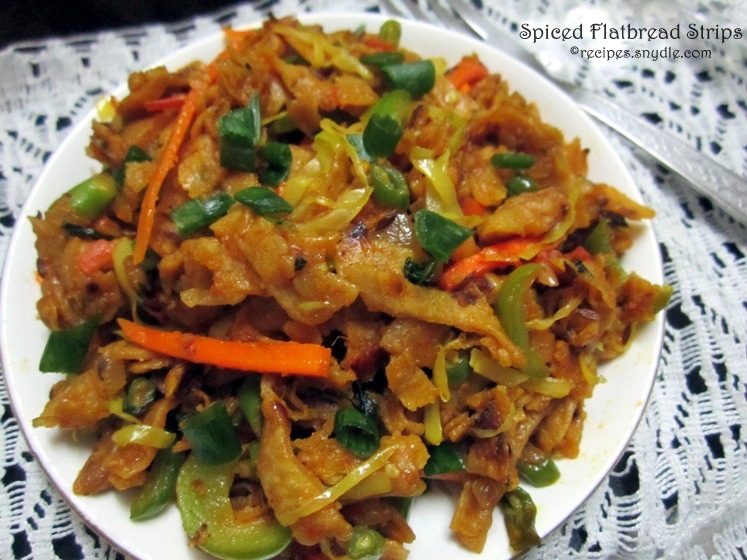 Hi again, foodies! Do you often have leftover rotis in the kitchen and you have no idea what to do with them? Well, today's recipe will show you how we can use the leftover chapatis / rotis / flatbreads to make a delicious recipe.
This is a quick, easy and healthy snack recipe. You can make it for breakfast or evening tea time. It's saucy, spicy and tangy. Besides, it is loaded with veggies and super-healthy. Made with minimal oil, these spiced flatbread strips are so fragrant and balanced in flavors.
You can make it with leftover rotis. Or you can make fresh rotis to make this recipe, like I did today. It certainly was a good break from the usual roti-sabzi. I have shared some pictures of the cooking process to help the newbies out there. The crunchy veggies tossed with soft roti strips in the spicy onion and tomato-based sauce, that's indeed a delight!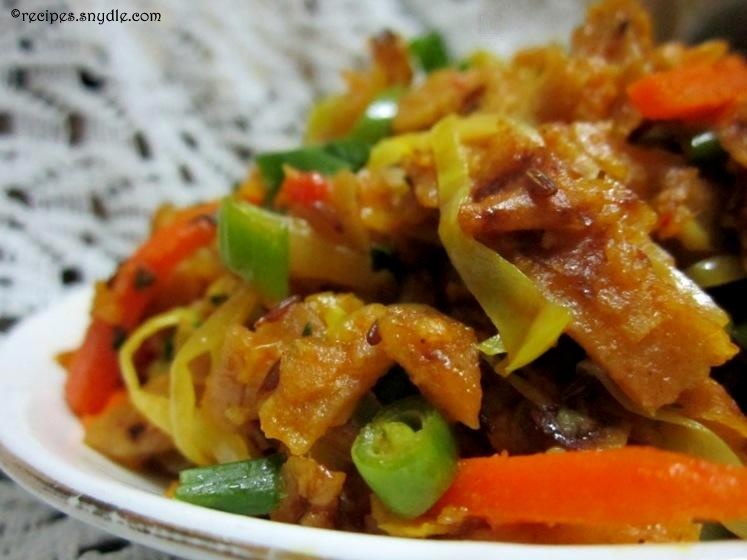 NOTE
If you are using fresh rotis, allow them to cool down and then chop them. Usually there is no  need to add water to the masala when you are using freshly made rotis.
The leftover rotis often tend to become a bit dry. If you are using leftover rotis, add some water to the masala so that they soften a bit and absorb the flavors well.
I used the whole wheat rotis. You can use maida rotis or multigrain rotis too.
Now let's get started with the recipe. It will yield 2 servings. For the purpose of measurement, 1 cup = 250 ml.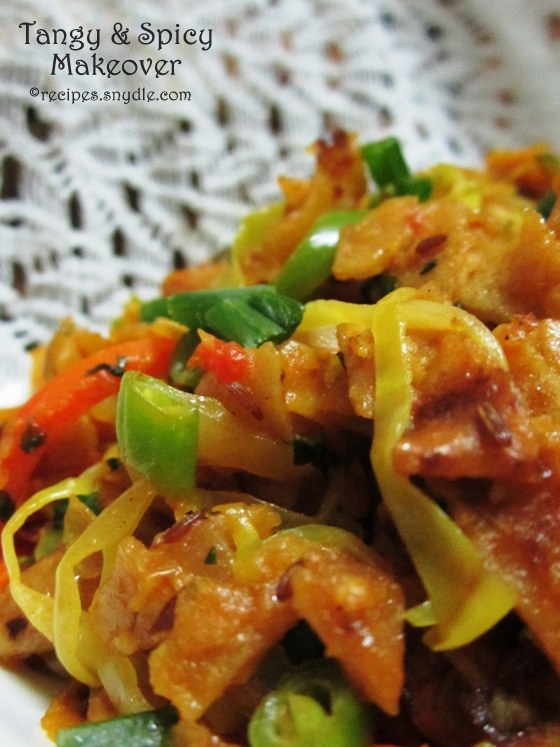 Ingredients
Rotis / Chapatis / Whole wheat flatbread – 4 to 5, depending on their size
Onion – 3/4 cup, finely chopped
Tomato – 3/4 cup, finely chopped
Garlic – 8 cloves, finely crushed
Green chilies – 4, split length-wise, or adjust to taste
French beans – 15, finely chopped
Capsicum – 1 medium, sliced
Cabbage – 1/3 cup, shredded
English carrots – 1 small, shredded
Spring onion greens – 3 springs, finely chopped
Coriander leaves – a handful, finely chopped
Turmeric powder – 1/2 tsp
Red chili powder – 1/2 tsp
Jeera powder / roasted cumin powder – 1/2 tsp
Salt – To taste
Tomato ketchup – 1tbsp
Lemon – 2 tsp
Sugar – 1/2 tsp
Cumin seeds – 1 tsp
Oil – 1 and 1/2 tbsp
Water – 3 to 4 tbsp
How to Make Spiced Flatbread Strips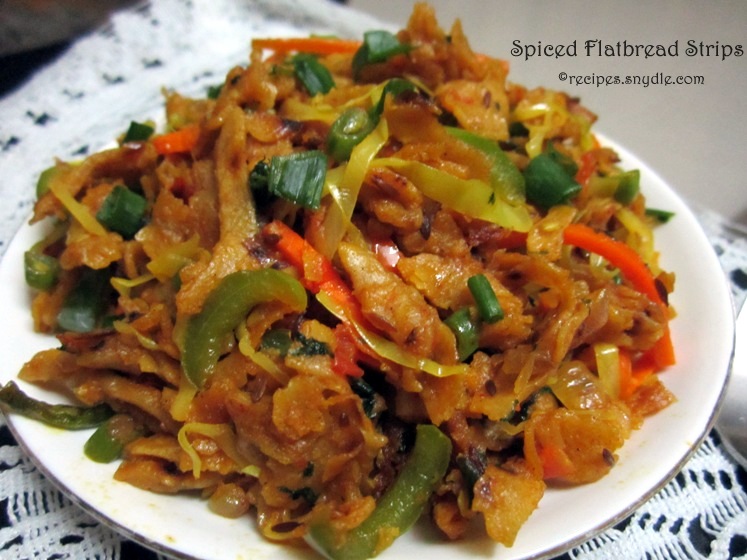 Cut the rotis / chapatis into thin, long strips. Set aside for later use.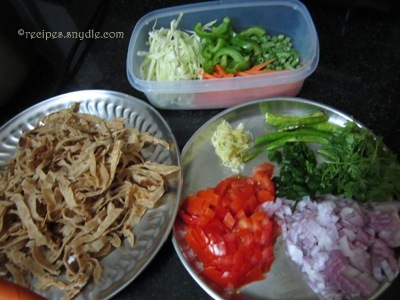 Heat oil in the skillet. Add in the cumin seeds and allow them to crackle.
Add in the chopped onions and sauté  them till they turn light golden. Add in the crushed garlic and sauté it for a minute on low flame till its raw smell goes away. Add in the green chilies and sauté for a few seconds.
Toss in the tomatoes and some salt. Cook them they become soft and mushy.
Now add in the turmeric powder, red chili powder and cumin seeds powder and stir everything well for 5-10 seconds till the raw smell of spices goes away.
It's time to add veggies. Turn the heat up a little, on medium. Add in the french beans and carrots. Stir fry for a minute. Add in the cabbage and capsicum and stir fry for another minute. Do not overcook the veggies. We need them to stay crunchy.
Add the chopped coriander leaves, tomato ketchup and mix well. Add some water if the masala seems dry.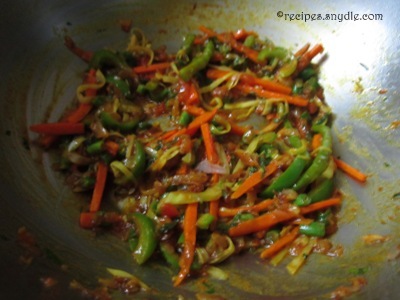 Time to add the roti / chapati strips. Mix everything well. Turn the heat to low and allow the roti strips to heat up. Make sure they do not stick to the bottom of the skillet.
Check the salt. Add in the lemon juice and sugar and mix well.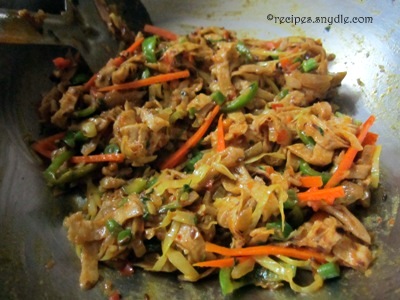 When the roti / chapati strips have gotten hot, add in the chopped spring onion greens and give it a final toss.