Siomai is a popular dumpling snack that you can easily make. This dim sum is loved by many people, and the numerous food stalls selling siomai is evident that this type of food is enjoyed by many.  Satisfying  cravings for great tasting siomai is never a problem even if you can't get out to buy some. That's because you can easily make a great tasting dim sum that is worth the effort and time.
This siomai recipe is going to teach you how to make a yummy dim sum. By the way, siomai is one of my comfort food, especially during the time when I was pregnant with my third child. In fact, i got so addicted to eating siomai that I would go to the town just to eat siomai from Siomai Masters. The ball of meat covered in light pastry wrapper and dipped in chili sauce can make me hungry, even by just thinking about it.
Siomai is well-known food not just in Southeast Asia, but probably across the globe, too.  This popular street food originated in China. There are similar dumplings in Nepal and Tibet,  but their version wrapped the meat in a pastry that is a lot thicker than what is usually used.
Siomaoi or shumai is usually made from ground pork, shrimp, mushroom, and onion. Some dim sum like sharks fin have vegetables like green peas. In some restaurants, siomai is wrapped in edible seaweed. In Japan, siomai contains rice and seasoned with sugar, rice wine, and soy sauce. They are also not considered as a finger food. The dumplings are much larger than what you the local vendors sell in the Philippines. Anyway, siomai have many variations across the world. So, don't be surprised to find a siomai filled with many vegetables or minced fish. Siomai is best eaten as an appetizer, snack, light lunch or dinner.
My version of Siomai is very similar to many siomai recipes online. If you have other siomai recipes, please let me know. I love trying other recipes and hearing from my readers. Let me know what you think about this siomai recipe.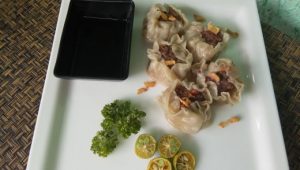 Pork Siomai Recipe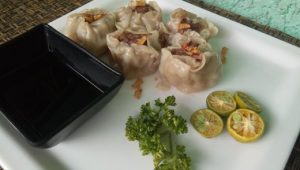 How to Make Siomai
Ingredients:
1/2 Kilo Ground Pork
1 Pack Wonton Wrapper
1 Piece Egg
1 Tbsp Sesame Oil
1 Piece Onion, minced
1 Piece Carrot, grated
A Bunch of Spring Onion
Salt and pepper to taste
Direction:
In a large bowl, combine all ingredients and mix thoroughly then seasoned with salt and pepper.
Get one wrapper and fill the center with the pork mixture. Fold up the sides till the meat covered in wrapper. Repeat the process with the rest of the wrapper.
Steamed the siomai for 20 minutes or till done.
Serve with calamansi and chili sauce. Enjoy!
P.S:
This siomai recipe is pretty basic, so if you want to make it extra special, add shrimp and fats. The added fats will work as an extender, which can make the siomai bigger.