Sunday is family day. It is the time for all members of the family to eat together, watch movies and just spend time together. My husband who is a seaman always travel out of the country so we try to cherish every moment when were all together. I want to make our family time extra special by serving them good food. Shrimp pasta recipe is a quick and easy pasta dish that you will enjoy cooking and eating.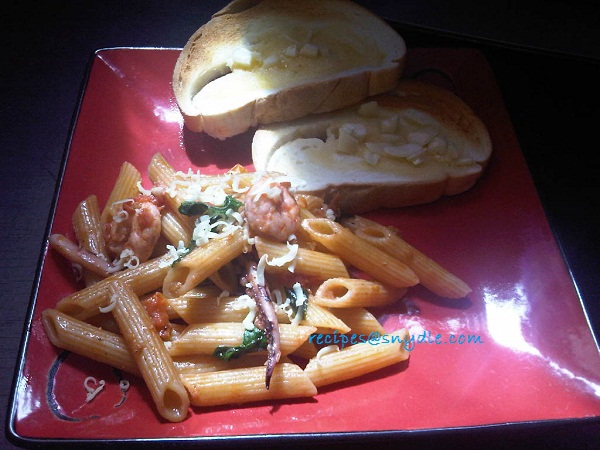 So, last Sunday, I once again prepared a meal that I have never tried cooking before. I have packs of penne in the pantry and shrimp in the fridge that I just bought early in the morning. Shrimp and pasta recipes are all over the internet. I have stumbled into one that sounds promising garlic shrimp pasta recipe that sounds easy to prepare.
My version of shrimp pasta recipe is similar to the garlic shrimp pasta recipe which the author claimed to be the best shrimp pasta recipe. I would never know as I used different ingredients for my pasta recipe because instead of cherry or grape tomatoes I used large tomatoes.
Here's my shrimp pasta recipe, let me know what you think.
Shrimp Pasta Recipe
Ingredients:
½ kilo small shrimp, peeled and tails removed.
¼ squid, sliced into small pieces (optional)
¼ cup olive oil
5 pcs large tomatoes, seeded and diced
3 garlic cloves, minced
Salt and pepper
2 tablespoon tomato puree
1 cup water
500 grams penne
½ cup fresh basil, sliced into small pieces
Direction:
Season squid and shrimp with salt and pepper. In a skillet or frying pan, heat half of the olive oil over medium high heat. Put in the shrimp and squid then cook for about 3 minutes or until they changed color, turning occasionally. Transfer to a bowl and set aside.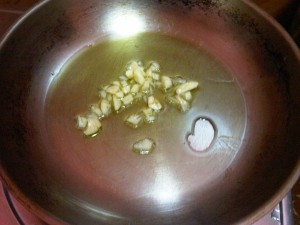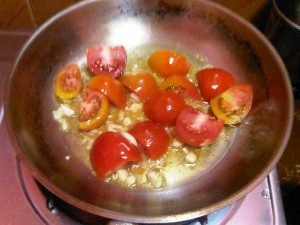 In the same skillet, pour the remaining olive oil and garlic then cook over medium high heat until fragrant. Add the tomatoes and cook for 2 minutes before adding the 1 cup water. Bring to a boil then reduce heat. Add in the tomato puree stir and simmer until tomatoes completely softened and saucy.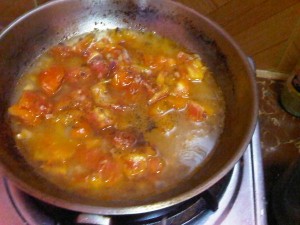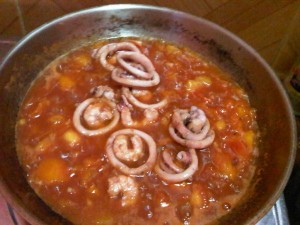 In a large bowl, cook pasta according to package direction. Drain and put into the pot of tomato sauce, shrimp and squid. Throw in the basil and season with salt and pepper then stir. Turn off the heat and transfer to a plate.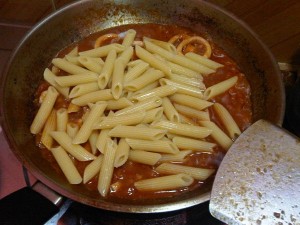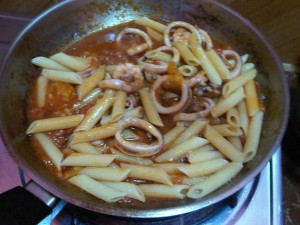 Serve with toasted bread or garlic bread and topped with parmesan or regular cheese.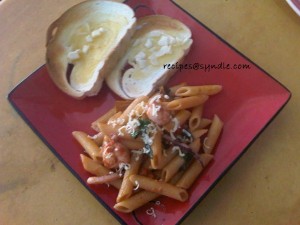 This penne pasta recipe as you can see is very quick and easy to prepare but most importantly, it taste really good. My kids loved them even my number one critics enjoyed eating shrimp pasta. By the way, my #1 critic is my husband who happens to be an assistant baker and chef. So, pleasing him with my cooking is a challenge.
For me, my shrimp and pasta recipe is the best because it is also inexpensive to make. What do you think? Is this dish worth a try or not, let me know what you think drop me a line or two in the comment section. Have a nice day!