Sharkara varatti is a popular dish in Kerala and it is made with raw banana and Jaggery mixed with other herbs, salt and spices to make it sweet and sour taste. In Kerala it is unavoidable dish in any sadya like onam sadya, Vishu sadya and for wedding sadya. Some part of Kerala it is known as Sarkkara uperi as it is used as a side dish of sadya. This is also the traditional recipe in Kerala. This is the simple method by making sarkkara upperi with raw banana.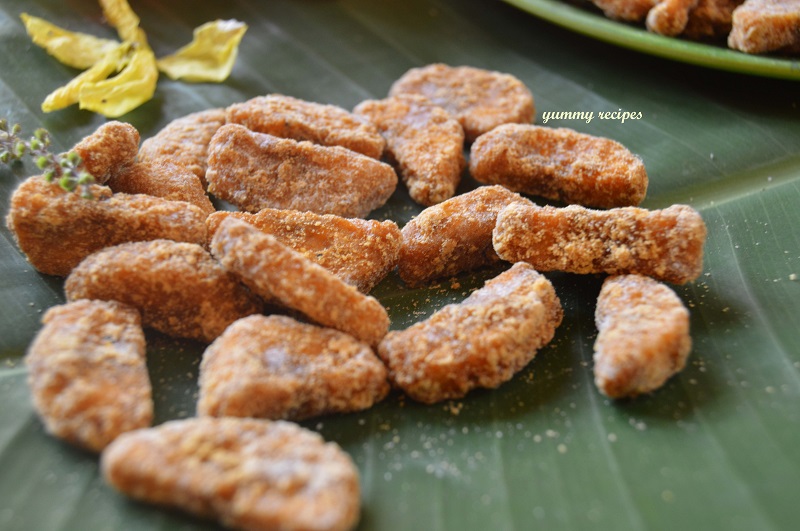 In all sadhya in Kerala first serve the sarakkara varatti.  The quantities measurements are important f for this recipe. The preparation is bellow with detailed images. please do try and send your feedback in comment box.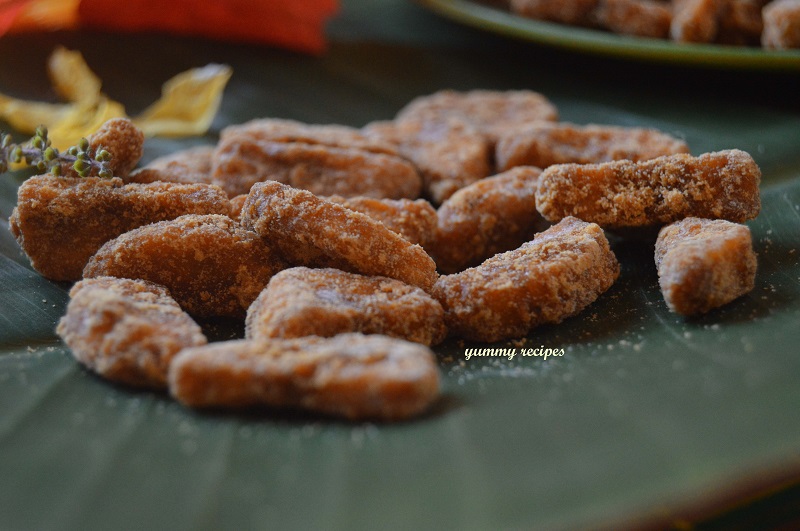 Ingredients
Raw banana 500 gm 4no.s
Sharkkara 170 gm
Cumin powder  1 teaspoon
Dry ginger powder 1 teaspoon
Sugar  1 table spoon
Cardamom powder  ½ table spoon
Sugar powder 4 table spoon
Water  3 table spoon
Oil for frying
Water  500 mil + 2 table spoon
Turmeric powder  1 table spoon
Salt ¼ table spoon
Method
Wash and peel the skin of raw banana/ plantain, cut each of them in to ½ lengths wise. Take 500 ml water in a bowl add turmeric powder and pieces of raw banana. Put this about 30 minutes.

Then drain the water from the raw banana. Take 2 tablespoon water in a small bowl and add very little salt and keep it aside.

Heat oil in a pan and fry raw banana pieces. Fry until it's become golden color by stirring occasionally. Sprinkle salt water, put flame in high. Then remove in to a plate and allow it to cool.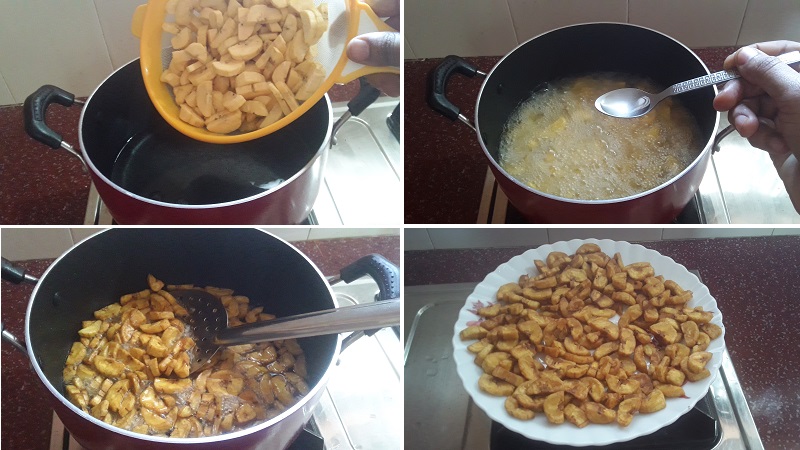 Melt jaggery in a nonstick pan or uruli (its better) by adding 3 table spoon water, allow it to melt.

Add sugar, cumin powder, dry ginger powder and cardamom powder and mix well.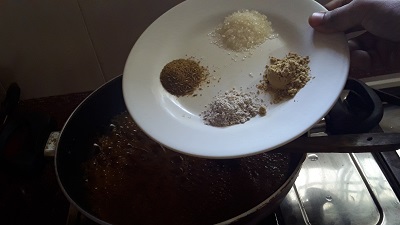 When the jaggery syrup in the tight consistency, put heat in low. Add fried raw banana/ plantain; mix it well for 1 minute.

Then remove from the stove and add powdered sugar, it helps to come out all the pieces separately.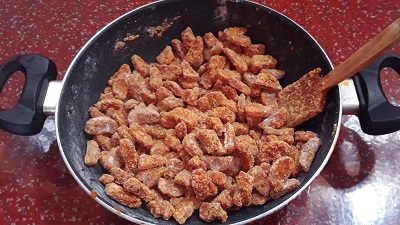 Thank u all dears, enjoy cooking with yummy recipes.